Are you weary of the same cookie-cutter experiences that most holiday resorts offer? Do you find that chain hotels, with their uniformity and standardized experiences, often blur the unique essence of your travel destinations? If your answer is yes, then it's time to step off the well-trodden tourist path and truly immerse yourself in the heart of Montenegro, a Southeastern European gem filled with natural beauty and historic charm.
This blog post is your ticket to explore Montenegro in a whole new light. We're steering clear of the regular, the routine, the 'been-there-done-that'. Instead, we'll delve into eight extraordinary accommodation options that are far from ordinary and guarantee an authentic Montenegrin experience.
Our carefully curated list is based on four primary criteria. Firstly, comfort: we've picked places that offer more than just a bed – they ensure a serene and restful experience. Secondly, we've chosen locations that stand out with their quirkiness – those accommodations that spark your sense of wonder and encapsulate the unique 'Montenegrin-ness' in their core.
Thirdly, we considered proximity to attractions. After all, the true essence of any place lies in its cultural landmarks, people, and natural beauty. Therefore, our choices represent a perfect blend of tranquil retreats located within reach of Montenegro's bustling local life.
Lastly, the 'oomph' factor: we've sought out places with an extra edge. These are the accommodations that offer more than just a room with a view – they each have a distinct charm or unusual allure that sets them apart from the rest, echoing the soul of Montenegro in their unique way.
So, if you're ready to look beyond the standard holiday package and yearn for an authentic, eclectic experience, join us on this journey of discovering these fantastic hideaways. Let's dive into the real Montenegro, and along the way, find comfort, quirkiness, and an ample dose of the unexpected!
FreeInDeed Houseboat: A Nautical Nirvana
Our first stop on this unique journey through Montenegro takes us to the floating serenity of FreeInDeed, a charming houseboat nestled in the coastal city of Bar. Just 1.4 km from the sun-soaked Susanjska Beach and a short 3 km from the bustling Port of Bar, this nautical retreat provides a unique vantage point to experience the Adriatic's rhythmic swells and serene beauty.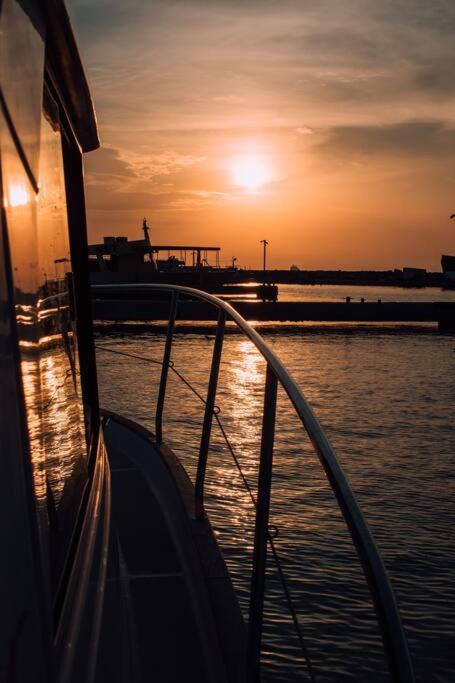 FreeInDeed isn't your everyday accommodation; it's an enticing combination of comfort, novelty, and mesmerizing views. Imagine waking up to the gentle lapping of water against the hull, the soft glow of the morning sun reflecting off the calm sea, and the distant cry of seagulls. Here, adventure begins right at your doorstep, or rather, your deck. Just 600 metres away, Topolica Beach invites you for sunbathing sessions or an invigorating swim, while snorkelling enthusiasts can plunge into the vibrant underwater world nearby.
Stepping inside, the houseboat is an embodiment of compact luxury. It boasts a separate bedroom, a well-equipped bathroom complete with complimentary toiletries, and a cozy living room. Wrapped in the warmth of its tastefully chosen decor, it mirrors the home-away-from-home feeling, with the added romance of being adrift. Aboard FreeInDeed, attention to detail is evident in the quality of the bed linen and towels, the fully equipped kitchen with utensils and a coffee machine – everything you need to make your stay as comfortable and convenient as possible.
However, it's not just about comfort and utility; the houseboat presents an experience to etch in your memory. Dine on the deck with an unparalleled view of the sea meeting the sky, framed by distant mountain peaks. This image, of enjoying a meal in the gentle sea breeze, with the sun setting over the water, will become a cherished memory that warms your heart on chilly winter evenings.
The host of FreeInDeed goes the extra mile to enhance your stay. Fluent in Serbian, English, Russian, and German, she's not only multilingual but also accommodating and friendly. Quick to address your concerns, she personifies Montenegrin hospitality, adding to the overall appeal of this unique accommodation.
FreeInDeed isn't merely a place to rest your head; it's an immersive experience that combines the adventure of seafaring life with the comforts of a holiday home. It's the perfect blend of novelty and familiarity that nudges it to the top of our unique Montenegrin hideaways.
Vržina Farm House Skadar Lake: A Heartwarming Agrarian Retreat
Venturing deeper into Montenegro's rich landscape, our second destination brings us to the tranquility of Vržina Farm House Skadar Lake, an idyllic agrarian retreat nestled in the heart of Virpazar. The gentle rhythm of rural life, coupled with the farm's close proximity to Lake Skadar (just 3.2 km away), makes this hideaway a haven for those seeking authentic Montenegrin hospitality and nature's unspoilt beauty.
Vržina Farm House offers the best of both worlds – the comforts of modern living and the charm of country life. Each accommodation unit, equipped with air conditioning and a private bathroom, promises a comforting respite after a day of exploring. The flat-screen TV, free Wi-Fi, and free private parking further add to the convenience factor. Whether you're enjoying the city views from your private balcony or patio, or cooling off inside, the farm house ensures your comfort.
The Vržina experience is more than just a stay; it's a taste of genuine Montenegrin lifestyle. As dawn breaks, wake up to a bountiful buffet breakfast. During the day, feel the thrill of hiking through the local terrain or enjoy a private boat trip on Lake Skadar and Moraca River, all arranged by the ever-smiling and helpful host family. As the day wanes, find yourself feasting on exquisite home-cooked meals, like the local favorite 'priganice', prepared with ingredients fresh from the farm.
The farm house isn't just a place to stay; it's a community where guests are made to feel like a part of the family. From enjoying wines made from the farm's own grapes to indulging in meals prepared with love, the family goes the extra mile to create a warm, welcoming environment. Their commitment to offering a wholesome and satisfying experience is evident in the glowing reviews from guests who have vowed to return.
As you explore the surrounding countryside, the vineyards, and the stunning views of Lake Skadar, the Vržina Farm House stands as a testament to the simple joys of rural living. It is a place where heartfelt hospitality, natural beauty, and culinary delights blend seamlessly, creating an unforgettable experience in the heart of Montenegro. Here, every moment is infused with the charm of Montenegrin country life, making it a truly unique stay for any traveler.
Bungalows Prokletije: A Cozy Hideaway Amidst Majestic Peaks
Have you ever dreamed of escaping to a cabin in the woods, surrounded by nature's magnificence, peace, and tranquility? Allow us to introduce you to the Bungalows Prokletije, nestled amidst the lush landscapes of Gusinje and near the spectacular locations of Plav Lake and Prokletije National Park. This unique mountain retreat unveils the captivating charm of Montenegro's natural grandeur, with the awe-inspiring mountain views painting a breathtaking backdrop to these delightful bungalows.
Each bungalow provides a warm and inviting atmosphere, perfect for travelers seeking a blend of simplicity and comfort. Inside, you'll find a well-equipped private bathroom complete with a shower and complimentary toiletries. But it's the fantastic mountain views from each bungalow that really take your breath away, transforming each moment into a tranquil experience.
Staying at Bungalows Prokletije isn't just about enjoying the view from the inside; it's about immersing yourself in the mountainous expanse. Located directly at the starting points of some of the most beautiful hiking trails, adventure beckons just steps away from your door. Whether you're a seasoned hiker or a nature enthusiast, the ease of access to the trails makes this the ideal base for exploring the majestic Montenegrin mountainscape.
Inside, the bungalows maintain a perfect balance between comfort and functionality. The well-equipped kitchenettes provide everything you need to prepare a quick breakfast before heading out for a day's adventure, or a simple meal after an exhilarating day of hiking. And if cooking isn't on your vacation agenda, a nearby restaurant offers a delightful alternative.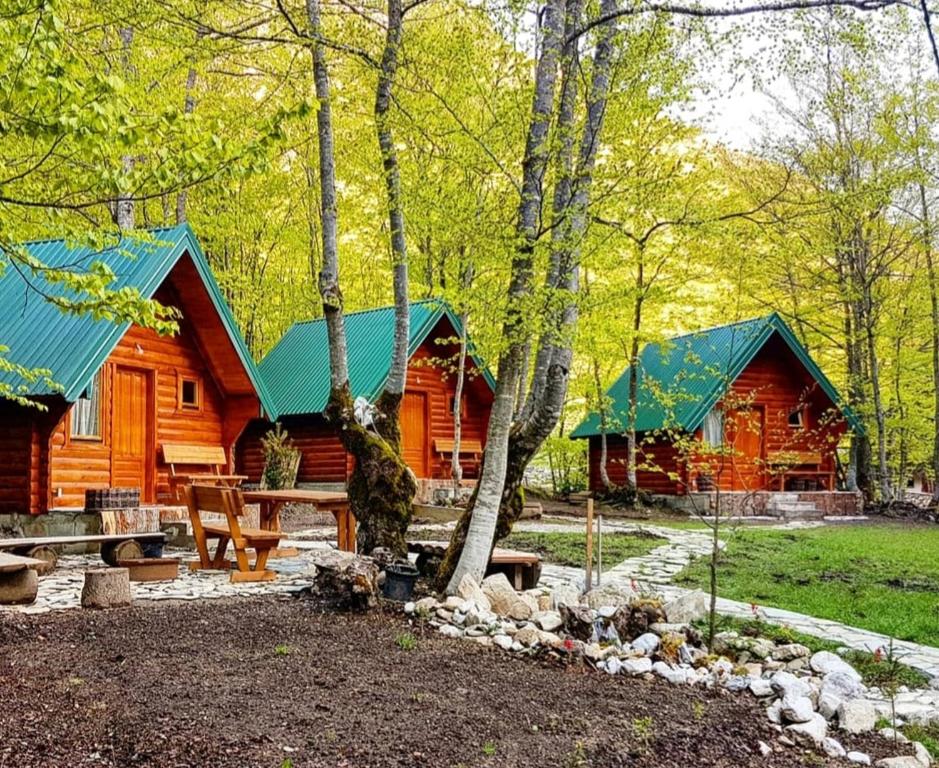 Nestled amidst the majestic Montenegrin mountains, Bungalows Prokletije offers a unique combination of comfort, convenience, and natural splendor. It's an intimate and cozy sanctuary where every day promises new explorations and every night wraps you in the tranquility of mountain living. The echoes of the mountain trails and the soothing vistas make it an ideal escape for mountain lovers, promising a holiday experience like no other.
Bigova Glamping: A Slice of Luxury in the Heart of Nature
The next stop on our journey takes us to Bigova Glamping, an unconventional and unique holiday experience set close to the quaint little village of Bigova, and only 16km from the historic Old Town Kotor. This glamping site perfectly captures the spirit of 'glamorous camping,' offering a blend of luxury, comfort, and a deep connection with nature. Suspended among the trees and perched on wooden platforms, the luxury tents offer a mesmerizing view of the sea and the mountains, enveloping you in a serene haven away from the hustle and bustle of everyday life.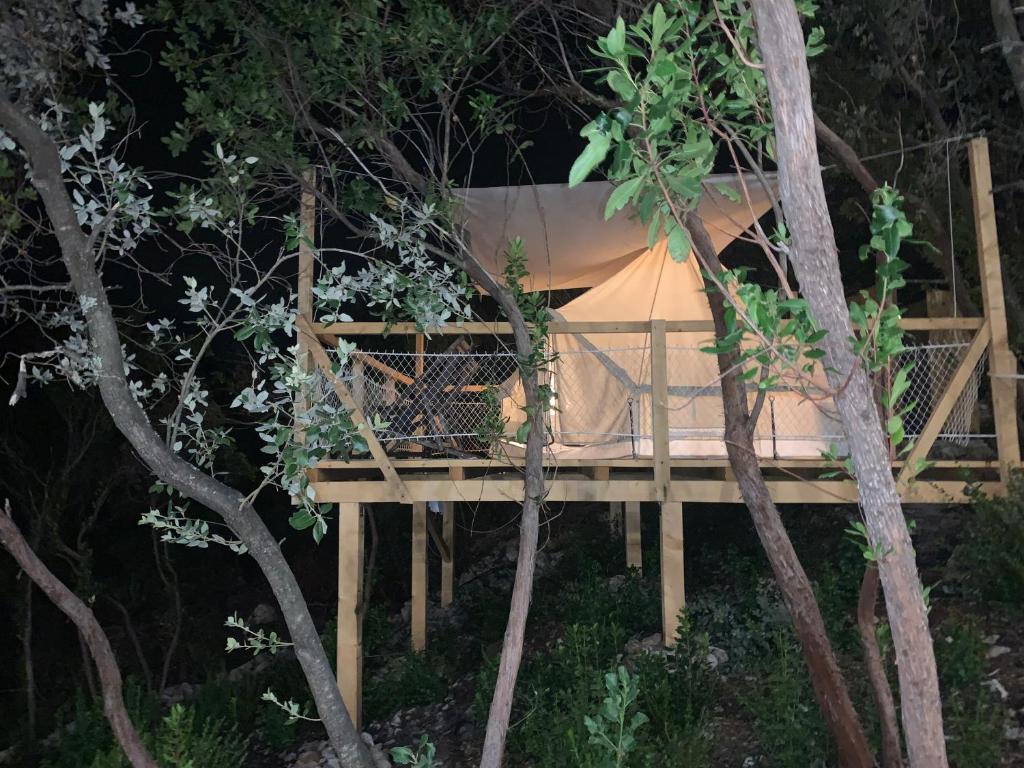 Each luxury tent is a mini oasis of comfort. Well-equipped with air conditioning, a fridge, and a comfortable bed, these tents redefine camping with their modern amenities. But it's not just the tent that you'll fall in love with. Every tent comes with its own private terrace decked with chairs, offering a perfect spot to unwind and soak in the stunning sea views. Even more intriguing is the private toilet and shower attached to each tent, adding a playful element to the glamping experience.
One of the standout features of Bigova Glamping is the shared kitchen space, which is generously fitted with a fridge, an oven, a stovetop, a coffee machine, and a kettle. The ability to prepare your own meals in such an idyllic setting enhances the charm of your stay, making you feel right at home amidst nature's embrace.
At Bigova Glamping, your days can be as active or relaxed as you wish. From hiking and cycling in the surrounding areas to simply basking in the tranquility of your private terrace, every day is a new adventure. Additional services like bicycle and car rental services add an extra layer of convenience to your stay, making exploring the nearby attractions a breeze.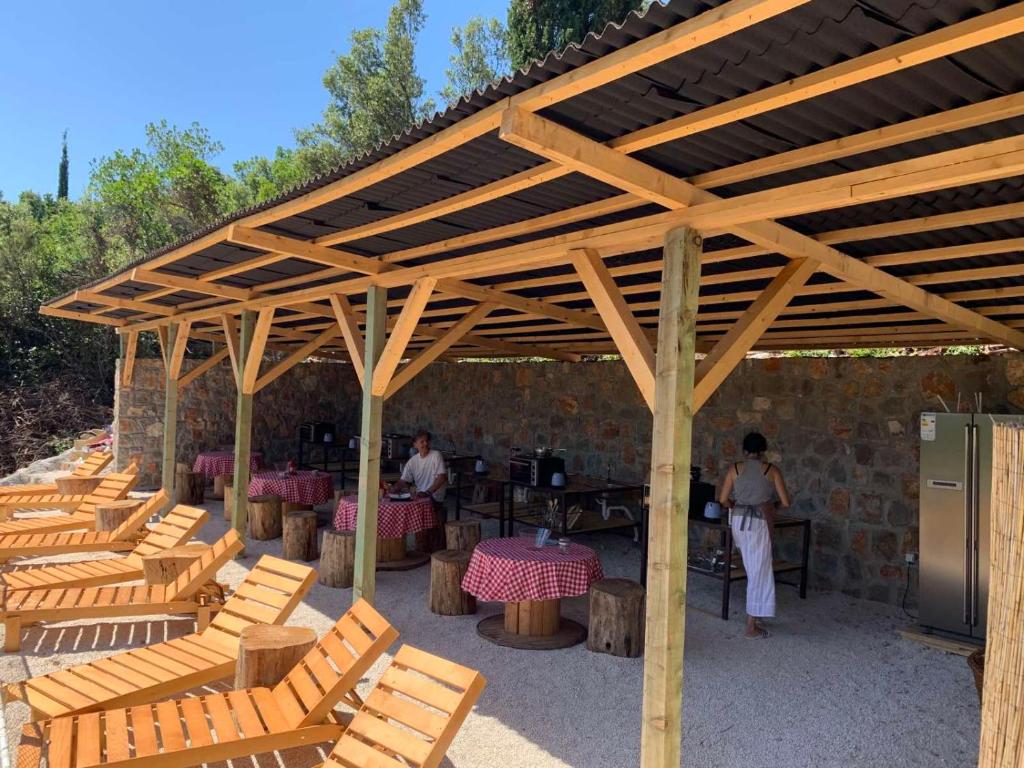 So, if you're looking to immerse yourself in nature while not compromising on comfort, Bigova Glamping is your go-to destination. Here, you're not just booking a luxury tent; you're signing up for an extraordinary experience where the beauty of nature and the warmth of human connection coalesce to create a memorable holiday. As the sun sets and the evening chorus of birds fill the air, you'll understand why Bigova Glamping is truly a jewel in the crown of Montenegro's unique accommodation options.
Etno selo Izlazak: A Tranquil Haven Surrounded by Unspoiled Nature
Nestled on the edge of the canyon of Piva Lake, Etno selo Izlazak is a tranquil retreat that perfectly blends comfort, serenity, and respect for nature. This enchanting ethno-village is surrounded by unspoiled nature, offering guests a rejuvenating escape from the clamor of city life. The traditional cabins exude a unique charm and provide a romantic, comfortable setting complete with a cozy log fire that the friendly staff are more than happy to light for you.
In keeping with its peaceful ambiance, Etno selo Izlazak maintains a dedication to preserving its natural surroundings. A reflection of this commitment can be seen in the restaurant, where homemade, organic food, based on ecological production, is served, creating a wholesome dining experience that is as nourishing as it is delectable.
The exquisite views from the cabins are a highlight of any stay at Etno selo Izlazak. Whether you're watching the sunset paint the sky with vibrant colors or gazing up at the stars shimmering brightly in the clear night sky, the beauty of the surroundings will leave you in awe. The tranquil setting of the ethno-village allows for an atmosphere of calm and quiet that only amplifies the magic of these moments.
However, a stay at Etno selo Izlazak isn't just about relaxation; it's also about exploring the natural wonders that surround the village. Being located at the border of Durmitor National Park and the Piva Regional Park, the ethno-village organizes a plethora of excursions for guests. From boat trips on Piva Lake and rafting on the Tara River to canyoning in Nevidio and mountaineering and hiking tours, there is an adventure for everyone.
So, if you're looking for a quiet, serene destination that offers a deep connection with nature, exquisite food, and plenty of outdoor adventures, Etno selo Izlazak is the perfect choice. Whether you're looking to relax, explore, or a combination of both, this ethno-village guarantees a stay that you will cherish.
Madre Natura: A Serene Haven Nestled Amidst Untouched Nature in Ulcinj
Unveil a hidden gem in Ulcinj, a picturesque town located on the southern coast of Montenegro, known as Madre Natura. This brand-new complex, set amidst verdant greenery and untouched nature, offers an enchanting escape from the hustle and bustle of everyday life. Just a mile away from the city center, this quiet enclave promises peace, privacy, and memorable vacation experiences.
Each unit within the complex exudes a sense of homeliness, equipped with a flat-screen TV, free WiFi, air conditioning, and a private bathroom complete with a hairdryer. A fully-equipped kitchen with utensils, refrigerator, stove, and a water pot are at your disposal to create delightful meals that can be savored on the terrace while soaking up the stunning views of nature around.
Madre Natura's location is its real charm. A 10-minute walk leads you to a majestic pine forest, home to several wild, serene beaches where you can take a dip, relax in the shade of the towering pine trees, and marvel at the magnificent sea views. Only 5 minutes away, a beautiful park with stone tables offers an idyllic spot for a picnic, BBQ, or a fun playtime with the children.
Madre Natura also offers glamping options, with accommodations featuring a seasonal outdoor pool, a garden, a terrace, and some units even boasting a balcony with mesmerizing mountain views. If you fancy an adventurous streak, the surrounding area offers cycling opportunities.
The exceptional value for money, coupled with the extremely friendly and helpful owners who go above and beyond to ensure your comfort, make Madre Natura a superb choice. Whether it's taking a leisurely stroll to the nearby serene beaches for a swim and snorkeling experience or relishing the quietude of the location away from the city center, Madre Natura delivers a truly unique and captivating vacation experience.
Camp Oaza, Lipa: A Tranquil Campground Nestled in Natural Splendor Near Cetinje and Lipa Cave
Located in the royal city of Cetinje, Camp Oaza, Lipa invites you to immerse yourself in Montenegro's picturesque landscapes. This campground is equipped with free WiFi, providing guests with the convenience of modern amenities amidst nature's tranquility. Visitors can enjoy the communal garden, a terrace for leisurely moments, and a bar for refreshing beverages.
The campground features cozy accommodations such as a bungalow and a mobile home, nestled amidst trees for privacy and serenity. Select units also come with a kitchenette, complete with a fridge, allowing guests to whip up their own meals while embracing the camping lifestyle. Every morning, guests can look forward to starting their day with a hearty buffet or an à la carte breakfast.
Just 200 meters from the famous Lipa Cave and 4 km from the historic heart of Cetinje, Camp Oaza, Lipa is a nature lover's paradise. Surrounded by untouched nature and offering breathtaking views , the campground is the ideal retreat for those seeking home-made food and a peaceful ambiance. The site offers various organized activities to enrich your stay, including lake boat rides, cave tours, and ample opportunities for exploring the beautiful surroundings.
For those who relish a good barbecue, the campground provides facilities, or if you prefer, traditional dishes can be prepared for you. A bicycle rental service is also available, allowing you to explore the surroundings at your own pace.
Many guests vouch for Camp Oaza as one of the most beautiful campgrounds they've ever visited. The onsite restaurant, located on the edge of the campground with stunning mountain views, serves delicious food and drinks. Operated by a friendly family, the campground offers great value for money, making it an appealing choice whether you're passing through Cetinje or planning an extended stay. Its proximity to the Lipa cave and the incredible natural beauty that surrounds it make Camp Oaza, Lipa an unforgettable camping destination.
Yachthafen Porto Novi: An Exquisite Floating Accommodation Experience in Ðenovići
At Yachthafen Porto Novi, guests can take the concept of waterfront accommodation to the next level by staying in an elegant boat situated in the picturesque locale of Ðenovići. Just 400 metres from Denovici Beach and 1.5 km from Kumbor Beach, this unique accommodation provides breathtaking mountain views and free WiFi, enhancing your stay with connectivity amidst serene surroundings.
The boat, which offers three comfortable bedrooms, offers all the comforts of a luxury hotel room but with the added romance of being on the water. It includes three bathrooms, providing privacy and convenience for larger groups or families. High-quality bed linen and towels are provided to ensure a restful stay.
A fully equipped kitchenette allows guests to prepare meals at their convenience, turning the boat into a home away from home. The boat also features a terrace with stunning sea views, allowing you to bask in the beauty of the Adriatic at any time of the day or night.
Guests of Yachthafen Porto Novi have access to a range of amenities. Enjoy a dip in the outdoor pool or maintain your fitness routine at the fitness centre. You can also savour meals at the on-site restaurant, making for a completely hassle-free vacation.
Private parking is available, ensuring the safety of your vehicle during your stay. Beyond the boat, Ðenovići offers a plethora of activities. If you're keen to explore, you can partake in hiking, fishing, and cycling in the surrounding areas. Experience the exceptional charm of Montenegro from a unique perspective when you choose to stay at Yachthafen Porto Novi, an experience that truly sets a new standard for memorable vacations.
Conclusion
In conclusion, Montenegro, with its majestic mountains, serene beaches, and timeless traditions, truly offers a diverse range of experiences for every kind of traveler. From bungalows nestled in the Prokletije mountains to the luxury tents at Bigova Glamping, each accommodation presents a unique way to immerse oneself in the natural beauty and cultural richness of this Balkan gem.
Experience the romance of cabin living at Etno selo Izlazak, or soak in the tranquillity of Madre Natura while surrounded by olive trees. For those seeking an adventurous yet comfortable retreat, Camp Oaza Lipa, located near Cetinje and Lipa Cave, provides an ideal setting. Finally, the Yachthafen Porto Novi offers a distinctive experience that marries luxury with the novelty of staying on a boat.
Montenegro invites you to explore, relax, and make unforgettable memories in its stunning landscapes and amidst its warm hospitality. Each of these unique accommodations enhances the Montenegrin experience, serving as a gateway to the country's captivating natural beauty and rich cultural heritage. Embark on your Montenegrin journey, and let these exceptional places to stay inspire and rejuvenate you as you discover the hidden treasures of this remarkable country.