Welcome to the Ultimate Guide to Bar! Nestled in the south of Montenegro, Bar is the capital of Bar Municipality. Right on the coast, Bar offers stunning views over the Adriatic Sea. While it isn't a big town by any stretch of the imagination, the relatively untouched nature that surrounds Bar has made it a must-visit destination for anybody heading to Montenegro to explore the beauty of the country. 
Where is Bar?
Bar, Montenegro is located on the Adriatic coast of Montenegro, about 22 miles (35 kilometers) south of the capital city of Podgorica.
Bar: Know before you go
✈️ Airport: Podgorica Airport (TGD) is approximately 33km away
⏰ Time Zone: Central European Standard Time (GMT+1)
 Currency: Euro
 Language: The official language of Montenegro is Montenegrin. Other languages commonly spoken in Podgorica include Serbian, Bosnian, Albanian and Croatian.
 Visa: Those with passports from Australia, Canada, the EU, UK and US can travel to Montenegro without a visa and remain there for up to 90 days. Please click here for more details about your own country
 Electricity Socket: The most common type of electricity socket used in Montenegro is the standard two-pin European socket, which uses 220-240 volts at a 50Hz frequency.
 SIM Card: Wondering, Do I need a SIM card for Montenegro? The answer is yes, and read our blog post on what the best way is for tourists.
About Bar
Bar has been inhabited since the Neolithic Era, with a Roman Castle once standing somewhere in the local area. It has been inhabited by many civilizations over the years, including the Byzantines, Venetian Empire, and the Ottomans. It has even played a major role in the history of the Balkans, with the very first Balkan railroad being established here.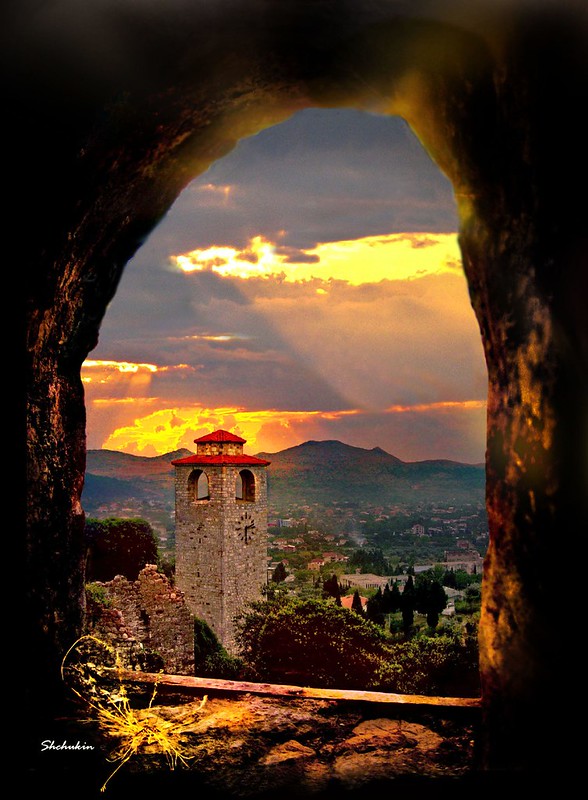 Despite being around for a long while, Bar doesn't have a huge population. The town itself has just 13,000 inhabitants, with the entire municipality standing at a little over 40,000. This has resulted in the area around Bar remaining untouched, with plenty of ancient ruins, nature walks, and other experiences to enjoy. 
What is the best time to visit Bar?

The ideal period to take a trip to Bar is between May and September, with the highest demand occurring during the European school holiday season of July and August. For those not restricted by school holidays, June and September provide excellent travel conditions.
Why Visit Bar?
Bar is just 53km from the capital of Montenegro, which is close enough for a day trip, but far enough that you get a break from the hustle and bustle of city life.
Bar is famous for its stunning views over the Adriatic Sea. While the beaches around Bar are very stony, there are small villages and towns close by with stretches of sandy beach, and they are all reachable from within Bar.
The main attraction of Bar is the gorgeous hiking and nature trails that surround the town. During the summer months, droves of tourists descend on Bar to enjoy nature, with plenty of leisure activities happening around this time of year. Others are keen to take boats out onto the beautiful blue waters close by.
Those who love their architecture will find Bar a wonderful town to explore. Its small size means that it is all walkable, and you will be exploring meandering streets, surrounded by both ancient and more modern buildings. Down every alley, there is something new to discover. 
Key Attractions Around Bar
While Bar is small, it is certainly not hurting for attractions.
Visit the Old Town
The Bar Old Town is an excellent example of a typical medieval fortified city. You can wander through its narrow streets, admire the beautiful stone buildings, and climb the castle walls to get breathtaking views of the city and the sea. Admission is free, and the Old Town is open from dawn to dusk.
Visit Stari Bar
Stari Bar is a ruined city that was abandoned after an earthquake in 1979. Today, it's a popular tourist destination and a great place to learn about the region's history. Admission is free, and it's open from 9 am to 4 pm every day.
While to some it may not be particularly interesting, Bar is also home to the oldest olive tree in Europe. It is said to be almost 2,500 years old!
Hike to Rumija Mountain
Rumija Mountain is the highest peak in the area, and it offers fantastic views of the Adriatic Sea and the surrounding mountains. You can take a guided tour or hike on your own, but be aware that the trail can be challenging. The best time to visit is during the summer months. Admission is free.
Bar Royal Palace
The real highlight of Bar is the Bar Royal Palace, constructed near the end of the 19th Century. This stunning palace is still used as the summer residence of the royals, and a lot of people attempt to catch glimpses of them during the summer months.
Go to the Beach
The Bar Riviera has some of the most beautiful beaches in Montenegro. The most famous ones are Veliki Pijesak, Maljevik, and Sutomore. All the beaches are free to enter, but there are charges for renting chairs, umbrellas, and water sports equipment.
Also Read: Drobni Pijesak Beach
Anybody heading to Montenegro absolutely should take a trip down to Bar, particularly if interested in the nature of Montenegro. 
Also Read: Visit Murici – an idyllic village
Places to stay Bar
Best For Families – Hotel Pharos
Ulica Sćepana malog. br. 14, 85000 Bar, Montenegro
Telephone:  +382 67 569 670 
Hotel Pharos is one of the highest-rated places for families. It isn't a surprise, really. It is just a short hop from the beach and the center of the city. Perfect for when you have tired children in tow. If you don't feel like leaving the hotel, then you have a fantastic swimming pool to enjoy.
One of the major highlights of staying at Hotel Pharos is that it gives you access to a private beach. There are free shuttle buses running to the private beach every single day, and it saves you from having to deal with the hustle and bustle of Bar's beaches during the summer months.
While the hotel rooms are not exactly top-class rooms, they are perfect for families. The prices are low, and it means that you can still be in comfort. The on-site hotel, on the other hand, is one of the best in Bar. People come from far and wide to taste the culinary delights here.
If you do stay here, then make sure that you take a trip up to the shared rooftop terrace. Not only is it relaxing, but you can enjoy some of the best views over Bar, including a gorgeous view of the amazing Cathedral. 
Best For Couples – Hotel Princess
Jovana Tomasevica 59, 85000 Bar, Montenegro
Telephone: +382 30 300 100 
Located just a short distance from the center of Bar, Hotel Princess is rated as one of the best hotels for couples. It is fantastic for a one-night stay, but if you are planning on hanging around and exploring Bar's natural beauty, then Hotel Princess can be the perfect base of operations. 
Hotel Princess offers stunning rooms, fantastic food, and poolside bars to let you wile away the summer months in one of the most tranquil settings in the country.
Couples that are looking to unwind will enjoy the well-equipped wellness center, offering hot tubs, a sauna, and a gym.
After getting back from a long day at the beach or exploring nature, Hotel Princess runs various music events. You can listen to traditional Montenegran music while drinking amazing Montenegran drinks. 
Off The Beaten Path – La Petit Chateau
Obala kralja Nikole, 85 000 Bar, Montenegro
Telephone: +382 30 314 400 
The small size of Bar means that it is difficult to venture off the beaten path. So, while you won't be finding these quaint hotels in the middle of nowhere, you do have some quirky hotels in the center of the town. La Petit Chateau is one of the best.
Privately owned, La Petit Chateau has just three rooms. It is set within the walls of King Nicola's Palace, so you really will be taking your seat among the royals (who still visit the area during the summer). 
Should I visit Bar?
In conclusion, Bar is a destination that has something for everyone. Whether you're a history enthusiast, a nature lover, or simply looking for a place to unwind, you'll find plenty of reasons to visit this charming coastal town. From the fascinating Old Town to the breathtaking mountain ranges, Bar is a place that will take your breath away.
The warm hospitality, delicious cuisine, and lively atmosphere in Bar will make you feel right at home. So, if you're looking for a getaway that's full of adventure, culture, and relaxation, Bar is the place to be. Start planning your trip to Montenegro and get ready to be captivated by the beauty of Bar!