National Park Prokletije is an astonishing mountain range spanning the border of Montenegro, Albania, and Kosovo. People often call this mountain range the "Balkans' Alps" because of its high peaks, rugged terrain, and picturesque views.
Officially declared a national park in 2009, this is the youngest national park in Montenegro. Montenegro has four more national parks: Lovćen, Skadar lake, Durmitor, and Biogradska gora.
Although it may be the newest, this national park in Montenegro stands out as one of the most extraordinary and impressive destinations you'll ever experience.
What has yet to be fully established is the motive for which this mountain range has been named Prokletije (pro-kle-tiy-e). Numerous myths surround the name's origin, with some even suggesting that the devil unleashed the mountain range from hell. However, the most widely accepted explanation is that these mountains were viewed as untamed and impassable. The local population primarily relied on livestock as their main source of income. During the summer months, herders would take their cattle to the highest peaks of Prokletije. They referred to this massive range as "Proklete Planine" or Accursed Mountains (Prokletije) because of the harsh weather conditions and the constant threat posed by bears and wolves.
Prokletije National Park covers an area of approximately 16,000 hectares and is home to numerous natural wonders, including glacial lakes, waterfalls, and diverse flora and fauna. The park's most iconic feature is the Prokletije mountain range, which boasts several peaks over 2,500 meters tall, including the highest peak in Montenegro, Zla Kolata, at 2,534 meters.
Hiking and trekking at National Park Prokletije
Guests at Prokletije National Park can partake in a variety of outdoor pursuits, including hiking, trekking, and mountain biking. The park offers an array of hiking trails, ranging from leisurely strolls to demanding multi-day excursions, all of which reveal stunning vistas of the encompassing scenery.
One of the best hiking trails in this national park is the Talijaka Loop which goes from Grebaje Valley (1100 meters) to the plateau of Volušnica, following further to Mountain Talijanka (Maja Vajushes – 2057 meters), then back to Grebaje Valley.
The second trail is Veliki Vrh, which goes by Krošnjina vrata, South Peak, and Eko-Katun Grebaje.
Hiking trails are marked, but still, it is recommended to go hiking accompanied by equipped guides.
Unsurprisingly, every ascent on Prokletije is a real challenge, even for the most experienced mountaineers and alpinists. More than 50 peaks have a height of over 2000 m, while 20 exceed 2500 meters.
Lake Hrid
The park has numerous glacial lakes, of which the most beautiful is Hrid Lake. The lake is located at 1.970 meters above sea level.
For those who enjoy swimming, this lake is truly a haven. It is said that taking a dip in its waters brings good fortune, health, beauty, and inner tranquility. Often referred to as the Lake of Happiness, it is believed to grant wishes. Legend has it that the gods created this lake as a secluded spot where they could swim away from prying eyes.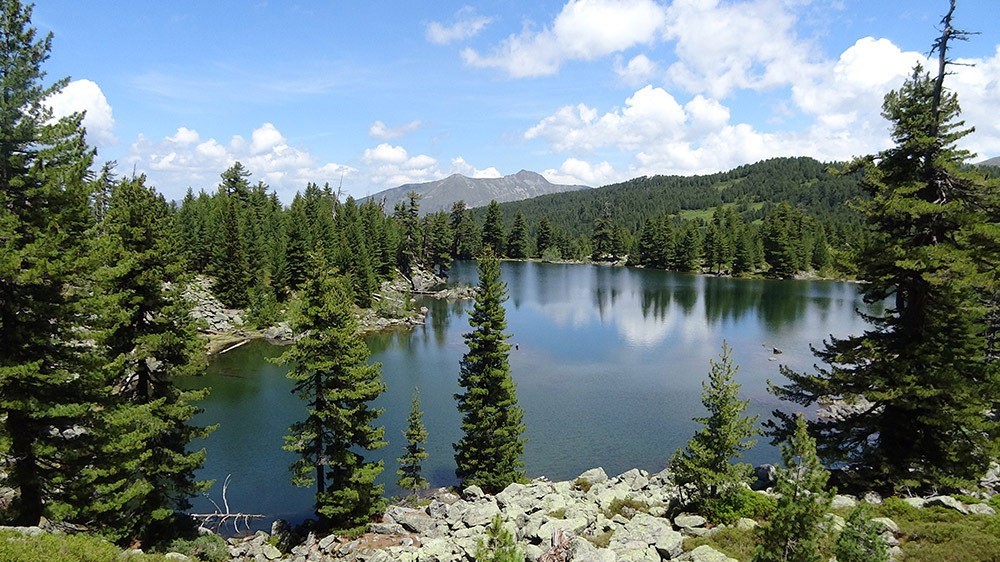 Besides Lake Hrid, Lake Plav and Visitor Lake (vee-see-tor) are worth a visit. Visitor Lake, at 1.820 meters above sea level, is of glacial origin and known for its island that floats around.
The park is also home to several small villages where visitors can experience the local culture and cuisine. Traditional dishes include lamb, cheese, other dairy products, local wines, and rakija (fruit brandy).
Cultural-historical places at National Park Prokletije
The park is home to many cultural-historical sites that are worth exploring. It boasts a rich cultural heritage, teemed with archaeological sites, fortresses, churches, mosques, settlements, and burial sites.
One of the most famous cultural-historical places in Prokletije National Park is the Redžepagić Tower. This tower was built in the 17th century in Plav. It served as a fortress for the Redžepagić clan to protect themselves from the attacks from the Banjani tribe. The tower has been restored and is protected as a cultural and historical monument of the second category.
The Old Mosque in Plav is another significant cultural-historical place in National Park Prokletije. It is located in the town of Plav and is one of the oldest mosques in the region. The mosque was built in the 15th century during the Ottoman Empire's rule over the area. Sultan Abdul Hamid himself financed the construction of the mosque.
The Monastery of the Holy Trinity, located in Plav, is one of the oldest sacred monuments. It is a Serbian Orthodox monastery that was built in the 14th century during the reign of Emperor Stefan Dušan Nemanjić. The monastery is on a hill overlooking Plav Lake, and a beautiful forest of beech and pine trees surrounds it.
Bio-diversity of the National Park Prokletije
The most dominant feature of the Prokletije National Park is its biodiversity, which is the most diverse in the Balkans.
Many endemic species live here, some of which are medicinal. Over 1,700 species inhabit the park, almost half of the Montenegrin flora. Additionally, great diversity characterizes the animal world in this alpine climate, where specific plant types and animal species can survive.
How to reach the National Park Prokletije
The entrance to this national park is €1. The park doesn't have one main entrance, as you can access the park from three different directions: Grebaje Valley, Ropojani-Gusinje, and Gradine-Plav.
From Podgorica, you can take a bus to Plav or Gusinje. Then, you can take a taxi that will take you to one of the entrances. From Kotor, take a bus to Podgorica, and proceed to the same route.
Conclusion
Prokletije National Park, a well-kept secret tucked away in the heart of Montenegro, boasts awe-inspiring landscapes, thrilling outdoor adventures, and an unforgettable immersion into the local culture. This captivating destination caters to a wide variety of visitors, from enthusiastic hikers seeking challenging trails to those simply yearning for a serene retreat away from the daily grind of urban living. With its diverse range of activities and breathtaking natural beauty, Prokletije National Park is undoubtedly a must-see location for anyone seeking an extraordinary travel experience.