Welcome to our ultimate guide of Cetinje. When most people think of Montenegro, they picture shiny seaside towns wrapped around the Bay of Kotor or gazing out into the Adriatic, but there are some beautiful inland spots that definitely shouldn't be overlooked.
If you're exploring away from the coast, then Cetinje is a place that's worth getting to know. It's a very accessible locale halfway between the popular hotspot of Budva and the nation's capital of Podgorica, and it has a huge amount of style and importance for somewhere that's outwardly quite humble and unassuming. If you are interested, carry on reading our guide to Cetinje.
Where is Cetinje?
Well, to kick off on our guide to Cetinje – lets find out where it is. Cetinje, Montenegro is located in the southern part of the country, in the region of Old Montenegro, about 20 kilometers south of Podgorica, the capital city of Montenegro. It is situated in the hills of the Montenegrin mountain range, at an elevation of 600 meters above sea level.
Cetinje: Know before you go
✈️ Airport: Tivat (code: TIV) is approximately 16km away
⏰ Time Zone: Central European Standard Time (GMT+1)
 Currency: Euro
 Language: The official language of Montenegro is Montenegrin. Other languages commonly spoken in Podgorica include Serbian, Bosnian, Albanian and Croatian.
 Visa: Those with passports from Australia, Canada, the EU, UK and US can travel to Montenegro without a visa and remain there for up to 90 days. Please click here for more details about your own country
 Electricity Socket: The most common type of electricity socket used in Montenegro is the standard two-pin European socket, which uses 220-240 volts at a 50Hz frequency.
 SIM Card: Wondering, Do I need a SIM card for Montenegro? The answer is yes, and read our blog post on what the best way is for tourists.
What Makes Cetinje Special?
As William Shakespeare might say, "though she be but little she is fierce". The small, seemingly sleepy town of Cetinje used to be the royal capital of Montenegro and, to this day, it is home to a number of national institutions and incredible cultural and historical sites.
The allure and significance of Cetinje can perhaps best be summed up by the fact that this is where the president of Montenegro officially resides. It's bright, beautiful, and endlessly charming – with a surprising air of modest royalty.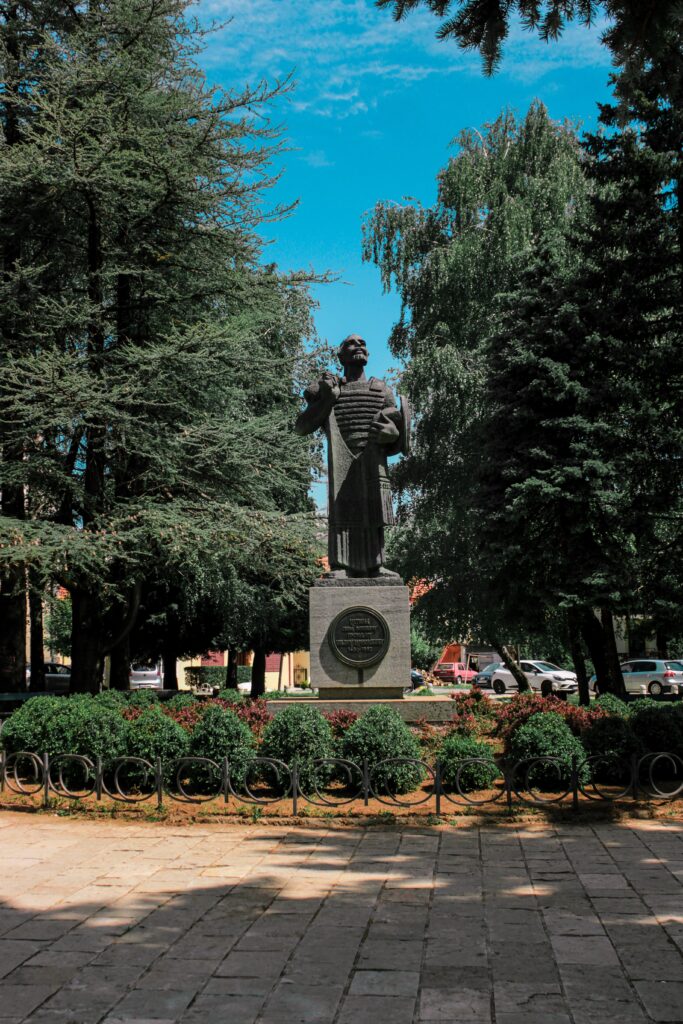 Many people choose to take a coach from the capital or rent a car so that they can stop in here for a day trip, but there are actually a few guesthouses and other places to stay as well.
What is the best time to visit Cetinje?

The ideal period to take a trip to Cetinje is between May and September, with the highest demand occurring during the European school holiday season of July and August. For those not restricted by school holidays, June and September provide excellent travel conditions.
What To Do In Cetinje
You can spend more than a few days in Cetinje – but if you are short on time our guide to Cetinje recommends.
Stroll through the Historic Centre of Cetinje
The Historic Centre of Cetinje is a UNESCO World Heritage site and is home to several important historical buildings and monuments, including the Cetinje Monastery and King Nikola's Palace. A stroll through the streets of the town will take you back in time and give you a sense of the town's rich history.
St. Nicholas Palace is a historical landmark in Cetinje, Montenegro, built as a royal residence for the Petrovic-Njegos dynasty in the late 19th century. It is renowned for its striking architecture, featuring neoclassical, baroque, and rococo styles, and boasts a grand central hall, beautiful frescoes, and ornate chambers. Today, it is open to visitors as a museum that showcases Montenegro's rich heritage, with exhibits on art, crafts, and traditional costumes. The palace also features a chapel decorated with mosaics and frescoes, and the throne room is a highlight, featuring a large throne used by Montenegrin rulers.
View the religious sites
Centinje's streets are home to a wide array of different religious buildings and significant sites for you to feast your eyes on. You are spoilt for choice when it comes to chapels, tombs, mausoleums, and more.
Perhaps the most distinctive and notable building is the Cetinje Monastery, which wears its history on its sleeve.
It was destroyed and rebuilt many times over the years and has been owned by everyone from Serbian royalty, Byzantine emperors, Ottoman sultans, and Russian tsars to the Knights Hospitaller. It houses several valuable relics and religious artifacts, including the remains of Saint Peter of Cetinje. The monastery is open daily from 7:00 AM to 7:00 PM, and entrance is free.
Also worth visiting nearby is the wonderful Lipa cave – one of the most popular sites in the vicinity.
Traverse the national park
No guide to Cetinje would exclude the wonderful natural beauty it has. If you really want to see the natural wonder that is Montenegro, taking a short trip from Cetinje into the Lovcen National Park is an absolute must. From atop its high mountains, it feels like you can see the entire country, and you get an incredible feel for the landscape.
It costs only a couple of euros to enter and take a leisurely drive through the narrow road – and make sure to stop off at the Mausoleum of Petar II Petrovic-Njegos before you leave. This historical landmark is striking in its own right, but it's breathtaking views that you will never forget.
The mausoleum was built in honor of Petar II Petrovic-Njegos, one of Montenegro's most important historical figures. Entrance to the mausoleum costs €3 for adults and €1.50 for children.
Learn the history
There is more than one iconic museum surrounding the center of town. In fact, just next door to the Centinje Monasyary and the Billiard Palace, you will find the National Museum of Montenegro, and the King Nicholas Museum – barely 100m from each other.
The National Museum is a sprawling complex comprised of 5 different departments that walk you through the history, culture, and art of the entire country. The King Nicholas Museum has a very different feel to it. Built within the residence of the last Montenegrin ruler, this striking building serves as a memorial to the materials of the country's past.
The museum's collection includes art, weapons, costumes, and other artifacts that showcase Montenegro's past. It is open daily from 9:00 AM to 8:00 PM, and admission costs €5 for adults and €2.50 for children.
Places to stay in Cetinje
Best Hotels for Families
With beautiful terrace views and delicious cuisine served in the outdoor café, this 5-star, luxury hotel overlooks the historic city center. Each room comes with amenities such as an updated TV, complimentary internet access, private bathroom, living room space, and a minibar.
Located near King Nikola's palace in the city known as Montenegro's cultural capital, some Hotel Gradska Cetinje rooms offer extra ambiance with a balcony that overlooks the terracotta roofs and white stones of Dvorski Square. It's a peaceful spot to relax or enjoy a family sightseeing day.
Address: 5 Dvorski Trg, Cetinje 81250.
Phone number: +382-41-232-088.
Nestled inside Lovćen National Park, the Hotel Monte Rosa offers an in-house bar and restaurant and an expansive terrace with mountain views. The hotel, which features a modern stone and glass aesthetic, provides access both to local ski lifts and the nearby town of Cetinje.
Enjoy room amenities which include a TV, refrigerator, shower, minibar, and free parking. You'll also have access to grocery stores and a range of other dining options outside the hotel. Renting a car or a bike to tour the countryside is easy with the hotel's rental service options.
The hotel is also within driving distance of Podgorica, Montenegro's capital city, the historic town of Kotor, and the beach town of Budva on the Adriatic Sea.
Address: 9RHR+8C3, Ivanova korita Lovcen, Majstori.
Phone number: +382-69-300-600.
Phone number: +382-69-300-600.
Best Hotels for Couples 
Couples on vacation will love this luxury hotel that is located close to both Cetinje and Kotor. Get access to free WIFI, a TV, minibar, and 24-hour concierge, front-desk, and room service during your stay. Hotel Vardar also offers guests the opportunity to bask in the hotel sauna and enjoy a free daily breakfast.
This hotel puts the city at your fingertips with access to historic sites such as the old city, Kotor's Castle of San Giovanni or popular landmarks such as the Piazza and city walls, while offering an exciting range of seafood restaurants and wine-bars all within walking distance from the hotel.
Address: Stari Grad 476, Kotor, Kotor Municipality 85330. 
Phone number: +382-32-325-084.
This gorgeous and modern 4-star hotel not only has classic lines and offers the ultimate in luxury experience, but it is centrally located to popular tourist spots such as the Cetinje city center, Lovcen National Park, and Aqua Park Budva.
It's easy to access concierge services, arrange an excursion at the tour desk, get room service, use the ATM, or exchange currency right at the hotel. In addition to beautiful rooms that come with all the amenities, couples particularly enjoy the terrace views of the historic city.
Address: Bulevar Crnogorskih Junaka 68, Cetinje 81250.
Phone number: +382-67-405-100.
Off the Beaten Path 
This incredible historic hotel, located in an 18th-century sea captain's palace, is the perfect way to experience a unique side of Cetinje. Tucked onto the Boka Bay waterfront with its breathtaking views of blue water, the hotel offers an intimate refuge for a relaxing vacation.
Splash in the hotel pool and soak in the old-world atmosphere at this boutique paradise. Enjoy an exquisite meal made by a famous chef on the beautiful terrace while mountains rise in the background and waves crash gently within arm's reach of your dining table for a truly perfect experience.  
Address: Dobrota 220 Kotor 85330, Dobrota, Kotor Municipality 85331.
Phone number: +382-69-214-123.
Where to eat?
What would a guide to Cetinje be without recommendations for places to eat.
Belveder Nacionalni Restoran (Stari Put, Cetinje) in Cetinje is a must-visit restaurant for those seeking delicious food, great service, and a stunning view. This family-run restaurant offers big portion sizes of well-prepared traditional dishes, including roasted lamb and beef with homemade potatoes and kajmak. The restaurant is 100% homemade, fresh, and locally produced, and the warm and prompt service adds to the overall dining experience.
Restoran Konak in (Cetinje Zabrdje bb, Ocinici, Cetinje) is a must-visit for anyone seeking beautiful food and excellent family meals. Homemade sausage with local cheese kajmak is a specialty. The lamb and veal dishes are a meat lovers' delight. The indoor taverna-type atmosphere is super cozy with antique decorations. This family-run restaurant offers great value for money, with reasonably priced wines and fresh produce that is truly exquisite, especially the grilled squid and veggies. The staff is welcoming and passionate, and the service is great.
Last but not least on the list is Macalov Brijeg (Cukovici b.b., Cetinje) – more of a cafe. However, it still offers an amazing experience for those who want to relax and enjoy a cozy atmosphere. With its stunning views, it's the perfect place to unwind while enjoying a delicious cup of coffee and homemade doughnuts and cakes. The cafe's desserts are simply delicious, and their coffee is expertly prepared.
Concluding our guide to Cetinje
There are few places in Montenegro more culturally and historically significant than Cetinje, and it is well worth a visit for any traveler.
Its small streets are fit to bursting with architectural sites, museums, galleries, cafes, and restaurants. It's also the perfect place to get a feel for what the wild, natural landscape of Montenegro has to offer. We hope this guide to Cetinje has encouraged you to visit this wonderful place.