Few coastlines can rival the captivating allure of Montenegro, as it majestically curls around the bays, cliffs, and beaches of the Adriatic. The water, in its crystal-blue glory, under bright and resplendent skies, serves as a charming backdrop for the historic port towns strewn along the waterfront. The magical panorama invites exploration, and what better way to experience it than aboard a yacht in Montenegro?
In this guide, we'll help equip you for your next adventure by detailing everything you need to know about yacht chartering in this Balkan jewel. Hailed by maritime enthusiasts as one of the finest yachting destinations in Europe and potentially the world, Montenegro has, in recent years, become a mecca for gorgeous boats and yachting aficionados.
In this article, we're going to talk about the remarkable vessels that navigate this gorgeous country, the incredible landscapes and unique geography you can experience, and some of the wonderful towns that you might stop in and see as you go.
From the countless bays and towering mountains of Kotor Bay and the buzzing nightlife of the Budva Riviera to the world-class luxury of Porto Montenegro, this is a country that you won't want to miss out on.
Yacht Rental Options In Montenegro
If you want to take a yacht out on the open water, then the Mediterranean has to be one of the finest places to do it. The conditions are absolutely perfect for a thrilling yet relaxing experience – but not every corner is created equal.
The Adriatic Sea – in the northernmost corner of the Med, flanked by Italy to its West and the Balkans to the East – has carved out its own identity as a hotspot for yachting holidays, particularly in recent years. The coasts are high and mountainous, it has thousands of islands and intricate bays to explore, and the sea itself is described by Croatians as "calm as oil".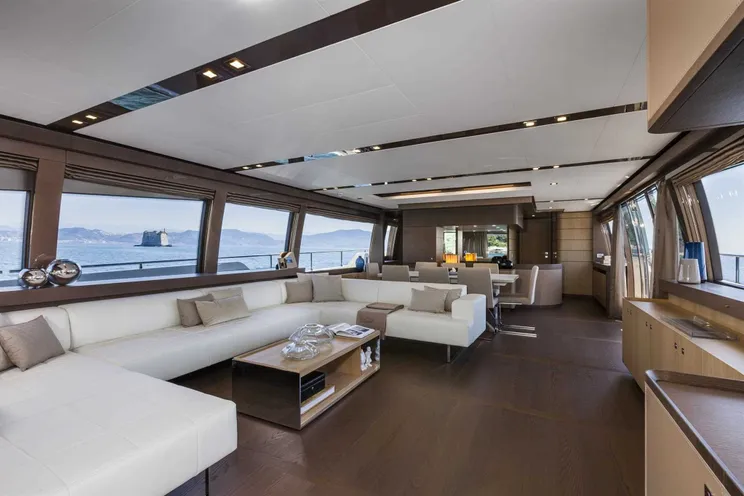 It's no surprise, then, that many fantastic yacht rental companies have sprung up around Montenegro over the years, but they are not all as trustworthy and reliable as each other. When you're choosing the vessel that you're going to be living and traveling on, it's crucial to be discerning.
Some of the most important things to consider when selecting a yacht rental in Montenegro include:
Reputation. When you're chartering a yacht, look for a business that has been around for a while and has built up a reputation for quality and excellent customer service. Online reviews are a great way to tell what the experience has been like for other travelers.
Expertise. You want a charter company that knows what they're doing, so ask lots of questions to gauge how much they know, and how accommodating they are of your specific needs.
Protection. The kinds of insurance, equipment, and other protections that you get can vary massively. You don't want to find yourself responsible for more than you bargained for at the end of your trip. You should expect to pay a significant deposit and get full coverage for your money.
Rates. Price is important for any trip but renting a yacht can get particularly costly. It's always a good idea to compare like-for-like prices between similar packages at different companies to see how they hold up.
Yachts. Of course, there is also the question of the yachts themselves. They come in all different shapes and sizes, with many different amenities and services as well.
Depending on what kind of experience you're looking for, how many people are traveling, and how much you're expecting to pay, then some rental companies will definitely have better options than others.
If you want to have a yoga studio, complimentary food and drinks, entertainment, hot tubs, or anything else that's a little bit extra onboard – you may need to seek out more luxury rental companies.
Best Yachts In Montenegro
One very well-reviewed and highly experienced company, with a stunning fleet of yachts ready to hit the Adriatic coast, is Boatbookings.com. Their team of experts is talented and passionate, and you won't find a company that knows more about the industry.
They actually charter yachts all over the world – from the Indian Ocean and the South Pacific to the Virgin Islands and the Bahamas – and they organize crewed vacations and experiences as well as static charters for corporate events.
Just a few of their options in the Adriatic include:
IVA/ALEKSANDRA – From €54,000 to €68,000 per week
Berths: 10
Cabins: 5
Type: Motor
Crew: Crewed
Length: 99' 4"
This elegant and stylish Ferretti 960 is perfect for the whole family. With all kinds of toys and a fully integrated entertainment system, you won't run out of ways to keep the kids occupied. Iva was retrofitted in 2017, so she's completely up to date with all the modern conveniences and contemporary styling.
AGRAM – From €160,000 to €175,000 per week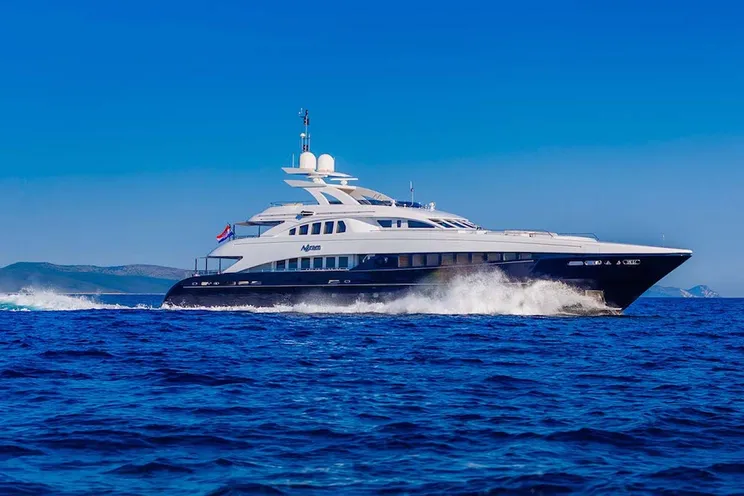 Berths: 12
Cabins: 6
Type: Motor
Crew: Crewed
Length: 150' 1"
If you're looking for a larger vessel that will really stand out, then this Heesen is surely going to be a cut above the competition. She comes with two water skis, freediving and dive gear, two kayaks, a wakeboard, an underwater scooter, and even more besides.
STARBURST III – From €200,000 to €230,000 per week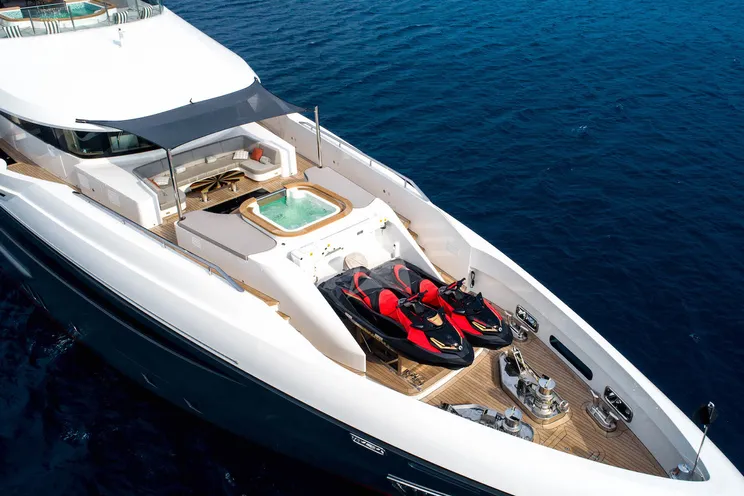 Berths: 10
Cabins: 5
Type: Motor
Crew: Crewed
Length: 161' 10"
This crewed charter is somehow another step up in terms of style and luxury. She's newly painted, sleek, and striking, and she has endless room to luxuriate on board. If walking up her central spiral staircase doesn't make you feel like a member of the glitterati, then relaxing in her jacuzzi certainly will.
FARANDWIDE – From €46,000 to €50,000 per week
Berths: 8
Cabins: 4
Type: Sail
Crew: Crewed
Length: 102' 8"
For a slightly different experience, you might want to hear the sounds of the wind whistling past the sails of this elegant sloop. She was built at the SWS shipyard in Cape Town and has been refitted in 2018 to ensure the technology aboard is state-of-the-art, and she comes with a myriad of toys to play with as well.
Where To Sail In Montenegro
Once you've chosen your vessel and you're ready to set sail, you'll want to decide exactly where you're going to explore. This can be a pretty tough decision around Montenegro, as you really are spoilt for choice.
There are, however, a few key areas that you almost definitely won't want to miss as you yacht around Montenegro.
Kotor Bay
Kotor Bay is absolutely breathtaking, and some would say it provides the quintessential experience of Montenegro as a country. Surrounded by mighty cliffs and high mountains, this colossal bay resembles a fjord that meanders and ambles deep into the countryside.
Of course, you couldn't take a trip around Kotor Bay without visiting the historical town of Kotor itself. The town encapsulates much of what has made this area such a popular destination for tourists and travelers alike – from the historic walls and labyrinthine streets of the old town to the rippling waters and high-class restaurants along the promenade.
The best way to explore the bay is certainly by yacht, and you will have a lot to see. You can visit quite a few corners in a single day, but you don't want to rush. You should have a go at diving around Blue Cave, step ashore on the Island of Flowers, and admire the architecture on the tiny islet of Our Lady of the Rocks.
Budva Riviera
The town of Budva has become one of the most popular cities to visit in the entire country, and it has developed into a thriving hub of activity as a result. The old town is the picture of Balkan perfection – like a miniature Dubrovnik jutting out into the ocean – but it has perhaps become best known for its exciting nightlife and top-end bars and restaurants.
The small town has around 35 beaches which are perfect places to view and explore from the water, although you will probably want to park up alongside the rich and famous in the town's guarded marina. Once ashore, you will find a tiny modern metropolis, that's rightfully earned itself the name of "The Miami of Montenegro".
Porto Montenegro
The largest and most modern marina that you will find in the entirety of Montenegro is Porto Montenegro in the town of Tivat. It is a boater's paradise like no other, and it has become a sanctuary for superyachts and superstars alike.
Originally, this area was a religious hub, and it was actually under the rule of the Republic of Venice between 1420 and 1797. Now, though, Tivat is a decidedly nautical town. Porto Montenegro was actually a Naval arsenal and a military base for some time before it was purchased by a Canadian mogul who turned it into the superyacht marina that it is today.
Read more about the marina of Montenegro
While you're visiting, make sure to take a look inside the submarine on display at the Maritime Heritage Museum and, if you want to shake off your sea legs for a few hours, take a hike up Mount Vrmac for some unrivaled views of the bay itself and the historical walls of Vrmac Fortress.
Tips and Tricks for Yachting In Montenegro
To make sure you have the best experience possible yachting around Montenegro, there are a few little tips that you should know about the region before you embark.
Navigation and Weather Conditions
Knowing where you are going is pretty straightforward, as the overall coastline of the country is not too long or difficult to navigate. When it comes to the weather, you can usually expect clear skies, calm winds, and hot, dry conditions in the summer – and pretty mild but cool winter months.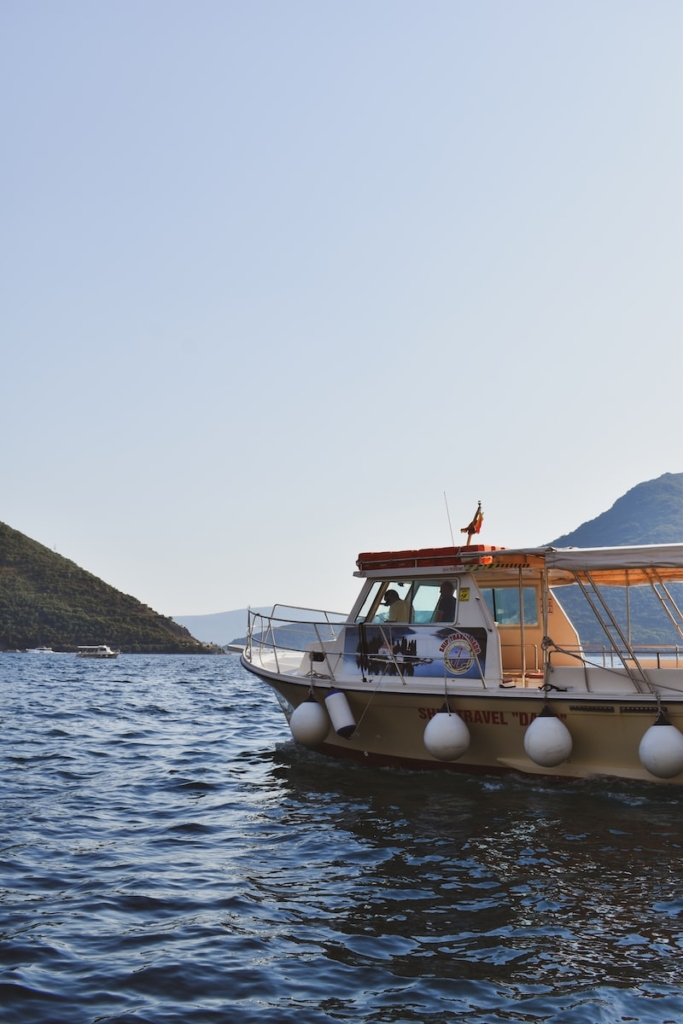 Average temperatures are around 77 to 86 degrees Fahrenheit between July and August, which is the best but busiest time to visit.
Local Customs and Etiquette
The people of Montenegro are incredibly accommodating and friendly, particularly in the coastal tourist towns that you will want to stop in, though there are a few customs that you should be aware of.
Most locals are members of the Orthodox Church and religion is important, so try to dress modestly when you visit any religious buildings. Tipping is pretty common in tourist areas, and don't be surprised to find many smokers in outdoor seating areas.
As always, there are specific laws and regulations for yachting in the country's waters, which is why it's so important to find a charter company that knows what they're doing.
Recommended Clothing and Gear
If you're visiting in the summer, you will mainly be relying on light layers and warm weather clothing, although it can get cooler in the evenings – particularly when you're out on the water.
Swimming, snorkeling, and diving gear are a must if you really want to see what the Adriatic and its coves and bays have to offer, which should be an option through most yacht charter companies as well.
A windbreaker of some kind is always going to help when you're moving quickly at sea, even if the wind itself is practically non-existent, and make sure that you will have sunscreen and shady clothing to protect yourself from the blazing Adriatic sun.
Safety Precautions
Although yachts are some of the safest ways to travel, they are still big vessels that travel on open water – so there are some precautions that you always need to take.
Crewed charters will take care of most of these concerns for you. The crew on a luxury yacht should be able to ensure that you're provided with the appropriate floatation devices and the knowledge that you need in case of an emergency or an incident, and they should be keeping a close eye on the weather for any potential changes.
If you're planning to skipper a yacht yourself, then these precautions will be in your hands. Ensure that you have no distractions while you're in control of the vessel, never drink alcohol before boating, and preferably take a safety course before you get out on the water.
Summary: How To Charter A Yacht In Montenegro
Experiencing the splendor of Montenegro by chartering a yacht is truly a dream manifested. The country's alluring coastline, punctuated by exquisite swim spots and charming towns, promises captivating visuals. With summer's tranquil, warm waters, and the awe-inspiring landscape, there's no vantage point quite like a yacht's deck.
Yearning for an unforgettable adventure? A yacht rental in Montenegro is the answer. Immerse yourself in the azure Adriatic, enjoy picturesque sunsets, and explore hidden gems along the coast. It's not just a holiday—it's a journey into the extraordinary that may very well be the greatest experience of your lifetime.