Despite its small size, Montenegro's ideal location makes it an excellent choice for tourists, catering to both mountain enthusiasts and those who prefer seaside getaways. This makes it an ideal destination to include in a compact Ulcinj itinerary.
The seaside of Montenegro is definitely one of its' best features it offers. Kotor, Budva, Herceg Novi are just some of the destinations well-known to tourists. However, one town does not get enough attention, despite its uniqueness.
A lovely seaside town called Ulcinj may be found on Montenegro's southern coast. Ulcinj is a must-see location for visitors to Montenegro because of its magnificent beaches, historical sites, and delectable cuisine. One could say Ulcinj is the ideal hidden gem of Montenegro that is worth investigating given the fact that it is not well-known to many tourists.
The name "Ulcinj" is derived from the ancient Greek name "Ολυχνίον" (Olychnion) or "Ολυκνίον" (Olyknion), which means "a place where wild fig trees grow". Over the centuries, the name has evolved into its present-day form of Ulcinj.
As for pronunciation, Ulcinj is pronounced "Ool-tseen". The "j" at the end of the name is pronounced like the "y" in "yes".
To wander through the old city, enjoy the beaches and test out different local cuisine restaurants, one would need an eternity what it seems, as Ulcinj has a lot to offer. Here are the must-see spots in Ulcinj for a one day itinerary that shouldn't be missed.
Wander through history in the old town
First on our Ulcinj itinerary, start your day by exploring Ulcinj's Stari Grad (Old Town). With narrow streets, ancient walls, and traditional buildings, this historic landmark is a well-preserved example of Ottoman architecture. Explore the small shops and cafes to get a feel for this charming town's distinct atmosphere.
Ulcinj's Stari Grad (Old Town) is a UNESCO World Heritage Site and a popular tourist destination. The town dates back to the 5th century BC and was an important trade and cultural center during the Ottoman Empire. The Old Town is located on a hill overlooking the Adriatic Sea and the city's modern area. It's a maze of narrow streets, alleys, and squares surrounded by traditional stone buildings with red-tiled roofs. The town is surrounded by high walls and towers that were built to keep invaders out. The Ulcinj Castle, which dates back to the 5th century BC and has been used by various empires throughout history, is the most prominent landmark of the Old Town.
One can enjoy views of the Adriatic Sea at the local restaurant "Antigona" before exploring centuries of history. At the restaurant you can find traditional breakfast food, such as "priganice", or enjoy breakfast from around the world. (Small tip: sunset views from Antigona are spectacular).
Let us move on in our Ulcinj itinerary. After being done with breakfast, you should head to the old town and let the little alleys show you history. Visitors to the Old Town can walk through the narrow streets and alleys while admiring the traditional architecture and historic landmarks. Popular attractions include the Balsic Tower, Namazgah Mosque, Mala Plaza Tower, and Local History Museum. The museum depicts Ulcinj's history and culture, with exhibits on art, religion, architecture, and traditional costumes.
The town comes alive in the summer when tourists flock to its beaches and events. Ulcinj Old Town is a must-see, revealing rich history and culture.
Where the river meets the ocean – Ada Bojana
Next on the Ulcinj itinerary is one of the highlights. Ada Bojana is a river island formed by the Bojana River's delta, which separates it from the mainland. The island is about 3.5 kilometers long and 1.5 kilometers wide, with sand dunes and greenery covering it. The beach on Ada Bojana is a long, sandy stretch that runs the entire length of the island and faces the Adriatic Sea.
The island is well-known for its natural beauty and pristine landscape, as well as its seafood restaurants and beach bars. Relax on the beach, swim in the clear waters, or explore the island's natural wonders like the sand dunes and the Bojana River Delta.
The island is accessible from the mainland by a narrow bridge, and there are no paved roads on the island. This contributes to the island's rustic charm and laid-back atmosphere. Ada Bojana visitors can explore the island on foot or by bicycle, taking in the natural scenery and spotting the various birds that live there.
Ada Bojana boasts seafood restaurants and beach bars serving regional specialties. It's a laid-back destination with unspoiled nature, popular among nudists and nature lovers.
Dine at "Kod Miška" for fish specialties prepared to your liking along the riverside. Local fishermen supply the restaurant with fresh catch daily.
Velika Plaza – a beach for everyone
Next on our Ulcinj itinerary – Velika Plaža, or Great Beach, is the longest beach in Montenegro, stretching over 12 kilometers from Ulcinj to the Bojana River Delta. It is also one of the most popular and beautiful beaches in the region, known for its fine sand, crystal-clear waters, and stunning scenery.
The beach is just south of the city center and can be reached by car, taxi, or public transportation. Because of the consistent winds that blow along the coast, it is also a popular destination for windsurfing and kiteboarding. For visitors who want to learn or rent equipment, there are several schools and rental shops available.
Velika Plaža is divided into sections, each with its own personality and attractions. The northern section of the beach is the most active, with a plethora of beach bars, restaurants, and water sports facilities. With fewer visitors and more natural surroundings, the middle section of the beach is quieter and more secluded. The beach's southernmost stretch is the most remote and pristine, with no facilities or infrastructure.
Aside from swimming and sunbathing, Velika Plaža offers a variety of other activities. Visitors can ride horses along the beach, rent bikes, or hike the nearby hills for a spectacular view of the coastline. Throughout the summer, the beach hosts a number of outdoor music festivals and events.
To take a look at the top five beaches in Ulcinj, take a look at our blog Ulcinj's Beach Paradise: Exploring Montenegro's Seaside Haven
History, science and nature all in one – Ulcinj Salina
How do we top this in our Ulcinj itinerary. Ulcinj Salina is a salt production facility in the southern part of Montenegro, near the town of Ulcinj. The salt pans were built in the 14th century and have been in use ever since, making them one of the Mediterranean's oldest salt production facilities.
Heading from the Velika Plaza, you can take a car, or a taxi and head South for about 11km (20 minutes) where you will reach Ulcinj Salina.
The salt pans cover an area of more than 15 square kilometers and are fed by seawater that flows into the pans via a network of canals and sluices. They harvest salt crystals by hand after the sun and wind evaporate the water.
Ulcinj Salina produces high-quality salt that is used in a variety of industries, including food, cosmetics, and medicine. Visitors come to learn about the salt production process and to enjoy the natural beauty of the area at the facility, which is also a popular tourist attraction.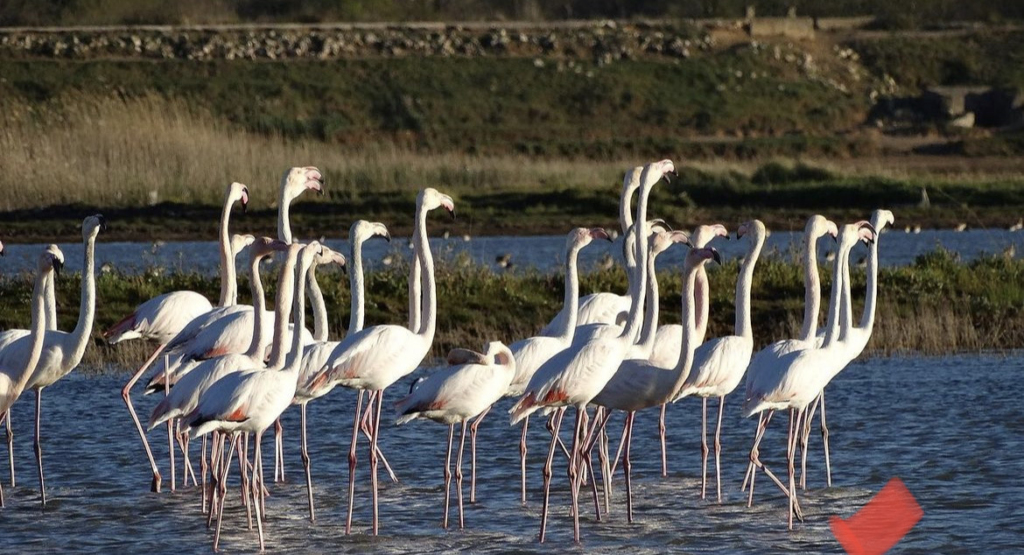 Ulcinj Salina is home to a diverse ecosystem of flora and fauna, in addition to the salt pans. The salt marshes provide critical habitat for migratory birds such as flamingos, pelicans, and herons. The area houses a variety of reptiles, amphibians, and small mammals.
Visitors can take a guided tour of Ulcinj Salina learn about the history and science of salt production, and explore the natural surroundings. Birdwatching, photography, and nature walks are also popular activities at the salt pans. The facility has a small shop where visitors can buy salt and other salt-related products.
Overall, Ulcinj Salina is a unique and fascinating destination that provides a glimpse into Montenegro's history, science, and natural beauty. Salina Ulcinj is a must-see in Ulcinj, whether you are interested in history, science, nature, or want to enjoy a scenic walk.
To find out more about Ulcinj Salina, take a look at our blog post-Ulcinj Salina: A Bird-Watcher's Paradise and a Hidden Gem for Eco and Medical Tourism
Finishing Ulcinj itinerary – the party scene
To finish off your night, we encourage you to explore the party scene of the town of Ulcinj.
Ulcinj is well-known for its vibrant nightlife, especially during the summer months when the town is packed with visitors from all over the world. There are several beach clubs, bars, and nightclubs in town that provide visitors with a lively and exciting atmosphere.
Ulcinj's vibrant party scene is centered along the coast, where a plethora of beach clubs and bars offer music, drinks, and a festive atmosphere. The beaches of Velika Plaža and Ada Bojana are particularly lively, with an abundance of beach bars and clubs that remain open late into the night. For an unforgettable night out, head to Dolcinium or Nomade Beach where you can revel in an exciting night filled with pure bliss.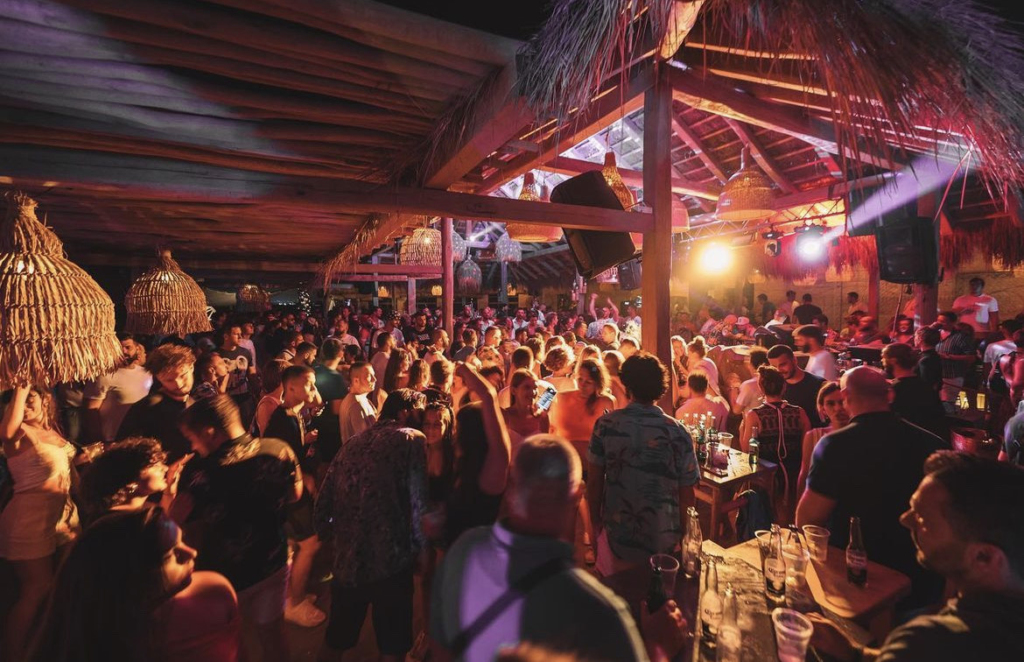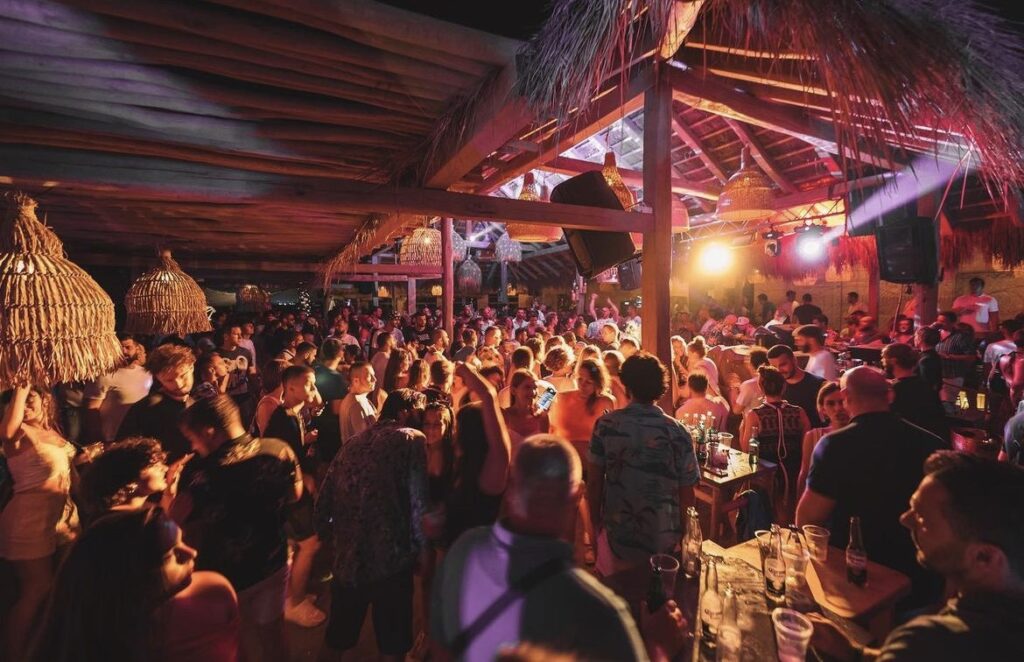 Ulcinj also has a number of nightclubs that cater to a younger crowd, with DJs spinning music ranging from techno to hip-hop. These nightclubs are popular with both locals and tourists. The most popular open bars are found in the city center on the sidewalk (Provocateur, Big Ben, La casa de papel). You can visit Buddha Bar or H2O, which are open until the early hours of the morning.
In addition to the beach clubs and nightclubs, the town center has several bars and cafes that provide a more relaxed atmosphere (such as Plaza Hotel, Riva, and Hotel Mediteran) for visitors who want to enjoy a drink or socialize with friends. These establishments frequently have outdoor seating areas and serve a variety of drinks, snacks, and music.
Overall, the party scene in Ulcinj is diverse and exciting, with something for everyone. Ulcinj has a variety of nightlife options, whether you want to dance the night away at a beach club or relax with a drink at a bar. The party scene can get crowded and noisy, especially during peak tourist season.
We hope you liked our one-day itinerary for Ulcinj – let us know in the comments if there are other things you would like to include or things we have missed out on.