Montenegro, a dazzling gem in the heart of the Balkans, truly is a hiker's delight. This majestic country offers an enchanting blend of serene glacial lakes, ancient forests, captivating rivers, and rugged mountain peaks. Montenegro boasts a plethora of hiking trails, catering to casual strollers and seasoned climbers alike. Prepare to embark on an exploration of the eight finest hiking trails in this hiker's paradise, where we'll delve into each trail's length, level of difficulty, and the spectacular vistas you'll encounter.
Black Lake, Durmitor National Park
An easy one to kick us off – this tranquil and family-friendly trail is a 3.5 km loop around the serene Black Lake. Ideal for a casual stroll, this path presents picture-perfect views surrounded by towering pines and the striking backdrop of Meded Peak.
The path is well-marked and flat, making it suitable for younger children and those looking for a leisurely stroll. As you walk, you can enjoy the tranquil ambiance, observe local wildlife, and take in the stunning reflections on the lake's surface. This hiking trail embodies the enchanting tranquility of Montenegro, making it a must-do for families.
More than just a serene hiking destination, Black Lake offers a variety of outdoor activities suitable for all ages. During the warmer months, visitors can rent paddle boats or canoes to explore the lake's calm waters, or even take a refreshing dip. The area's flat, easy trails are perfect for biking, and fishing enthusiasts can try their luck in the lake's bountiful waters. Surrounding picnic areas provide idyllic spots for an outdoor meal. No matter your interest, Black Lake is a hub of adventure and natural beauty waiting to be explored.
Circuit around Biogradska Lake, Biogradska Gora National Park
An easy 3.5 km loop, this trail offers a close encounter with one of Europe's last remaining primeval forests. The flat path around Biogradska Lake introduces you to diverse flora, fauna, and captivating views of the clear lake. The lake is an awe-inspiring spectacle of raw beauty. Its crystal-clear waters provide a perfect mirror for the riotous colors of the surrounding ancient forest and distant mountain peaks.
Spanning 229,000 square meters and plunging 12 meters at its deepest, the lake is an ever-changing canvas of reflections. From serene morning mists to fiery autumnal hues, Biogradska Lake is more than just a body of water – it's a mesmerizing play of light, color, and undisturbed natural grandeur. Whether for a leisurely stroll, a tranquil boat ride, or a moment of reflection on its banks, this lake promises an experience as profound as nature itself.
Lovćen Mountain and National Park
The trail to the Njegoš Mausoleum atop Mount Lovćen is a relatively easy hike that covers about 6 km round-trip and a popular one in Montenegro. This well-maintained trail rewards you with panoramic views of the Montenegrin coast, Lake Skadar, and a vast range of surrounding mountains.
The climax of this journey is the grand Njegoš Mausoleum, an architectural marvel and tribute to the Montenegrin poet and philosopher bishop, Petar II Petrović-Njegoš. Here, the views extend even further, offering a rewarding visual feast at the end of your trek. This blend of history, architecture, and natural beauty truly creates a gratifying payoff for hikers who embark on this trail.
Piva Canyon Path
With a length of 10 km, this moderate-level trail takes you along the dramatic Piva River Canyon. Expect to experience stunning cliffside views, dense forest landscapes, and the striking turquoise waters of the Piva River and Lake.
Ladder of Kotor
This historic 10 km one-way trail is of moderate difficulty, starting from Kotor's old town and reaching 940 meters at its peak. As you ascend the switchback path, the view of the Bay of Kotor keeps getting better and better.
While the trail is not technically demanding, it does require a good level of physical fitness due to its length and the continuous uphill climb. The path is well-trodden and marked, but it can be rocky and rough in places, which might be challenging for very young children or people with limited mobility.
If you have older children who are accustomed to hiking and enjoy outdoor adventures, they might find this hike exciting. It's always recommended to start early to avoid the midday sun, carry plenty of water, and wear sturdy footwear. The hike can take up to 4-5 hours for the average hiker, so do plan your day accordingly.
Remember, even if you don't make it to the top, the lower parts of the trail also offer fantastic views of the town and the bay. Thus, you can turn back whenever you feel ready.
Rumija Mountain Trail
Now we get to the tougher ones – so generally not recommended for younger children. Maybe the pluckier older ones can join.
Covering 14 km round-trip, this trail of moderate to high difficulty begins in the coastal town of Bar and ascends Rumija Mountain. The stunning trail offers the rare sight of the Adriatic Sea, Lake Skadar, and the Albanian Alps seamlessly blending into one another.
The peak of the 1595-meter-high Rumija Mountain offers an extraordinary panorama: the Adriatic Sea on one side and Skadar Lake on the other. It's a sight that's as breathtaking as it is unique. The summit also holds significant cultural importance, being the location of an annual tradition that dates back a thousand years. Here, on St. Trinity Day, people of three different faiths – Orthodox, Catholic, and Muslim – gather to bring the cross of St. Jovan Vladimir.
Prokletije National Park, Volušnica and Taljanka Peaks
Pause for breath
This strenuous 15 km round-trip trail takes you through dense forests, alpine grasslands, and craggy mountain terrain. The hike culminates at the Volušnica and Taljanka peaks, offering unmatched views of the 'Albanian Alps'.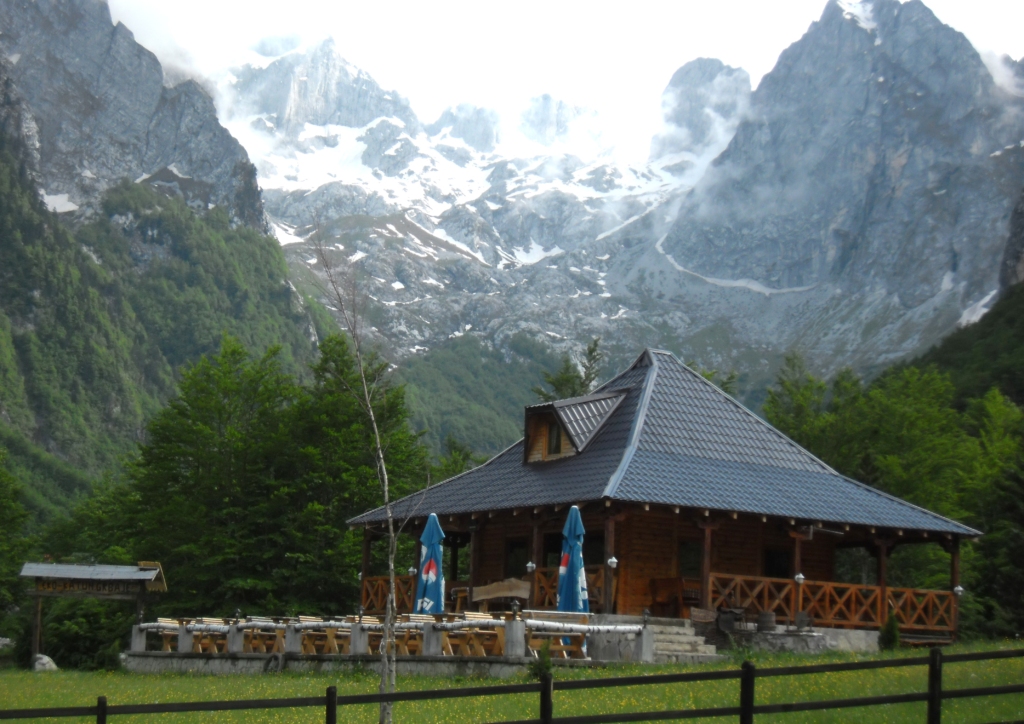 Located in the heart of Prokletije, also known as the Accursed Mountains, the Grebaje Valley is a hiker's dream come true. This corner of Southwest Montenegro is home to a landscape of stunning mountains that provide unmatched panoramic vistas. Among these grand heights are Mount Volušnica and Mount Taljanka, which perch on the border between Albania and Montenegro.
From these summits, one can soak in breathtaking views of the Karanfili massif, including the distinctive Karanfili peaks, the sharp Očnjak, and the Vezirova Brada pass – the gateway to these magnificent ranges. This blend of natural splendor underscores why Grebaje Valley is regarded as a wonderland for outdoor enthusiasts.
Bobotov Kuk, Durmitor National Park
And last but not least on our list of hiking trails in Montenegro.
The most challenging on the list, the 10 km round-trip hike to Bobotov Kuk, Montenegro's highest peak at 2,523 meters, is a true test of endurance and hiking ability. Navigate through rocky terrains and sharp turns to reach the top, where breathtaking views of the Durmitor massif await.

The journey to the summit of Bobotov Kuk can be navigated through four distinct trails, each offering unique route combinations. However, it's crucial to be mindful that the time of year and weather conditions can affect the accessibility of certain paths, making it a good practice to check in with the local Žabljak authorities before embarking on your hike. Each trail is distinctly marked with red circles featuring white centers to guide your journey.
For the more ambitious hikers, a challenging trail starts directly from Žabljak, passes by the stunning Crno Jezero (Black Lake), and approaches Bobotov Kuk from the northeast. This demanding route typically takes about five hours to conquer. The remaining three trails initiate from the south and west, converging at Zeleni Vir Lake and continuing as one until they link up with the Žabljak route at the Velika Privija Pass, creating a versatile network of trails for every level of hiking enthusiast.
Some tips before you go
Know Your Trail: Gain a thorough understanding of your selected trail before setting foot on it. Familiarize yourself with the trail's length, altitude shifts, and degree of difficulty.
Check the Weather: Montenegro's weather can be unpredictable, particularly in mountainous regions. Always check the forecast before your hike and plan accordingly.
Pack Smart: Ensure you have all the necessary supplies for your hike. This includes ample water, high-energy snacks, a map, compass, first-aid kit, multi-tool, headlamp, rain gear, and warm clothing layers.
Wear Proper Footwear: Mountain trails can be rugged and challenging. Wear sturdy hiking boots that are well broken-in to provide good ankle support and traction.
Start Early: Most of these trails take several hours to complete. It's best to start early in the morning to avoid hiking in the dark and to ensure you have enough time to enjoy the views.
Respect the Environment: Preserve the natural beauty of Montenegro's trails by sticking to the designated path, carrying out all trash, and observing all trail signs and closures.
Stay Safe: Be aware of your surroundings and watch your footing, especially on steep or rocky sections. Let someone know your hiking plans before you go, and ideally, don't hike alone.
Acclimatize: Some of these hikes, like Bobotov Kuk, reach high altitudes. If you're not used to these heights, take time to acclimatize and listen to your body to prevent altitude sickness.
Take Regular Breaks: Hiking is not a race. Regular breaks help maintain your energy and give you time to enjoy the breathtaking views.
Local Advice: If possible, consult with local experts or experienced hikers to get valuable insights about the trails.
Remember, hiking should be an enjoyable and rewarding experience – and definitely is in Montenegro. By preparing adequately and respecting the environment, you'll create a memorable adventure in Montenegro's majestic mountains.