If you're a passionate traveler like me, seeking immersive luxury experiences that exchange the ordinary for the extraordinary, then Montenegro is your ideal destination. Here, in the heart of the Balkans, a grand panorama of history and stunning scenery meets an unparalleled luxury stay. This beautiful paradise, with its regal opulence, truly offers an exceptional escape from the everyday.
But this isn't just about pointing you toward a fancy hotel and calling it a day. No, we're embarking on a search for experiences that make you go 'Wow!' every step of the way. Those unique, unforgettable places take luxury to the next level and make your journey feel like a scene straight out of a James Bond movie.
If limitless luxury is your pursuit and you don't shy away from indulging in the finest experiences, then Montenegro should be your ultimate destination. This playground of opulence hosts an array of elite resorts and boutique hotels, curated especially for discerning travelers who appreciate the meticulous attention to detail. These prestigious establishments guarantee more than just extraordinary comfort, they offer a blend of world-class facilities that harmoniously unite modern convenience with old-world charm, resulting in a truly unparalleled luxury stay in Montenegro.
The selection process of our finest recommendations revolves around three key criteria: comfort, facilities, and the 'oomph' factor.
Comfort is fundamental and extends beyond simply luxurious linens or spacious suites. We consider aspects such as attentive, personalized service, plush furnishings, and an overall atmosphere of tranquillity and serenity, where every concern melts away, leaving only profound relaxation in its wake.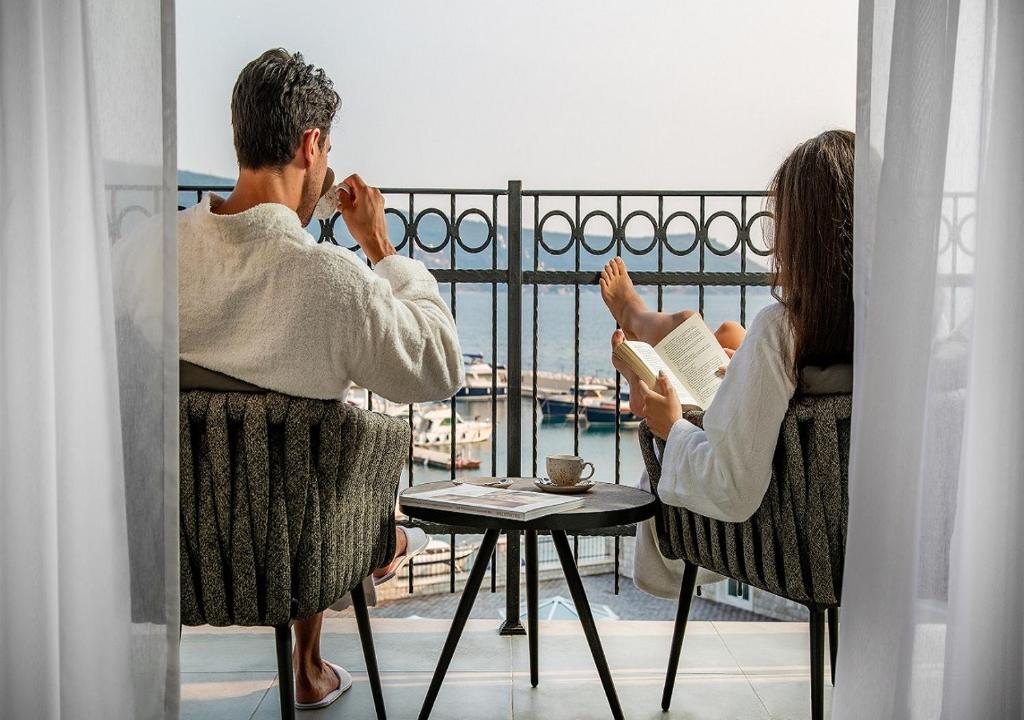 The facilities of each establishment play a significant role in determining its position in our luxury hierarchy. World-class spas, gourmet dining options, private beaches, extravagant infinity pools, and exclusive access to high-end leisure activities such as yacht tours or golf courses are just a few of the features that could tip the scales.
Lastly, the elusive 'oomph' factor. This intangible quality that sets a place apart from its high-end competitors can be found in the form of stunning architectural design, a remarkable location, a rich historical legacy, or even a celebrity endorsement.
In this article, we will embark on a journey through the crème de la crème of Montenegro's accommodations, where cost is an afterthought, and the focus is firmly on living life at its most luxuriant. Prepare to be swept off your feet as we explore the best places to stay in Montenegro, where money is merely a detail.
Hyatt Regency Kotor Bay Resort
First on our list of luxury stays in Montenegro – Welcome to a place where tranquillity and luxury unite – the Hyatt Regency Kotor Bay Resort. Nestled in the heart of the Kotor Bay, this resort is more than just a haven of relaxation; it's your personal gateway to Montenegro's captivating charm.
Rooms here aren't simply 'rooms'. They're spacious sanctuaries, impeccably clean and filled with thoughtful amenities. Imagine waking up in your private hot tub, gazing at the mesmerizing views of the Adriatic's azure waters – pure bliss. The staff, filled with genuine warmth and eagerness to assist, make your comfort their priority. Sure, they're still fine-tuning to the Hyatt's standard, but their dedication promises a service that feels like coming home.
Moving on to facilities, the resort is a treasure trove. Get your pulse racing in a well-equipped gym or let the steam off in a cozy sauna. Dive into the beautifully designed indoor pool or luxuriate in the professional wellness center – the choice is yours. And did we mention the semi-private beach? With a calm, inviting sea and sun beds laid out, it's the perfect place to lose track of time.
Epicureans, rejoice! With three restaurants offering a culinary journey from local and international dishes to modern Balkan fare, every meal is a revelation. Particularly notable is the Hedonist Rooftop Restaurant – a place where nights come alive with spectacular flavors and traditional Balkan hospitality.
The resort's 'oomph' factor? Undeniable. Perfectly positioned a short drive from Kotor Old Town, it delivers the perfect balance between accessibility and privacy. Here, you're away from the crowds yet close enough to step into the heart of Montenegro's history at a moment's notice. Coupled with the exciting integration with the Hyatt group and the promise of even more luxury on the horizon, the Hyatt Regency Kotor Bay Resort is a place that doesn't just promise a luxurious stay; it promises an experience you'll remember for a lifetime.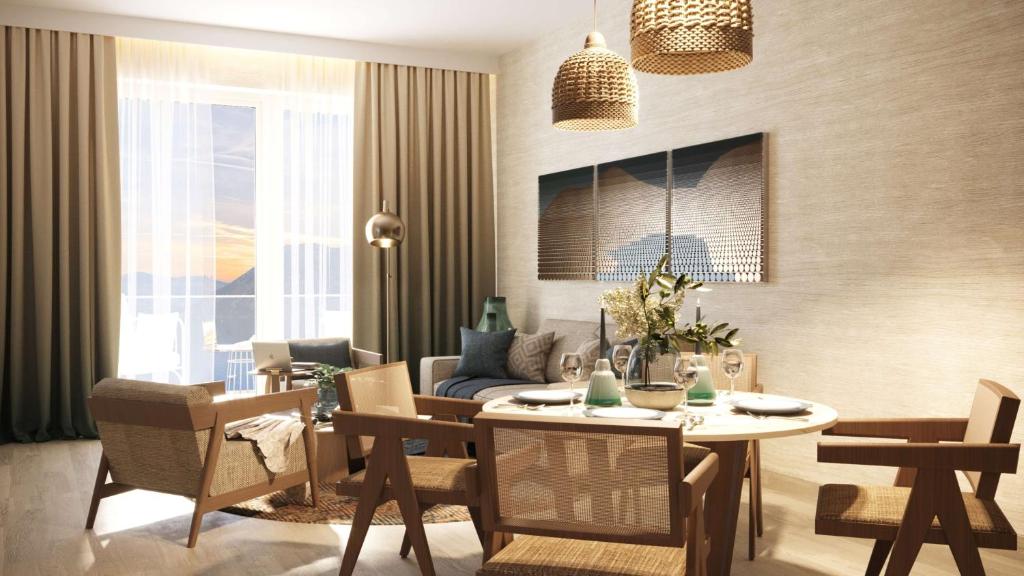 In essence, this resort isn't just about delivering luxury – it's about redefining it. It's not just about meeting expectations – it's about surpassing them. So, if you're dreaming of a getaway where every detail is tailored to perfection, pack your bags and let Hyatt Regency Kotor Bay Resort be your destination. Montenegro is calling.
Read Also: Eight Unique Accommodation: Rethinking Your Stay in Montenegro
Three Dots
At the crossroads of past and present, where rich history harmoniously fuses with modern luxury, you'll find an enchanting place called Three Dots. Once a palatial residence for renowned sea captains, this 18th-century landmark has been lovingly reimagined to create a luxurious sanctuary for discerning travelers.
Stepping inside this majestic stone building, the first thing you'll notice is how seamlessly the past and present blend. While the external architecture and facade are reminiscent of its historical roots, the interior unveils a luxury that is anything but dated.
Each room tells a tale of bespoke elegance, from the handpicked furnishings to the mesmerizing views. And space isn't just a luxury here; it's the standard. The rooms, designed for extended stays, cater to every need with distinct zones for rest, work, and leisure.
But the allure of Three Dots isn't confined to its walls. Venture outside, and you'll find yourself in the heart of Boka Bay, Kotor's most refined neighborhood. Surrounded by a lush garden, the terrace offers an unforgettable vista of the sea and the bay, making it the perfect place to lose yourself in the beauty of a Montenegrin sunset, glass of wine in hand.
The villa's location further accentuates its charm. Set along the coastline, it offers direct access to the beach, creating an endless playground of water sports and leisure activities. It's also within strolling distance of Kotor's old town, where the rich tapestry of Montenegrin history unfolds, and a brief 15-minute drive from Tivat airport, making it easily accessible.
Attention to detail and traditional Mediterranean architecture set the tone for this family-run oasis. The Todorovic family have gone above and beyond to create an environment where luxurious comfort, high-end amenities, and personalized service blend into a seamless experience that leaves guests longing to return.
Nestled in Kotor's elegant Dobrota neighborhood, this 18th-century family villa merges history with contemporary style. While it doesn't feature extravagant restaurants or spas, its charm lies in authenticity and unique charisma. Boasting stunning views, modern comfort, and heartwarming Todorovic family service, it provides a truly immersive Montenegrin experience. Nearby, local eateries serve up hearty Mediterranean fare. At Three Dots, you'll find home-style comfort, memorable hospitality, and a taste of real Montenegrin life.
Lazure Hotel & Marina
Dive into an extraordinary journey of luxury at Lazure Hotel & Marina, a dreamy retreat overlooking the breathtaking Kotor Bay. This resort is the epitome of world-class service and refined sophistication, promising an experience nothing short of magnificent.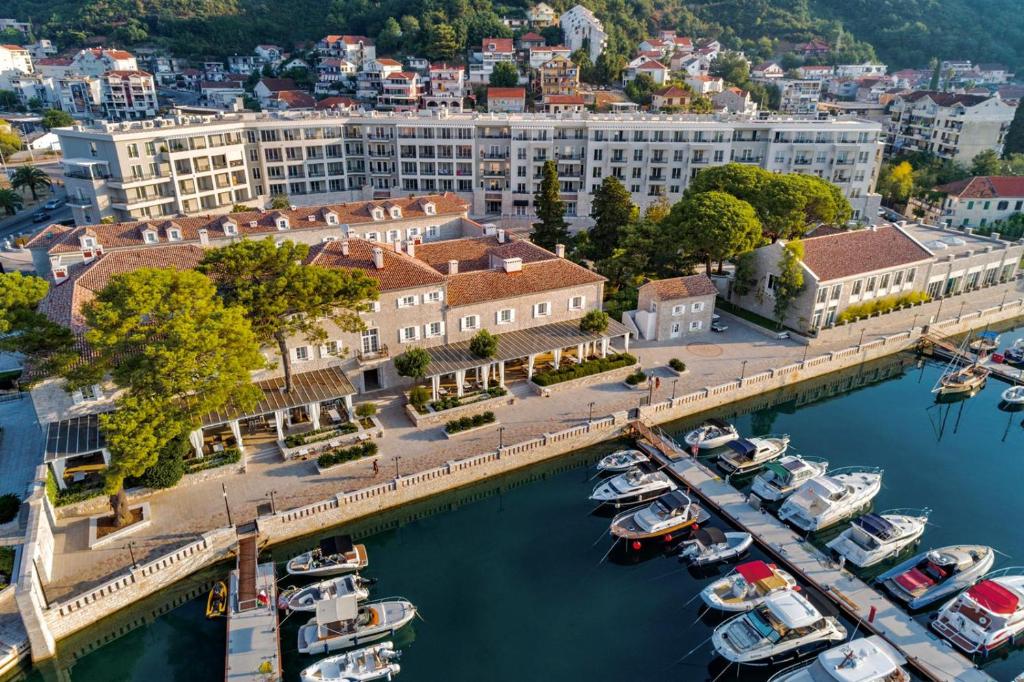 Ensconced in an 18th-century Lazaret building and paired with a modern architectural marvel, the Lazure Hotel & Marina presents a delightful blend of the past's charm and the present's grandeur. With 128 rooms and suites, this property offers luxurious comfort, each private bathroom pampered with either a walk-in shower or a spa bath. They haven't skimped on the finer details, with complimentary coffee and tea facilities adding a touch of homely warmth to your stay.
Start your day with a sumptuous buffet or vegetarian breakfast that whets the appetite for the gastronomic journey to come. Two on-site restaurants offer a sampling of Mediterranean cuisine, providing an array of culinary delights to satisfy even the most discerning palate. Meanwhile, the wine and lounge bar is a connoisseur's dream, housing a selection of the finest wines and cocktails.
The Lazure Hotel & Marina also serves as a beacon for wellness and rejuvenation – and weddings (Read our guide to arranging a wedding in Montenegro). The Atmosphere Spa boasts an indoor pool, various saunas, and a gym, ensuring that relaxation and revitalization are always within reach. But the pampering doesn't end there – they have a special treat in the form of Rituals soaps and free drinks at the spa facilities.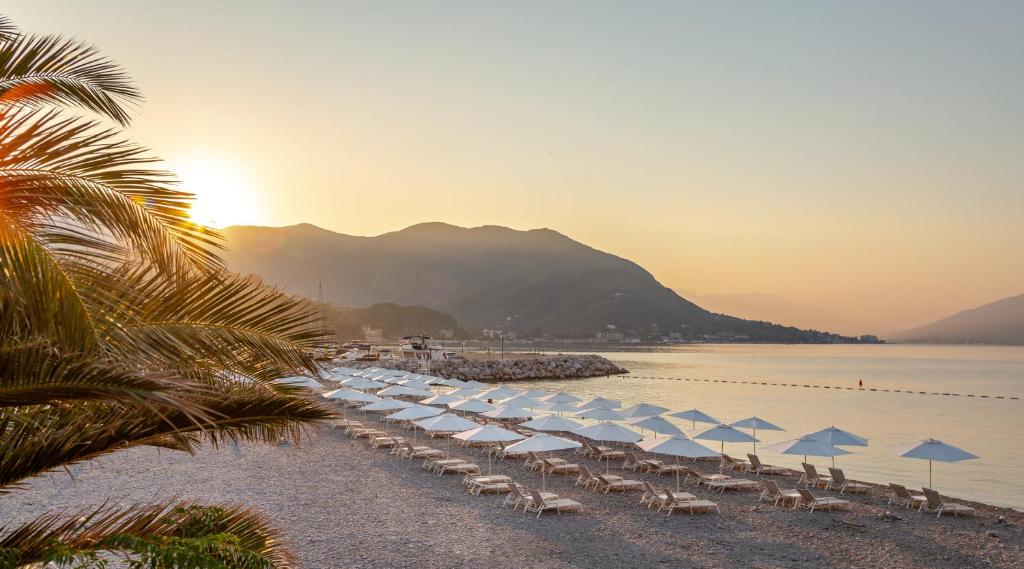 The true star of the show? The location. Positioned just a stone's throw away from Herceg Novi, with views of the marina and the sea, the hotel offers unparalleled access to Montenegro's breathtaking landscapes. The historic charm of the town, paired with the chic sophistication of the hotel, makes for an unparalleled guest experience.
The Lazure Hotel Complex offers more than just luxury accommodation; it also houses a state-of-the-art marina at the entrance of the stunning Bay of Kotor. This feature, combined with the hotel's five-star amenities, offers yacht owners a unique blend of maritime convenience and hospitality. With 156 berths, a wealth of nautical services, and 24/7 staff support, your sailing needs are well-catered for. This added marina access enhances the appeal of a stay at the Lazure Hotel Complex, making it a prime choice for seafarers.
All in all, Lazure Hotel & Marina goes beyond offering a luxurious stay. It invites you to be part of an exceptional experience where comfort, grandeur, and warm hospitality intertwine to create an unforgettable memory. Let this be your haven, your sanctuary, your slice of heaven in the heart of Kotor Bay.
Dukley Hotel & Resort: An Idyllic Hideaway in Budva
Imagine a sanctuary where unspoiled nature meets unrivaled luxury. Welcome to Dukley Hotel & Resort, a 5-star treasure in Budva, enveloped by verdant gardens, boasting a private beach area and overlooking a sea so clear it's as if it's crystallized. Relax by the rooftop infinity pool, where you can savor light refreshments while the gentle Montenegrin sun warms your skin.
The Dukley experience isn't complete without an indulgence in culinary delights. Head to the Seafront Restaurant, where the concept of fine dining meets fresh food, and embark on a gastronomic journey that transcends the ordinary. With three on-site restaurants set on three different beaches in the resort, you'll be spoilt for choice. Savor refreshing drinks and snacks at Dukley Beach & Bar, enjoy a modern spin on Japanese dishes at Rokki Maki Beach & Restaurant, or immerse in a Mediterranean feast at the family-friendly Escape Beach & Restaurant.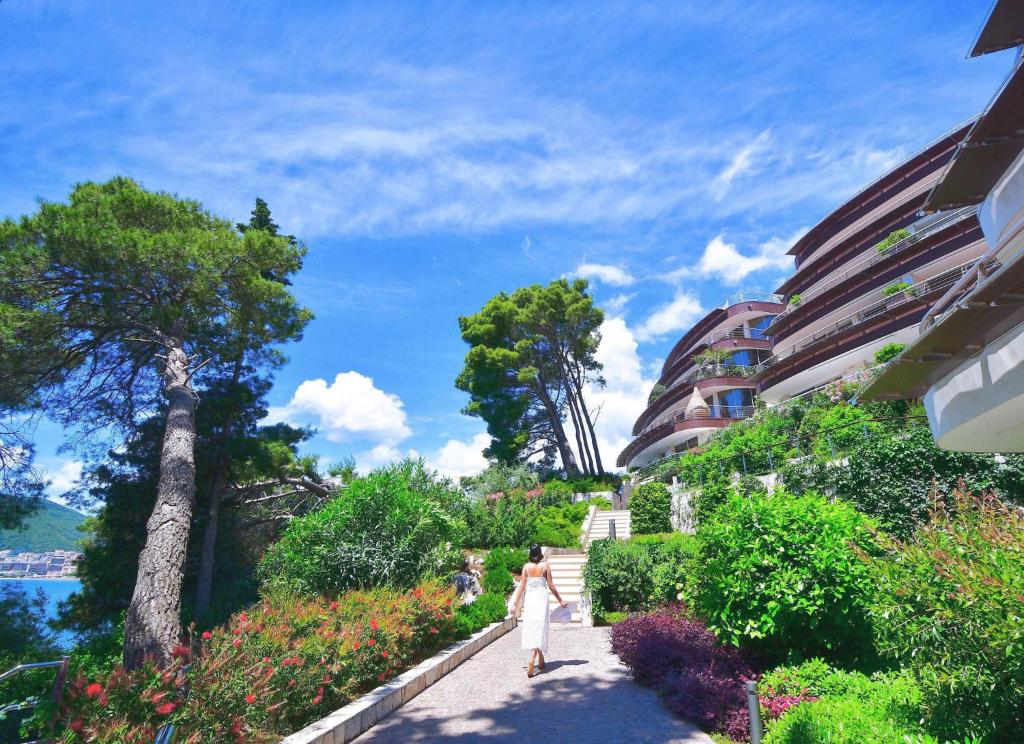 Navigate the sprawling resort with ease, courtesy of the golf carts available at your disposal. There's also complimentary on-site parking, and a boat transfer to Budva Old Town is available, ensuring your exploration of the surrounding beauty is as effortless as possible.
Nestled within a verdant landscape of mature pines, cypresses, and olive groves on the Zavala Peninsula, the Dukley Hotel & Resort is a testament to the luxuries of five-star hotel privileges. Here, you're not just a guest; you're a part of an extraordinary world designed with the intimacy and comfort of home. Embark on this spectacular journey at Dukley, where luxury has no boundaries, and your comfort knows no limits.
One&Only Portonovi: Your Gateway to Luxury in Herceg-Novi
Seated majestically in Herceg-Novi, a stone's throw away from Denovici Beach, One&Only Portonovi immerses you in an unrivaled five-star resort experience. The resort radiates opulence from every corner, offering a curated collection of amenities from free bikes, free private parking, a serene garden to a shared lounge. But what sets it apart is the impeccable service, including a 24-hour front desk, attentive room service, and the joyful environment of the kids' club – a must for parents.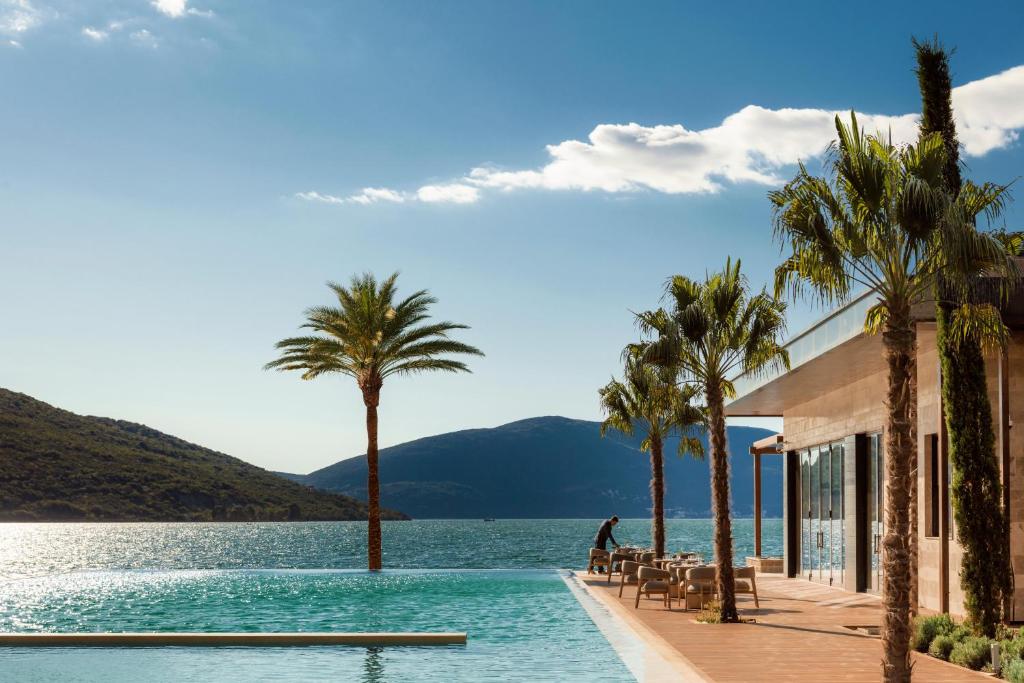 Every morning at the resort is an invitation to indulge in an array of breakfast options. Choose from a sumptuous buffet, a continental spread, or a vegetarian feast. Dining at One&Only Portonovi is a culinary adventure, with the in-house restaurant serving an array of Italian, local, and Asian cuisines. For those with specific dietary needs, vegetarian, vegan, and dairy-free options are readily available.
The beauty of One&Only Portonovi isn't confined within its walls. It's part of a gated community housing a marina and other properties, all complemented by an array of delightful dining options. The hotel's interior, adorned with stunning art and masterfully curated lighting, exudes an air of sophistication and luxury. The rooms are breathtaking, boasting marvelously spacious bathrooms and captivating views from expansive balconies.
Your journey to wellness continues at the resort's spa and gym, each equipped with everything you need for rejuvenation and invigoration. Dining at the Tapasake and Sabia restaurants offer culinary experiences that are as sumptuous as they are unforgettable.
And as the cherry on top, One&Only Portonovi has a private beach and is conveniently located near Porto Montenegro, adding an extra layer of exclusivity to your stay. This property encapsulates the very essence of luxury hospitality, where hand-written notes from General Manager, personalized service, and meticulous attention to detail create a hotel experience like no other. One&Only Portonovi isn't just a resort; it's your dream turned into reality.

In conclusion, the splendor of Montenegro is made all the more enchanting by its delightful offerings of luxurious accommodations. Each property – whether it's the history-steeped Three Dots Villa, the charming seaside retreat at Lazure Hotel & Marina, the lushly landscaped haven at Dukley Hotel & Resort, or the unrivaled opulence of One&Only Portonovi – creates a unique narrative of elegance, comfort, and top-tier hospitality. They stand as true testaments to Montenegro's rich cultural heritage, breathtaking landscapes, and burgeoning luxury tourism. These gems of Montenegrin hospitality truly showcase how they can turn every visitor's stay into a dreamlike experience, blending seamless service, unrivaled amenities, stunning locations, and a deep understanding of modern luxury. Whether you're seeking an intimate, serene escape or an opulent seaside adventure, these four properties promise unforgettable experiences that go beyond the ordinary, plunging you into the extraordinary, and leaving you with memories that will last a lifetime.