Hello, my fellow travelers! If you're heading to Montenegro, listen up as I've got the inside scoop on a must-visit spot – Mount Lovćen National Park. It's been a national park since 1952 and covers an area of 6.4000 hectares at a whopping altitude of 939 meters. That's right, we're talking some serious height here, folks.
But it's not just the altitude that makes Lovćen so special. This mountain has been a refuge for Montenegrins poets, rulers, and brave people for centuries. It's practically a national treasure! And you know what else? Lovćen is even sung about in Montenegro's national anthem. Talk about a symbol of national identity, am I right?
But enough about history, let's talk about what's really important – the attractions! The Lovćen serpentines are one of the most famous architectural marvels on the mountain. And no, we're not talking about a bunch of snakes slithering around. We're talking about a winding road that'll take your breath away with its stunning views. And if that's not enough, Njegoš's mausoleum is also located on the mountain and is a hot spot for tourists.
So, pack your bags, get your hiking boots on, and get ready to experience the beauty and magic of Montenegro like never before. Mount Lovćen National Park is calling your name!
Visit Cetinje – the former Royal Capital of Montenegro.
Your first stop on the road to NP Lovćen is Cetinje. Cetinje is the historical and cultural center of Montenegro, the city where archives and museums are located. It was the former royal capital of Montenegro before Podgorica was declared capital in 1946. Centuries-old Cetinje history is difficult to explain in a couple of paragraphs. It needs to be visited and felt instead of said.
We recommend visiting "Đurđe Crnojević" Central National Library, the National Museum of Montenegro, the Archives of Montenegro, the Republic Institute for Preserving Cultural Heritage, the Zetski Dom Montenegrin Royal National Theatre, and the Monastery of Cetinje.
Visit the Mausoleum of Njegoš – the highest mausoleum in the world
After visiting Cetinje, you must visit Njegoš's mausoleum. It was built between 1970 and 1974 according to the idea of sculptor Ivan Meštrović. It is located on Jezerski Vrh, the second-highest peak of the Lovćen mountain (1657 meters). Being built at this height, this is the highest mausoleum in the world.
This recognizable peak is important to the Montenegrin people as the place where the hero of Montenegrin history, the former ruler and philosopher Petar II Petrović Njegoš, rests. Njegoš himself chose Jezerski Vrh as a place where he wanted to be laid to rest.
In the vestibule of Njegoš's mausoleum, there are two caryatids representing women in national costume, weighing 7.5 tons each. In front of the mausoleum is a statue of Njegoš, made of granite, which weighs about 28 tons and is 3.74 meters high.
Getting to the mausoleum requires a bit of effort because there are 461 steps to climb the entrance to the mausoleum! But after you reach the top, the sight you will come across will leave you speechless. The astounding Bay of Kotor and Skadar Lake will be in the palm of your hand. 
The Mausoleum is open for visits from 11/04-15/11, from 09-17h every day.
Visit the Adventure Park Lovćen
If instead of enjoying nature and sightseeing, you are a lover of adventurous activities and adrenaline, visit the adventure park Lovćen.
Looking for an adventure in Montenegro? Look no further than the adventure park at Ivanova Korita – a popular resting spot in the country. This amazing park covers 20,000 square meters of lush beech forests and features seven different trails with fifteen platforms each, ranging from one to fifteen meters high.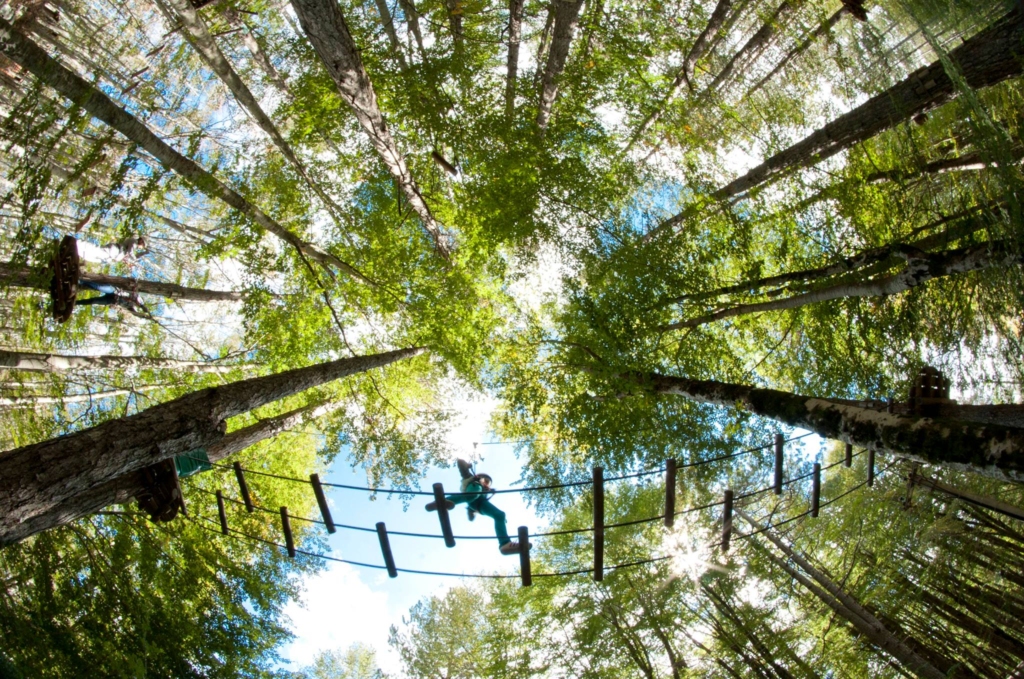 Whether you're five years old or eighty-five, there's a program for everyone at this park. Experienced adventurers will love the challenging tracks and trails, while beginners can rest easy knowing they'll have all the necessary equipment and a team of professionally trained instructors to guide them every step of the way.
No matter your skill level, you're sure to have a blast at the adventure park. So don't hesitate – head on over to Ivanova Korita and get ready to unleash your inner adventurer!
Under the peak of the Lovćen mountain is the village of Njeguši, known for its numerous culinary specialties. In particular, Njeguši Prosciutto (Njeguški pršut), sausage, castradine (dried mutton), and cheese have peculiar tastes and aromas thanks to the mixing mountain and sea air conditions. Njeguši Prosciutto even became trademarked as a national Montenegrin product.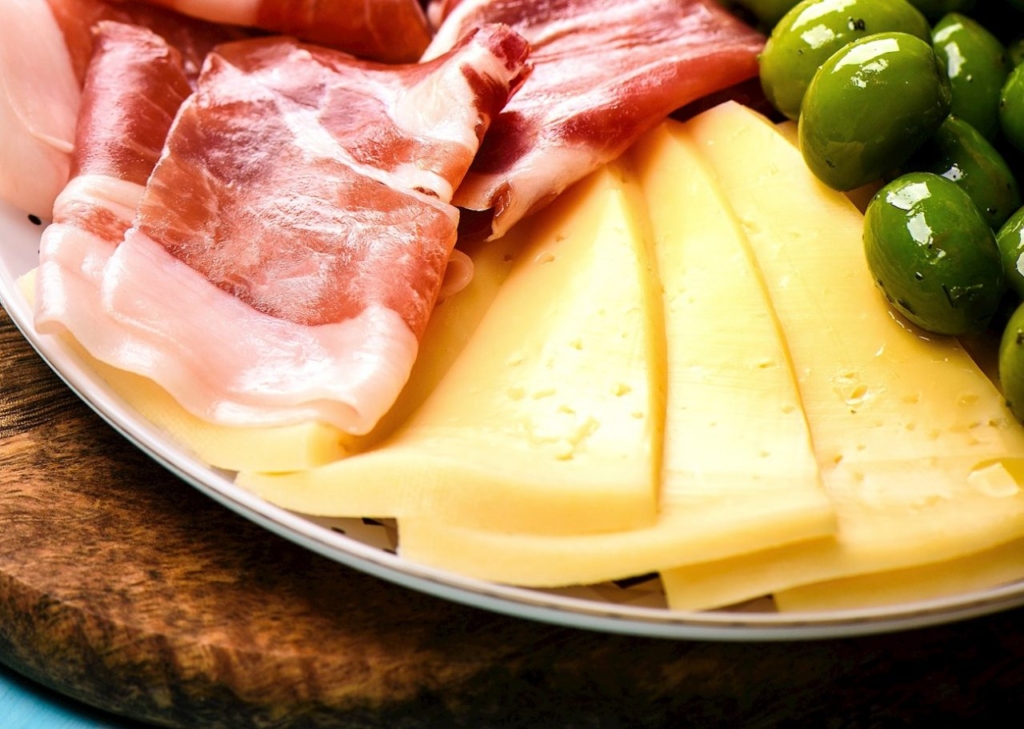 The climate of the National Park
The climate is moderate-continental and mountainous, influenced by the Mediterranean, with a pronounced average annual precipitation. It is very much affected by the fact that Mount Lovćen is a natural border between sea and land because it is only 4-5 kilometers from the Adriatic Sea.
Cetinje is one of the rainiest cities in Europe, with about 4000 mm of water precipitation per year.
The existence of flora and fauna in a very small area of the national park is very important. Taking advantage of the influence of two climates on Lovćen caused the development of an extremely rich flora and fauna. The plant community comprises 1,300 species, many rare, endemic, medicinal, and aromatic plants.
In the National Park, there are five zones with a special regime of use and management:
Munike pine forest reserve (at the foot of Štirovnik and Jezerski Vrh)
Beech, conifer, and rare larch forest reserve (space between Jezerski vrh, Štirovnik, Treštenički vrh, Babnjak, and Goliš)
Beech gorest reserve (Konjsko)
Pine forest reserve (space between Rupa and Blatište at about 1,100m above sea level)
Herpetological reserve (Lake below Jezerski vrh)
How to reach National Park Lovćen
There are different routes you can use to go to NP Lovćen, depending on your location. If you go from Podgorica or Nikšić, you will go to Cetinje, which is around 30-45 minutes by car. From there, you will reach the park easily, taking the Lovćen road from the town of Cetinje.
You can visit the NP from Kotor also. Since Lovćen is located near Kotor, you can climb the famous "Cattaro" ladders, which will take you directly to Jezerski Vrh and the mausoleum. However, this trip will take between 1,5-2 hours, so you better be in good form.
It is important to remember that if you go by car, the road to the NP is narrow and full of sharp curves. You can go by taxi, which will take you and return you for approximately 20 euros.
Entrance to NP Lovćen is €2, free for children 0-7 years old.
Conclusion
To conclude,
This park is a true natural wonderland, with its stunning scenery and rich cultural history. You'll be gobsmacked by the beauty of the landscape and the fascinating stories behind the park's many landmarks.
Seriously, this place is like a fairy tale come to life. It's got everything from mountain peaks that touch the sky to historic landmarks that'll make you feel like you're traveling through time. And don't even get us started on the views. Let's just say, Instagram will never be the same again.
We guarantee that visiting Lovćen National Park will be an experience you'll never forget. It's the kind of place that'll make you want to pack up and move to Montenegro permanently. So, what are you waiting for? Grab your camera, slap on some sunscreen, and get ready to discover the beauty of Montenegro like never before!