Who does not love shopping? Especially when it's done in a beautiful Adriatic coastal town that is small, cozy, and full of incredible stores. Yes! You read that right. Tivat in Montenegro is a place where every shopaholic's dreams come true. This incredible town and Porto Montenegro are true synonyms for spectacular shopping, as many brands have found their home in this lovely coastal city in Boka Bay.
Considering that you, shopping lovers, can get carried away in your spree, we decided to step up and help you. Therefore, this blog brings you the ultimate guide to shopping in Tivat. Keep reading and uncover where you can purchase the best clothing items, footwear, jewelry, and even handmade souvenirs that will become memories to cherish.
So let the shopping journey begin!
Tivat: Mix of Adriatic Charm and Modern Luxury
Tivat is an incredibly beautiful coastal town in the heart of Boka Bay. This centuries-old settlement represents a vibrant mix of coastal calmness, incredible historical heritage, and urban cultural life. With its incredible blend of styles colliding in a small space, Tivat soon became favored among tourists visiting Montenegro.
Speaking of its popularity, the main characteristic that visitors emphasize is that Tivat is extremely quiet and peaceful. As it is located between the sea and the mountains, the city has an incredibly relaxing environment. The abundance of green spaces in this city, which includes outstanding botanical gardens and lovely beaches with nearby natural shade, serves to emphasize this.
Additionally, as we mentioned, the town is known for its vibrant cultural life. It is home to many festivals and art exhibitions throughout the entire year. Tivat's location is exceptional, as many popular sights are less than an hour away if you are not in summer rush hour, which is why many tourists choose to visit and stay there. The town also hosts one of the most beautiful and luxurious marinas in this part of the Adriatic – Porto Montenegro. Many consider it a yachting paradise and a heaven for sailing lovers.
Overall, the city is indeed a great place that blends incredibly various styles, which is part of the charm that attracts tourists to it.
Shopping in Tivat
Besides being an incredible place to visit and enjoy nature and urban life, Tivat is also a must-visit place for shopping. What makes it special is that stores are scattered around the city, without being confined within one big shopping mall, which makes the entire experience much more enjoyable. In this way, shopping enthusiasts can stroll around picturesque streets and enjoy the coastal charm of the buildings. Most stores are in downtown Tivat, where you can find the hub of both luxurious and more affordable brands. Price-wise, Tivat offers a variety of choices for everybody, from more affordable to very luxurious brands.
Clothing Items
If you are searching for clothes and footwear, the majority of stores in Tivat will offer you items imported from Italy or Turkey. Besides these, you can also find many other European brands, especially regarding bags. Some of the worthy mentions include Max Mara, with its timeless designs and a range of clothing items at prices accessible to anyone. If you seek a homegrown brand with unique pieces and handmade items, we recommend you visit Stories. They offer a variety of clothing items and housewares that will definitely be cherished pieces in your collection. For more budget-friendly options, make sure you visit P.S Fashion, one of the brands from the Western Balkan which has great quality and variety of items to choose from.
On the other hand, men should not feel left out, as Tivat is home to the Boss store, with sleek and stylish items perfect for both work and more fun times. In the city, you will find KidsLand and BEBAKIDS, which are world-class Italian-made brands for kids and youngsters.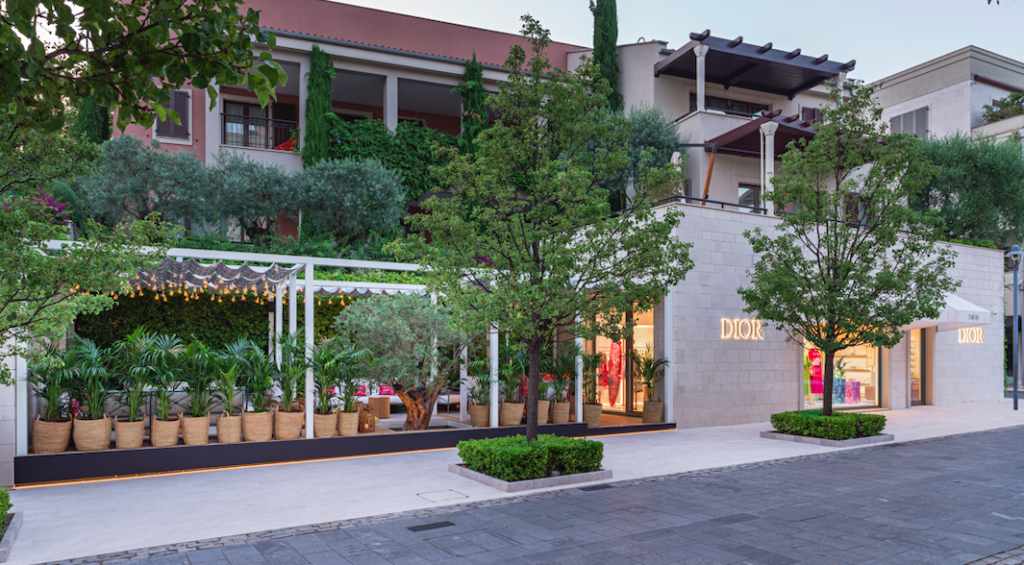 As you walk from the city center towards Porto Montenegro, don't be surprised to find many luxurious brands opening their doors for you. Besides being a world-class marina and a haven for sailing lovers, Porto is also a prominent shopping destination. It is home to famous designer brands, so shopping enthusiasts must put it on their to-do lists. In this area, you might find yourself drawn to the symbol of elegance that is Dior or tempted to storm Bagsy in search of a new and incredibly well-crafted bag. Besides these, check out MOOI and Shubeshu for some incredible designer items.
Art and Domestic Products
As we mentioned, Tivat has a very developed cultural spirit, so it is no surprise that it is an amazing town to shop for art and handcrafted items. By taking a simple stroll anywhere in the town, you will encounter jewelry stores such as Bvlgari or Aquamarine Montenegro. For souvenirs, look at downtown Tivat. If you want something more valuable, check out the incredible Gayo Gallery, which offers stunning paintings and sculptures, or the Murano Art Gallery showcases beautiful glass art from the famous Murano island in Italy.
Finally, the shopping experience wouldn't be as incredible if you didn't visit the marketplace, where you can buy locally grown fruits and vegetables. We recommend visiting a traditional August market with local products in Porto. Every exhibitor in this manifestation offers locally produced or handmade items, which attract many tourists.
Additionally, Tivat has its own local market called Zelena Pijaca, or Green Market. It is full of fresh fruits and vegetables, along with a variety of homemade products produced by locals. If you are traveling on a budget, this market will be your best friend, as the products here are much cheaper than in the supermarkets. This adds an authentic charm to the overall shopping experience as you interact with locals and experience Montenegrin hospitality and trading skills firsthand. If visiting Zelena Pijaca, make sure you buy local rakija and wine as souvenirs. Its quality is much better than the ones in supermarkets, and you will get an authentic Montenegrin product.
Shopping in Budva Vs Tivat
Shopping in Budva and Tivat is vastly different. These two very popular municipalities on the coast of Montenegro offer a variety of shopping opportunities although not for everyone's pocket. Generally speaking, Budva is a much more budget-friendly place for shopping enthusiasts. With a variety of local clothing and souvenir stores in the Old Town, Budva really has a lot to offer for a very affordable price.
In contrast, Tivat's emphasis has been on cultivating marina and yachting tourism, resulting in substantial investments and high-end brands that might not be within the budget of many visitors. Furthermore, Tivat places a strong emphasis on hospitality, making it more challenging to come across reasonably priced local artisanal products or appealing souvenir shops compared to Budva.
A shared feature between the two towns is their fantastic local markets that are adored by travelers. As a result, it's consistently a wonderful notion to explore these markets and sample the offerings from the locals. We strongly recommend purchasing goods from these locations, whether they're intended as gifts or as cherished personal mementos.
Conclusion
From high-end luxury brands to local handcrafted goods, Tivat offers a shopping experience that you will remember. Whether you want to spend serious money on clothes or art, or you want to get more affordable items for your kids, Tivat is a place to be.
On the other hand, you can also find charming and unique items that will become cherished memories of your time in Montenegro. Therefore, if you travel through the Balkans and love shopping, Tivat's vibrancy and incredible shopping scene should be on your agenda.