Nestled along the Adriatic coast, Montenegro is a captivating blend of rugged mountains, medieval villages, and pristine beaches. Often overshadowed by its more famous neighbors, this Balkan beauty offers an equally mesmerizing experience without the hefty price tag. In recent years, Montenegro has emerged as a sought-after destination for travelers seeking luxury without breaking the bank. The country's all-inclusive holiday packages are not only reasonably priced but also offer unparalleled value.
From the serene shores of Budva to the UNESCO-listed Bay of Kotor, Montenegro promises a holistic vacation experience. In this article, we'll delve into the best all-inclusive deals available, evaluating them based on factors such as location, amenities, guest reviews, and overall value for money. Join us as we uncover the treasures of Montenegro and guide you to the most cost-effective holiday options in this Adriatic paradise.
Carine Hotel
Nestled in the picturesque setting of Kumbor, Montenegro, Carine Hotel Kumbor has been receiving rave reviews from guests worldwide. Here's a glimpse into what makes this hotel a top choice for travelers:
Facilities and Ambiance The hotel boasts modern amenities, ensuring guests experience luxury at its finest. With both indoor and outdoor pools, a beachfront location, and a spa that offers a range of treatments, relaxation is guaranteed. The hotel's commitment to sustainability is evident in its eco-friendly initiatives, such as eliminating single-use plastics.
Who Would Love It? Families, couples, solo travelers, and even business professionals have found Carine Hotel Kumbor to be a perfect fit. With its serene environment and a plethora of activities, it caters to a diverse range of preferences.
Why It's a Good Deal Apart from top-notch facilities, the hotel's all-inclusive package, which includes a variety of food and drink options, ensures guests get value for their money. The hotel's location, right next to the stunning Kotor Bay, adds to its charm.
What Guests Are Saying Guests have highlighted the hotel's exceptional service, with special mentions for the friendly and professional staff. The food, especially the diverse buffet meals, has been a hit among visitors. Many have appreciated the attention given to guests with specific dietary needs. The breathtaking views of the bay from the rooms have also been a highlight for many. Activities like boat trips to Kotor and visits to the old town at Herceg Novi come highly recommended.
Iberostar Bellevue: A Beachfront Oasis in Budva
Nestled in the vibrant heart of Budva, Iberostar Bellevue offers guests an unparalleled beachfront experience. With its proximity to the historic Old Town Budva and the iconic 15th-century Podmaine Monastery, it's a blend of relaxation and cultural exploration.
Facilities: The hotel boasts both indoor and outdoor pools, ensuring a refreshing dip regardless of the season. Guests can stay connected with free Wi-Fi, and the ample parking ensures convenience for those driving in. The spacious bathrooms in the rooms have been a highlight, adding a touch of luxury to the stay.
Ideal For: With its beachfront location and proximity to cultural landmarks, it's perfect for couples, families, and solo travelers looking to explore Budva's rich history while enjoying modern comforts.
Why It's a Good Deal: While Iberostar Bellevue offers a plethora of amenities, its location stands out. Being close to both the beach and historical sites offers guests the best of both worlds. The professional staff and well-maintained facilities add to its value proposition.
What Guests Are Saying: The hotel has received praise for its professional staff, with special mentions for the management, reception, and housekeeping teams.
Hotel Slovenska Plaza Lux: Budva's Authentic Mediterranean Retreat
Located in the heart of Budva, Hotel Slovenska Plaza Lux is a delightful blend of Mediterranean charm and modern amenities. This family-friendly resort, one of the oldest and most sought-after in Budva, is set amidst a sprawling complex that gives guests the feeling of wandering through a luxurious tourist village.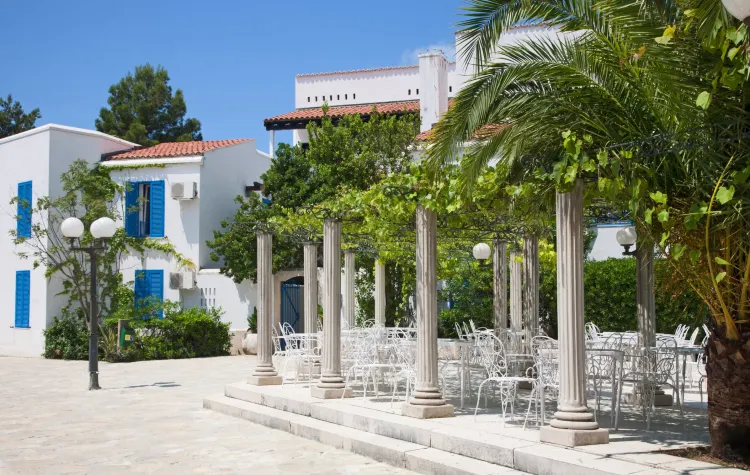 Facilities: The hotel offers a range of facilities, from public parking at the entrance to boutiques, galleries, and even dental and outpatient centers. Guests can enjoy a refreshing swim in the pool, relax at the poolside bar, and have access to a 24-hour front desk, shops, and a gift shop. The resort also boasts 10 individual villas, ensuring a cozy and intimate stay.
Ideal For: Families will find this resort particularly appealing, thanks to its comprehensive offerings that cater to all generations. From evening theme parties, folklore evenings, salsa classes, to karaoke, there's something for everyone.
Why It's a Good Deal: Beyond its extensive facilities, the Slovenska Plaza Resort's location is a significant draw. It places the best of Budva right at guests' fingertips, from picturesque green spaces and beaches to monuments and museums. The resort's commitment to catering to all generations, with a variety of entertainment options, ensures a memorable stay for all.
What Guests Are Saying: Feedback from guests highlights the resort's authentic Mediterranean environment and its comprehensive offerings. The spaciousness of the complex and the variety of amenities available make it a top choice for many.
Experience the essence of Budva with a stay at Hotel Slovenska Plaza Lux, where the Mediterranean charm meets modern luxury, ensuring a memorable getaway for the entire family.
Hyatt Regency Kotor Bay Resort: A Luxurious Oasis in Donji Stoliv
Nestled in the picturesque Bay of Kotor, the Hyatt Regency Kotor Bay Resort stands as a symbol of luxury and tranquility. This premier destination in Donji Stoliv offers guests an immersive experience, blending modern elegance with the captivating beauty of the bay.
Facilities: The resort boasts a contemporary eco-design, emphasizing both aesthetics and sustainability. Guests can indulge in the hotel's delightful restaurant, captivating aperitif bar, and the serene Piano Lounge Cafe bar. The resort also features a dedicated wellness center, a conference room accommodating up to 200 guests, a scenic terrace overlooking the bay, and the renowned Wellness and Spa facilities managed by SPA SOUL. For those looking to relax by the water, the resort offers an expansive natural beach with sunbeds and umbrellas, and a private marina with three docks, including a dedicated yoga dock.
Ideal For: The Hyatt Regency Kotor Bay Resort is perfect for those seeking a serene getaway, whether it's families, couples, or solo travelers. The resort's tranquil ambiance ensures a peaceful stay, while the dedicated staff is committed to creating cherished memories for guests.
Why It's a Good Deal: The resort's prime location in the Bay of Kotor, combined with its extensive facilities and impeccable service, makes it a top choice for those seeking luxury and relaxation in Montenegro.
What Guests Are Saying: Guests have lauded the resort for its stunning views, attentive staff, and exceptional facilities. The hotel's commitment to offering a serene atmosphere and ensuring guest satisfaction is evident in the feedback.
Experience the epitome of luxury and relaxation at the Hyatt Regency Kotor Bay Resort, where every moment is infused with warm hospitality and impeccable service, set against the breathtaking backdrop of the Bay of Kotor.
Regent Porto Montenegro: A Blend of Grace and Grandeur
Situated in the heart of Tivat, the Regent Porto Montenegro is a beacon of luxury that brings together the charm of the Adriatic shores and world-class hospitality. This majestic hotel, reminiscent of a grand Italian palazzo, stands proudly overlooking the shimmering waters, offering guests an unparalleled experience.
Facilities: The Regent Porto Montenegro boasts an array of top-notch amenities. From free high-speed internet and a refreshing pool to a state-of-the-art fitness center and complimentary breakfast, every detail is designed for guest comfort. The hotel also offers bicycle rentals, boating experiences, and a dedicated kids' pool. The rooms are a haven of relaxation, equipped with air conditioning, private balconies, room service, and modern entertainment systems.
Ideal For: Whether you're a solo traveler seeking solace, a couple on a romantic getaway, or a family on vacation, the Regent Porto Montenegro caters to all. With its breathtaking ocean views, mountain vistas, and pool perspectives, there's a room for every preference.
Why It's a Good Deal: Apart from its prime location in Tivat, the hotel's reputation as the #1 hotel in the area speaks volumes. With a 5 out of 5 rating on Tripadvisor and numerous positive reviews, guests consistently praise the hotel for its exceptional service, luxurious facilities, and the unforgettable experiences it offers.
What Guests Are Saying: Travelers have been effusive in their praise for the Regent Porto Montenegro. Many highlight the hotel's impeccable service, especially the concierge team, with special mentions for Danilo's exceptional care. The on-site restaurants, particularly the Murano Restaurant, have garnered acclaim for their delectable dishes.
Dive into a world of luxury and experience the best of Montenegrin hospitality at the Regent Porto Montenegro. With its blend of elegance, top-tier amenities, and a commitment to guest satisfaction, it's a destination that promises unforgettable moments.
Azul Beach Resort Montenegro: A Beachfront Gem in Ulcinj
Situated on the stunning Ulcinj Riviera, the Azul Beach Resort Montenegro by Karisma stands as a beacon of luxury and relaxation. This beachfront resort is located on the famous 12km Long Beach, one of Europe's longest beaches, offering guests an unparalleled coastal experience.
Facilities: The resort is known for its Ultra-All-Inclusive Karisma Experience, featuring one of the largest pool areas in Montenegro. Guests can indulge in the largest pool areas in the country and even opt for Swim-Up Suites. The resort is equipped with free high-speed internet, a fitness center, archery, babysitting services, and more. The rooms come with amenities like blackout curtains, bathrobes, air conditioning, and a private beach area.
Ideal For: With its vast array of activities and serene ambiance, the resort is perfect for families, couples, and solo travelers. The variety of activities ensures that guests of all ages have something to look forward to.
Why It's a Good Deal: The resort's location on the Ulcinj Riviera, combined with its extensive facilities and the Ultra-All-Inclusive Karisma Experience, makes it a top choice for those seeking a luxurious beachfront getaway in Montenegro.
What Guests Are Saying: Guests have praised the resort for its authentic Mediterranean environment, spaciousness, and variety of amenities. The food, especially at the Mexican restaurant, has received special mentions.
Experience the beauty of Ulcinj, Montenegro, with a stay at Azul Beach Resort, where luxury meets nature, ensuring a memorable and rejuvenating holiday.
In conclusion, Montenegro, with its breathtaking landscapes and rich cultural heritage, offers a plethora of holiday experiences. For those seeking a hassle-free and value-packed vacation, the all-inclusive deals for Montenegro truly stand out. These packages not only ensure a luxurious stay but also provide a comprehensive taste of this beautiful country. Whether you're lounging by the Adriatic Sea or exploring historic towns, the best all-inclusive deals for Montenegro promise an unforgettable journey. Don't miss out on these incredible offers and make Montenegro your next dream destination.