The Adriatic Sea coast is home to the tiny nation of Montenegro. Despite its size, this nation has a diverse natural and cultural attractiveness. Ulcinj, a charming seaside town with gorgeous beaches and a laid-back Mediterranean way of life, is one of Montenegro's most well-known tourist destinations.

Long sandy beaches, clean waters, and a mild Mediterranean climate are what make Ulcinj so popular. The town's architectural and cultural landmarks are a testament to its lengthy past. The historic castle and city walls, the nearby museum, and the charming old town can all be explored by visitors.

Yet, Ulcinj's beaches are what draw most tourists there. The most well-known beach is Velika Plaza, a breathtaking 12-kilometer stretch of sand ideal for watersports, swimming, and sunbathing.
In this blog we will show you guys the top five beaches that Ulcinj offers.
1. Uniqueness factor
Ada Bojana is a unique Ulcinj's beach located on a river island that separates Montenegro and Albania. The beach is known for its peaceful and secluded atmosphere, crystal-clear waters, and soft sand. It is a popular spot for windsurfing and kiteboarding due to its strong winds.
The beach is surrounded by a lush green forest and offers stunning views of the Adriatic Sea on one side and the river on the other. Ada Bojana offers a great spot for swimming, sunbathing, and water sports such as windsurfing, kiteboarding, and jet skiing due to its strong winds and currents.
One of the most unique features of Ada Bojana is the nudist section. It offers a secluded and relaxed atmosphere for those who enjoy the freedom of clothing-optional beaches.
Moreover, in addition to its natural beauty and tranquility, Ada Bojana is also known for its delicious seafood restaurants that serve fresh fish and other seafood dishes. One restaurant that many locals would recommend is the restaurant "Kod Miska" Located at the waterfront of Ada Bojana.

The local specialty is the grilled river fish, which is cooked to perfection over an open fire and served with local vegetables and bread.
Also Read: Nude Beaches Montenegro – What You Need to Know (Before You Bare It All)
2. Hidden gem – A solo traveler's dream
Valdanos Beach is a hidden gem amongst the beaches in Ulcinj located on the Montenegrin coast, in a secluded bay surrounded by olive groves. Valdanos beach is a pebble beach, with crystal-clear waters that are perfect for swimming, snorkeling, and diving. Being surrounded by rocky cliffs creates a great spot for rock climbing and offers stunning views of the Adriatic Sea.
One of the unique features of Valdanos Beach is the Valdanos camping site, which is located near the beach and offers a unique camping experience. All of this makes Valdanos beach a perfect place either for families or for solo travelers who chose to explore more hidden places of Montenegro's coast.
3. Young people's oasis
Pacha beach could not go overlooked in the quest for Ulcinj's top beaches. It is a little area towards the 12 km end of the beach where a young person can find their niche. This Ulcinj beach setting provides the ideal setting for young people to engage in various activities.
The location makes it the ideal place for surf kiting. The beach is offering professional, intensive kite surfing training for a fraction of the cost because the cost of the equipment is included in the course fee. After the training, you can safely enjoy activities as the location of the beach offers perfect conditions to kite.
A beach volleyball court is located on the side of the beach, where you can quickly meet friends because tourists that come to Pacha are eager to play a game. As a result of the staff's friendliness and the fact that most visitors to the beach are often young individuals, Pacha Beach is a great place to make new acquaintances.
Don't worry if you grow hungry during the day; the beach bar offers a carefully curated menu that the staff will make to your preferences for a fraction of the cost.
Coming from a young person living in Montenegro, it is safe to say that I highly recommend Pacha beach if you are a young person looking for a beach that has a spot for everyone.
4. A dream for the adventurous
Aquarius beach is located on the western side of Ulcinj, near the Old Town, and is easily accessible by foot or car. The beach is surrounded by rocky cliffs and lush green vegetation, which create a secluded and peaceful atmosphere.
The beach itself is a rocky beach. On the side of the beach, there are numerous jumping boards with different heights which is a dream for someone with more of an adventurous spirit. This Ulcinj's beach is also a great spot for sunbathing and relaxing, with several umbrellas and loungers available for rent.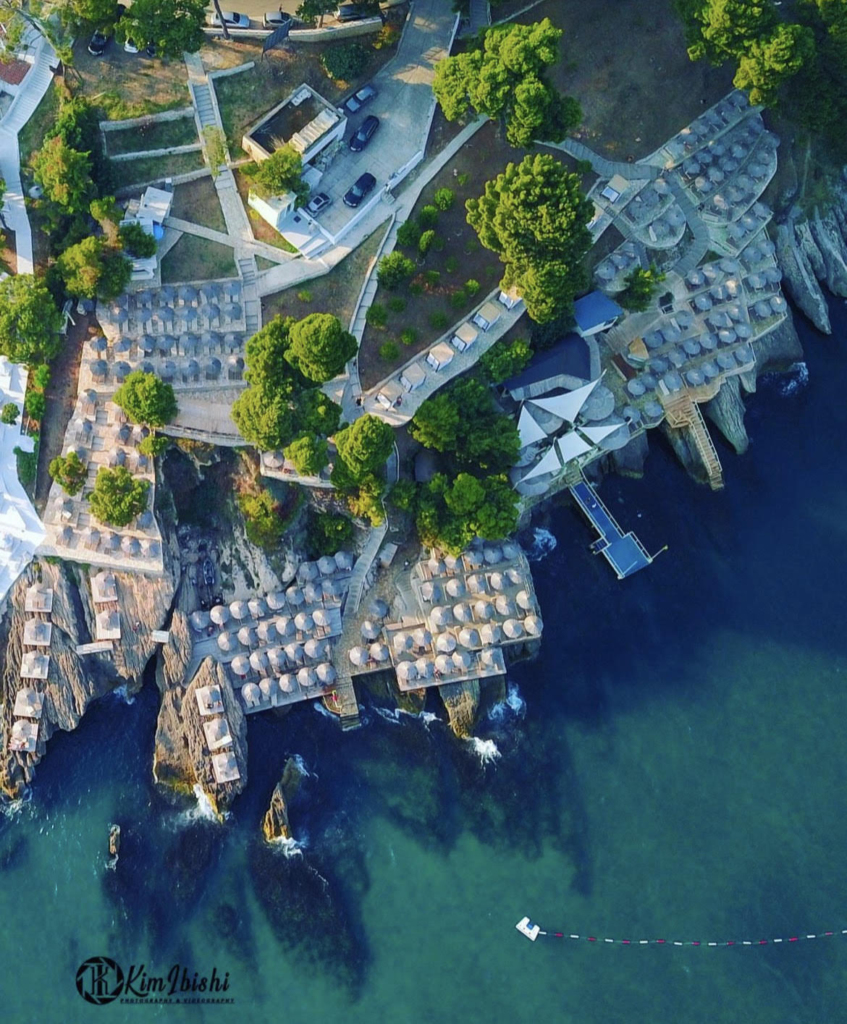 One of the unique features of Aquarius beach is its location near the Old Town, which provides visitors with the opportunity to explore the historic architecture and culture of Ulcinj. The Old Town is a UNESCO World Heritage Site and features narrow streets, ancient walls, and traditional buildings.
Aquarius Beach is also known for its nightlife in addition to its natural beauty and historic surroundings, . The beach bar features delicious local cuisine and refreshing drinks. During the summer months, the beach also hosts live music and other events, creating a vibrant and festive atmosphere.
5. Family oriented nest
Safari beach is located on the eastern side of Ulcinj. This beach is easily accessible by foot or car and features several parking areas nearby. It is also easily accessible by boat, which adds to its charm and uniqueness. The beach itself is a long and wide strip of fine sand, with clear waters that are perfect for swimming and snorkeling.
Most importantly, Safari beach is very family-friendly, as it offers different amenities for children to enjoy at. At the entrance of the beach, you can find a playground for children, which has a water slide which is a favorite amongst the little one to refresh during the hot days.
Like at the other beaches, you can find a very good beach restaurant in which you can enjoy finely cooked meals, with the menu offering variety of cuisines, and a special page dedicated to the little ones.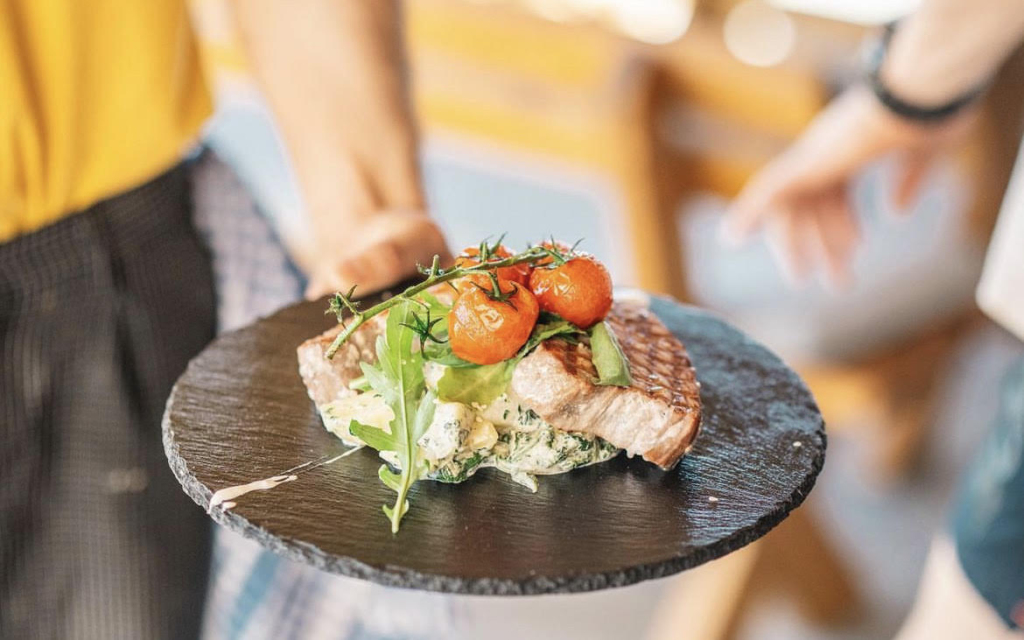 Overall, Safari beach is a great choice for families visiting Ulcinj. Its natural beauty, family-friendly atmosphere, and range of facilities make it one of the best beaches in the country for a family vacation.
Ulcinj is definitely the ultimate place for your next vacation- especially if you love beaches – as we are sure everyone can find a place for themselves.