We delight in brewing beer for a country that takes pleasure in consuming it. This phrase aptly portrays the shared sentiment of many micro and macro breweries in Montenegro, renowned for producing some of the finest beers in the area.
The country is famous for its love of high-quality beers, so it is not a surprise that the market has expanded, and now you can enjoy a variety of choices. We even have a Beer festival. More importantly, the rapid expansion and growing consumption have opened space for local breweries to find a place on the shelf for their product.
Thus, if you are a beer enthusiast who likes to try local products, this blog is for you! Discover our list of the best breweries in Montenegro whose products you must try, as nothing completes a journey through Montenegro like a glass of cold local beer!
Montenegro and Beer: A love story
The Balkan region is famous for its largely produced rakija from various fruits, including plum, grape leaves, and pear. However, Montenegro has taken a turn in this tradition, so besides rakija, it also has a long beer production tradition. Their regionally famous Niksicko pivo has been the pride and joy of the country.
As the love for beer transcends generations, it also inspired a booming trend of small breweries in recent years. The breweries in Montenegro now offer a great selection, starting with classical lagers, both blond and dark, pale ales, wheat, and pilsner types of beer. With this kind of offer, everyone can certainly find something for themselves.
Best Breweries in Montenegro
Because the beer business is booming in Montenegro, and choosing breweries can sometimes be challenging, we have decided to help you. In the following paragraphs, we are bringing you the five best breweries in Montenegro:
Trebjesa Brewery
Trebjesa Brewery is the country's largest and oldest brewery in business. It is located in Niksic municipality and is currently owned by Molson Coors. Trebjesa Brewery has made an incredible legacy thanks to its Niksicko pivo, which is famous across the region.
Besides this lager, the company also takes pride in the variety of other items in their line, such as Niksicko nefiltriano – unfiltered lager, Niksicko tamo – dark lager, Niksicko IPA – Indian pale Ale and fruity beers such as Niksicko Cool.
Trebjesa Brewery's offerings are accessible throughout the nation, gracing the shelves of supermarkets and featured in numerous bars and restaurants. We therefore encourage you to seize this chance to experience a taste of Montenegro's enduring beer-making heritage.
Beer Academy Podgorica    
The Akademija brewery is the first large-scale craft brewery to open in Montenegro. It is located in Podgorica, the county's capital. The expansion of their products started from a cozy restaurant/bar in the center of the city, which now can be found all around the country in many supermarkets.
The Akademija Brewery has crafted over ten different types of beer, among which their most popular ones include Blond and Dark Lager, Ale, Oktoberfest, and Wheat beer. As the brand refers to Academia, their ultimate series of beers holds the academic titles of Dean, Master, and Doctor, which we highly recommend you try.
The Akademija Brewery has won many awards in its six years of existence, quickly putting itself on the beer enthusiast map. Thus, visit their bars in Podgorica and Budva or buy them in a local supermarket and enjoy the Montenegrin craft heaven.
Mammut
Mammut is a craft brewery from Niksic that was founded in 2018. Their production started out of pure love for beer in a city famous for this marvelous drink. Inspired by the idea of producing a high-quality craft beer, the owners developed Mammut, a pilsner lager.
Soon after, the brewery started producing 12 variations of the Mammut, including Indian and American Pale Ale, Hoopy Lager, Kolsch style, Wheat beer, and many more. One curiosity is that this brewery is the only one in Montenegro that has its own underground water source used only for beer production.
So far, they have won numerous awards for their Mammut and conquered the craft beer market. Their products can be found in all major markets in Montenegro, including various restaurants and bars. Knowing this, make sure next time you need refreshments, ask for a glass or bottle of a cold Mammut.
Fabrika Craft Brewery
Among Montenegro's first small-scale local craft breweries, Fabrika holds a special place for anyone who tries their beer. This locally owned small brewery is in Risan, a small city in Boka Bay. Although their production is limited, they take pride in this, as the quality of their product comes first.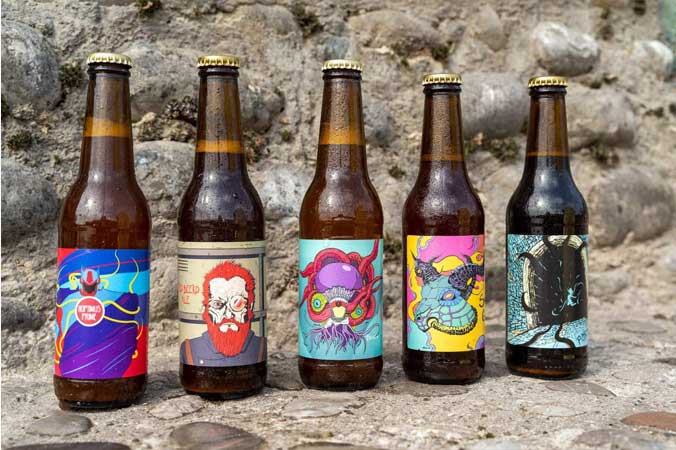 They offer seven craft beers, including Bocca – Summer Ale, Hoptimus Prime – American Pale Ale, and Smilin' Goat – Indian Pale Ale. We highly recommend their wheat beer, which is a foreigner's favorite. Their craft beer is so special because they have maintained the same recipe since their beginning in domestic beer production.
Besides the Fabrika space in Risan, which you can visit, get a tour, and taste beers, these craft beers can be found in different pop-up places at festivals around Montenegro and the well-known Konoba Portun in Budva. Thus, if you are strolling along the coast, make sure you stop and try probably one of the best craft beers in Montenegro.
Montenegro Brewing Co
Montenegro Brewing Co is a prospective new brewery in the territory of Montenegro. Inspired by their love for beer and patriotism, three friends started their beer story from Spuz. Although their headquarters are in Podgorica today, the owners take pride in the origin of their company which specializes in Ale.
Although their offer is small, the high quality of their beer gained them fast popularity among locals and tourists. Inspired by the patriotic motives of Montenegrin dawn and flag, the brewery offers a Pale Ale called Zora and a Red Ale called Bajrak.
You can taste their beers by visiting the Montenegro Brewing Co store in Podgorica or ordering the package online. By choosing this brewery, you will be helping an entrepreneurial debut in craft beer with this patriotic trio.
Conclusion
This was the story of a beer and the nation that drank it so avidly. Beer lovers of all preferences will find something they like in Montenegro, from standard commercial brands to rare specialty brews.
Whether you're out and about seeing Montenegro or relaxing at home with a meal, you'll always be close to a bottle of one of the readily available Trebjesa, Beer Academy, or Mammut beers. On the other hand, if you want to do something truly exceptional, you should go check out Fabrika and Montenegro Brewing Co. and show your support for the local business owners and beer enthusiasts there.
After reading our story, we hope you will improve your pleasant time in Montenegro by sipping on some of the liquid gold they are so proud of.