Getting a glass of beer or sampling a great new cocktail on the seaside can be a blast, especially in environments such as the one in Budva. If you are an adventurer who appreciates an amazing night out in a seaside city, meeting new people, and enjoying an incredible atmosphere from different bars, mark this coastal gem on your road trip map.
Budva, located on the Adriatic Sea coast, has justifiably earned the nickname "Queen of the Adriatic." It is well-known as one of the greatest spots to have fun in Montenegro, with its streets lined with wonderful pubs that entice you in.
As a result, our new blog is a walk through the streets of Budva, as we offer you the top 5 bars you should take advantage of when visiting! Continue reading to find out where to have a good time!
Budva – Party Capital of Montenegro
Budva has long been the party capital of Montenegro. Throughout the city, you can find great places to stop by and grab a drink. It offers various options so anyone can find something for themselves, whether it is a calm atmosphere or a truly epic party experience.
Its Old Town's narrow streets are not only famous for their historic monuments and great restaurants but they are also packed with different pubs and bars where you can enjoy a lovely atmosphere and get together with friends. Many of the pubs in this area are traditionally owned by the same families for decades, so you get the warm ambiance and amazing hospitality that makes you feel like you're part of the local crew.
Moving away from the Old Town walls, you can discover even more amazing bars along the famous Budva promenade, where you can enjoy the sea view from the famous Budva port. This is also where you can find also a more vibrant party-like atmosphere, thanks to some of Montenegro's best urban dance clubs that are located along the seaside.
Our Top 5 Best Bars in Budva:
To help you pick among the best of the best we have assembled a list of the top five bars that you should not miss:
The Old Fisherman's Pub
The Old Fisherman's Pub is one of the most popular bars in Budva. Its rustic charm, perfect location at the promenade by the sea, and proximity to Old Town make it a stop you can't miss. This bar's menu includes a range of options for both food and drinks.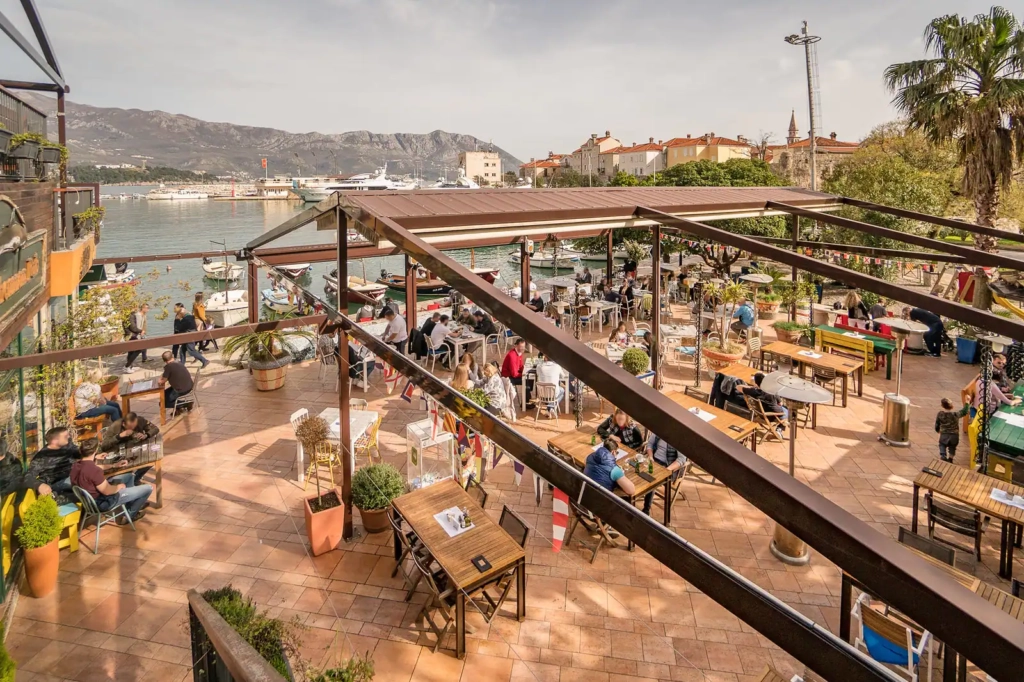 The facilities have numerous seating options, but the top deck with a view of the small port near the Old Town catches everyone's attention. The Old Fisherman's Pub is a perfect place to grab a morning coffee in the shade or an evening beer with friends. The house special is their flavourful lemonade and truly authentic Niksicko beer from the tap.
This place is typically packed with tourists, so if you wish to have dinner, reserve a table, and their lovely staff will help you find a spot for the drinks.
Contact information: Promenade, Budva, Montenegro; Phone number:  +38268081845
Beer-Bike Club
If you are a true rock and roll lover, keen on great music, authentic atmosphere, and great beer then Beer-Bike Club is a place to be. This incredible bar with a unique and very interesting interior draws the attention of everyone who passes the Budva Promenade.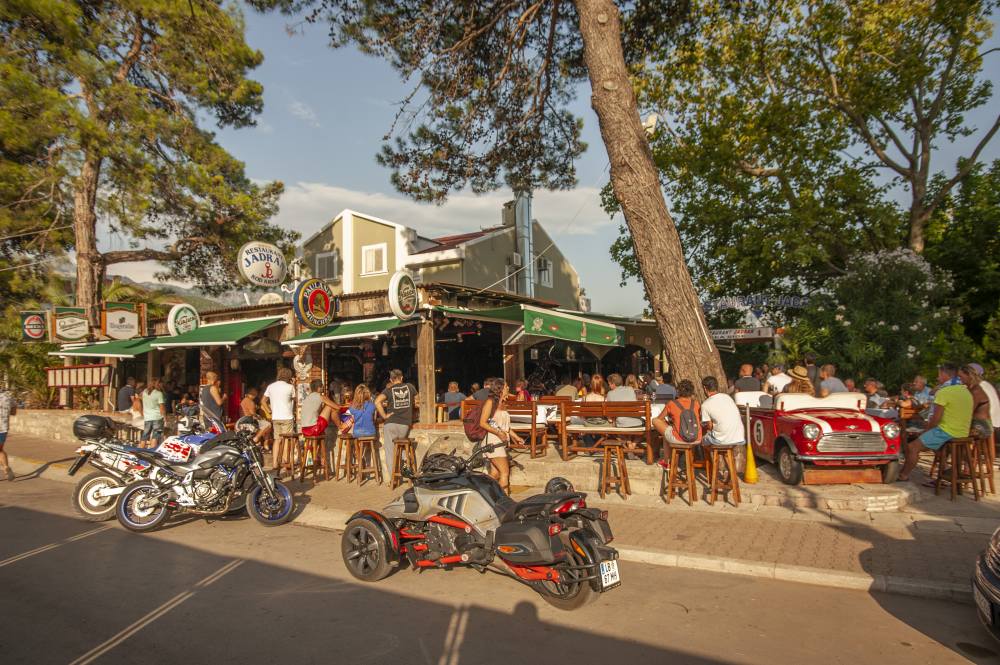 Motorcycles selected and positioned in front of the bar, alongside indoor and outdoor seating arranged in a rustic wooden style, contribute to creating a unique charm that you must experience. The bar also offers acoustic music nights with some of the biggest hits from all over the world.
Here it is more than ok to have a glass of beer mid-day (we especially recommend Niksicko Nefiltrirano) and enjoy the laugh of the local bikers that share their incredible stories while enjoying this not-so-typical bar. You can also grab a bite as they have a special selection of meals prepared at the very famous Jadran kod Krsta. However, reserve a table since this place is typically crowded.
Contact information: Promenade, Budva, Montenegro; Phone number: +38268033180
Casper Bar
Located at the heart of Old Town, Casper Bar is truly an incredible place to spend time with friends and family. Set on a picturesque stone terrace with branches creating the shade, this absolute gem offers a somewhat calmer alternative vibe to the chaotic beach clubs of Budva. At night this becomes a great chill bar to grab a beer and enjoy alternative music.
Caper Bar is home to some of the true Montenegrin craft beers in town (try their authentic Kasper – wheat pale ale), which makes its visitors loyal and coming over and over again. If you are not a beer person, they offer a variety of cocktails and some of the greatest coffees in the city. Besides this, Casper's menu also offers breakfast as well as brunch options.
The place is typically crowded with young people so a reservation would be a good idea for evening hours.
Contact information: Old Town, Budva, Montenegro; Phone number: 033402290
Old Town Pub
Continuing your journey through Old Town, make sure to step into one of the rare authentic pubs – Old Town Pub. This incredible place will immerse you in an atmosphere where time stops, and you keep enjoying some of the best selection of beers in Montenegro including Guinness, Rochefort, and some Montenegrin craft beers such as Supernova.
With a truly welcoming atmosphere, great vibe, and pact with locals, Old Town Pub offers a great experience of local drinking culture. If you are not a beer person, this place offers some of the best single-malt whiskey and cocktails.
This is a very welcoming bar, so simply stop by, and you will definitely find a spot to grab a pint of beer.
Contact information: 9 Vuka Karadžića, Budva, Montenegro; Phone number: +38267650825
Hemingway Bar
If you are looking for an urban luxury-style bar where you can sip your drink and enjoy the promenade, then Hemingway Bar is a place for you. It is a great mix of chill yet sophisticated atmosphere that offer various drinks to suit everyone's taste.
Hemingway is, therefore, a great bar for those seeking a subtle night out or a very classy morning coffee or even grabbing something to eat as it also has a food menu. Make sure you check out their versatile offer of traditional, old-fashioned wines and cocktails. You cannot make a mistake with this place, as it is the hot spot for young urban individuals.
Because of its immense popularity, it would be a great idea to reserve a table, so you make sure that you will have a great evening at this incredible bar.
Contact information: Slovenska Obala, 11, Budva, Montenegro; Phone number: 033401700
Conclusion
Budva is undoubtedly a city that is full of life, offering its visitors a chance to experience exciting and diverse nightlife. A blend of traditional and modern bars allows everyone to find their own ideal spot.
Whether it's the rustic charm of The Old Fisherman's Pub, the rock n' roll spirit of Beer-Bike Club, the calm ambiance of Casper Bar, the authentic vibe of Old Town Pub Budva, or the sophisticated elegance of Hemingway Bar, each of these places guarantees an unforgettable night out in this coastal city.
So, on your next visit to Budva, explore these bars and immerse yourself in the local people's vibrant culture and warm, welcoming spirit.