Introduction
If you're a burger enthusiast looking for your next exciting must-try burger destination? Or you are a culinary explorer planning a trip to the picturesque Balkans? In either case, Montenegro and its cuisine – including the burger – should be an unmissable part of your itinerary.
Montenegro is a gastronomic paradise with plenty to offer. With its diverse landscape also comes versatile traditional food, including awesome burgers. This Adriatic coastline county is where burgers aren't just fast food but a cherished part of the community and tradition.
Therefore this article aims to provide you with a selection of Montenegro's must-try burger destinations and highlight the importance of this culinary delicacy to this Adriatic jewel.
Deep Dive Into Montenegro's Burger Culture
Crafting a good burger is very important for the people of Montenegro. It is a sentiment deeply embedded in their cultural and gastronomical heritage. The effort and devotion they pour into each burger highlight it as a cornerstone of Montenegrin cuisine. Frequently found at social events and family gatherings, these burgers are a must-try for any tourist or traveler visiting the country.
When discussing Montenegrin burgers, it is pivotal to mention pljeskavica, a cherished Balkan specialty that plays a central role in any menu. Besides the traditional version of burgers, the country embraced American-style burgers.
Read Also: Best Breweries in Montenegro
However, it is important to remember that burgers here are more than just a fast-food. The diversity, complexity of tastes, and dedication with which burgers are created in Montenegro testify to why this country is a destination for burger lovers.
Montenegrin Traditional Pljeskavica
As you explore each culinary venue, you will encounter a unique take on this deceptively simple dish. This is demonstrating the extraordinary versatility of this gastronomic masterpiece. Whether you lean towards the classic rendition or feel intrigued by an innovative reinterpretation, the pljeskavica stands as an unmissable aspect of Montenegro's deeply-rooted burger culture.
Regarded as the jewel of Montenegrin cuisine, pljeskavica – the "Balkan burger" – is a flavourful dish created from a succulent mix of meats, typically pork, and beef. True masters of burgers grill the meat perfectly and often serve it enveloped in homemade flatbread. A selection of local condiments elevates the flavors. You can customize pljeskavica with an array of toppings, ranging from local vegetables to exotic Balkan cheeses. However, people traditionally serve the classical style pljeskavica with either ajvar (a mild paprika spread) or kajmak (a creamy cheese spread), along with a generous helping of crisp, fresh onion.
Best Places to Eat Burger in Montenegro
We showcase our top 5 unmissable burger places in Montenegro, ranging from Podgorica's dynamic core to Budva's gorgeous coastline city, in the following gastronomic adventure. This detailed guide, a must-read for foodies experiencing Montenegro's unique gastronomic scene, will be a valuable resource to bookmark. So keep reading and discover places that will take you on a sensory-filled trip full of delectable flavors that will leave your mouth longing for more!
Taste Tradition in Budva: Konoba Bocun
The much popular coastal town of Budva, the most popular coastal city, offers a variety of restaurants for modern and international dishes. However, if you seek an authentic, traditional burger experience make sure to visit "Konoba Bocun".
This authentic Montenegrin tavern offers truly traditional flavors as it offers some of the most enjoyable burgers in Montenegro. The menu's most popular item, pljeskavica, retains its original form. It harmoniously combines traditional cheese spread – kajmak, a homemade patty, and a ton of onion to round out the experience.
"Konoba Bocun" 's dedication to preserving Montenegrin food while adding a touch of modern flair makes it an essential stop on your burger journey in Montenegro.
Contact information: Mimoza 177, Budva, Montenegro; Phone number: +38269514879
Bar's Coastal Charm: Mala Kuzina
Travel further down the Montenegrin coast to the historic town of Bar, and pay a visit to "Mala Kuzina," or as it translates, "Small Kitchen". This family-owned restaurant right next to the road is a must-try burger destination, even for locals.
Each dish showcases the best local produce and coastal influences. Their menu features all: from their classic pljeskavica to their signature gourmet burgers with various spicy and non-spicy options. Thanks to their quality, impeccable hospitality, and authentic location "Mala Kuzina" earned stellar reviews. This makes it compete with the best restaurants in town.
Contact information: IV crnogorske brigade bb, Bar, Montenegro; Phone number: +38269645535
Podgorica's Burger Pride: GoodFellas
Montenegrin burger expedition also has to offer a variety of American-style burgers. The vibrant capital city of Podgorica is considered the center for this type of burger. The "GoodFellas" franchise is a well-known local chain of fast-food restaurants whose eatery has carved a niche in Montenegro's burger landscape.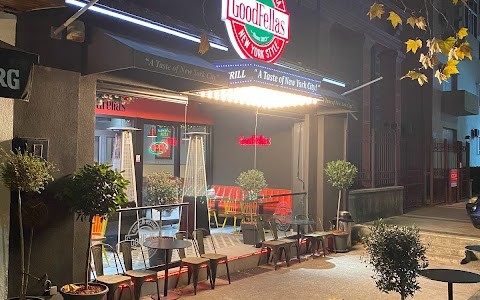 "GoodFellas" produced a great blend of modern culinary experiences influenced by Montenegrin standards. They offer New-York authentic burgers together with some of the more traditional variations. Their staff ensures that food is prepared in typical portions for locals, with a variety of toppings. Make sure you try this local gem and give yourself a treat with this truly exceptional burger destination.
Contact information: 8 Bulevar Stanka Dragojevića, Podgorica, Montenegro; Phone number: +38267773311
Burger Factory: A Burger Bonanza in Niksic
Located in the vibrant center of Niksic is "Burger Factory," one of the initial burger franchises established in the country. Their traditional-style burgers, full of delectable flavors, have become a sensation across town.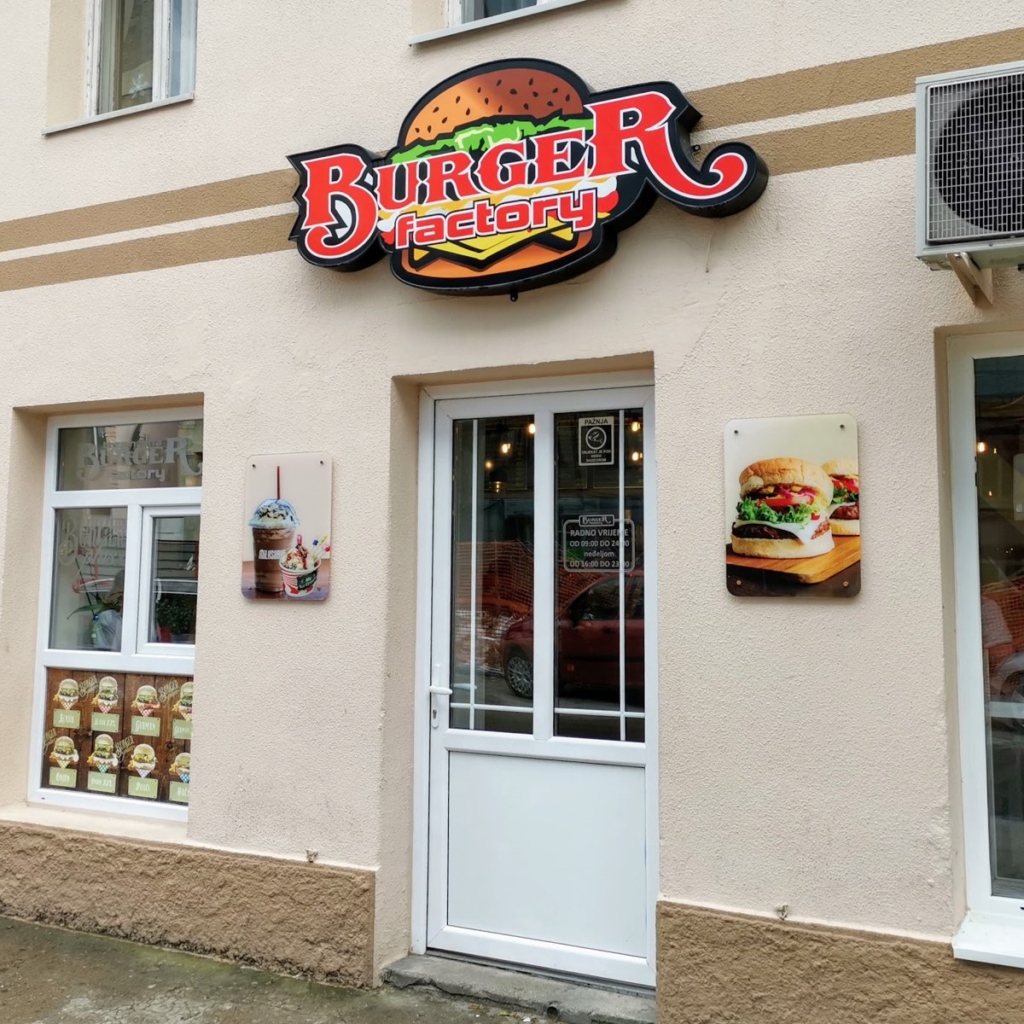 Although "Burger Factory" ensures its menu remains abundant with diverse culinary delights, it also maintains a genuine burger experience that's adored globally. Above all, the spotlight is indeed on their creative rendition of the traditional pljeskavica. This re-imagination of the classic Balkan burger holds an unparalleled charm, making it an essential gastronomic experience for all visitors.
Contact information: Novice Cerovića, Nikšić, Montenegro; Phone number: +38268035111
For an unforgettable gastronomic adventure in Montenegro, don't miss this ultimate guide to the best foodie tours that takes you from the coastal delicacies of Ulcinj and Kotor to the traditional cheesemaking practices in Kolašin.
Green & Protein: Montenegro's Plant-Based Burger Haven
Montenegrin burger journey also has a must-try destination haven for vegans and vegetarians. "Green & Protein" has successfully transformed Montenegrin burger culture by offering an enticing array of vegetarian and vegan-friendly American-style burgers.
They craft their burgers with carefully selected, high-quality plant-based ingredients that create an equally satisfying experience as their meat counterparts. The friendly and knowledgeable staff at "Green & Protein" serve these wholesome delicacies in hearty portions, catering to local preferences and dietary needs.
Whether you're vegan, vegetarian, or just exploring new culinary landscapes, don't miss the chance to relish the offerings of "Green & Protein". It's not just a vegetarian paradise, but a critical milestone in the expanding Montenegrin burger expedition.
Contact information: Baku Street, Podgorica Montenegro; Phone number: +38267044116
Conclusion
Montenegro's culinary map is marked with exceptional must-try burger destinations from the bustling Burger Factory in Niksic to Goodfellas in Podgorica and coastal gems Konoba Bocun in Budva and Mala Kuzina in Bar. Each spot offers a unique spin on the beloved burger, turning Montenegro into an extraordinary destination.
We hope our blog helped you grasp what stops you need to make on your gastronomical journey through Montenegro. Make sure you try some of the best burgers in the country, which will be a flavourful adventure.