Montenegro is a small nation in the Balkans that has remained largely undiscovered by tourists. But what this country lacks in size, it more than makes up for in culinary delights. The food of Montenegro is surprisingly diverse and offers a unique taste of traditional Balkan flavors.
From homemade wines to delicious seafood dishes, Montenegrin cooking offers something for everyone who visits this beautiful country. Whether you're looking to enjoy some traditional barbecues or explore local markets, there's no shortage of culinary experiences waiting to be discovered in Montenegro.
Exploring Food
Traditional food in Montenegro are often based on locally-sourced ingredients and rely heavily on fresh vegetables, fruits, herbs, and spices. A typical meal could include savory meat dishes like cicvara (a combination of potatoes, onions, garlic, and cheese) or priganice (fried potato dumplings), paired with a side dish such as burek (meat or cheese-filled pastry). For something sweet, many Montenegrins enjoy homemade cakes or other desserts made from local berries.
Homemade drinks are also popular in Montenegro. Locals often make their wines using grapes grown in the area's vineyards. Other favorite beverages include rakija (fruit brandy), sok od zove (elderberry flower juice), and sok od nane (mentha juice). Many restaurants will offer these traditional drinks alongside more familiar alcoholic beverages like beer.
 Popular Montenegrin Dishes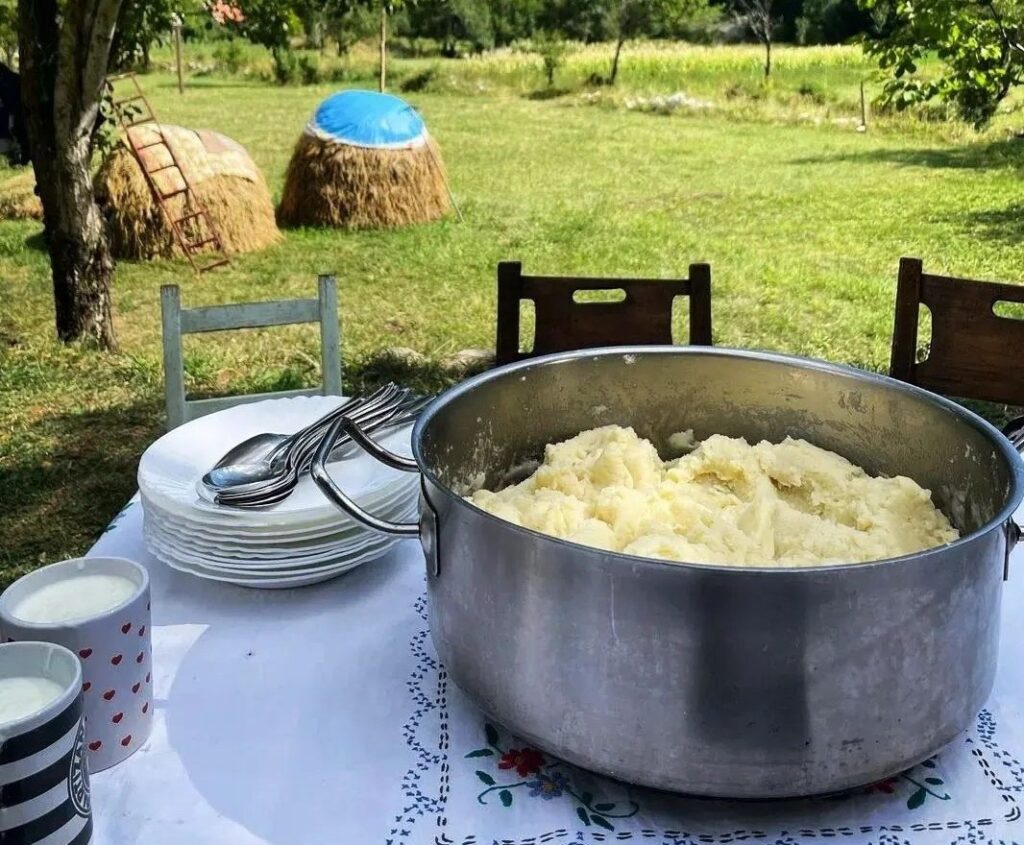 1.   Kačamak
Kačamak is a traditional Montenegrin dish. Once a poor man's dish, today it is a brand more than two centuries old, which makes tourists from all over the world happy to visit our national restaurants. It is made from corn flour and it's somehow forgotten and left in the past where it does not belong, but it is very healthy and tasty, especially with cheese, and it can also be eaten with milk, yogurt, ham, and paprika, as a pie, there are various variations.
In Montenegro, kačamak is a Montenegro food staple that every housewife knew how to prepare. As per tradition, it is 'beaten' 365 times with a wooden tool called kačamar to ensure that the potatoes and flour are thoroughly combined. The taste of kačamak is influenced by the individual ingredients, as well as the duration of cooking. Although the recipe has remained largely unchanged, the dish now includes cheese and cream in addition to potatoes and flour.
You will often hear that men's strength is needed to prepare kačamak, but Montenegrin women never allowed men to interfere with their work. They took on all the responsibilities, including this not-so-easy task, even though they would tell you that there is nothing simpler than preparing homemade kačamak.
The best place to eat kačamak in Montenegro is in Kolašin, a small city on the north in Savardak restaurant.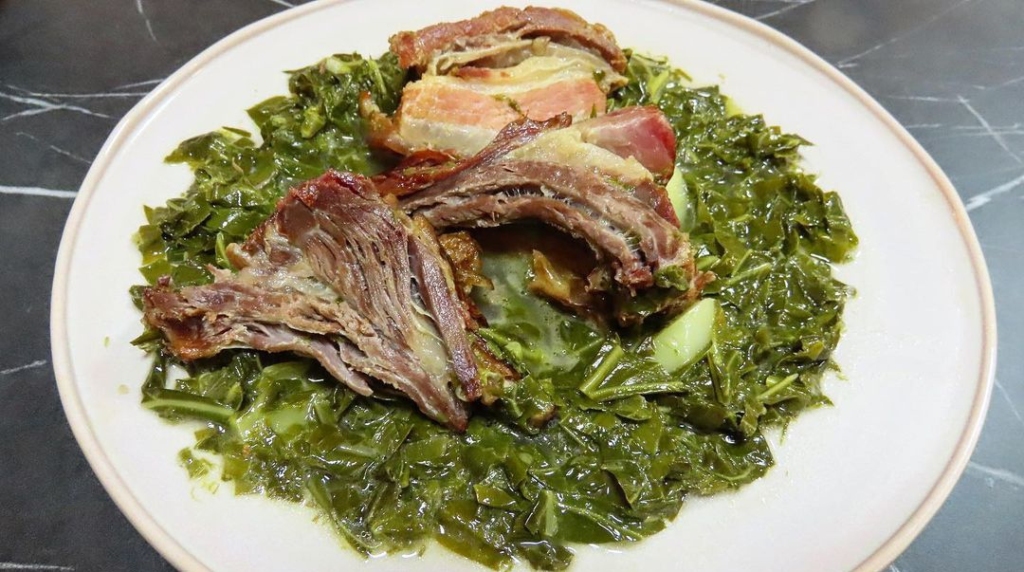 2.   Raštan
Montenegrin raštan: An unusual dish of meat and vegetables that you will like at the first bite! Hardly anyone has tried Montenegrin raštan, so our suggestion for lunch is exactly this recipe. Raštan is a type of cabbage, and it can be found in Herzegovina, Dalmatia, and Montenegro. It looks a lot like spinach, but this vegetable takes much longer to cook. You can use it to make various dishes, and our proposal is a recipe for Montenegrin raštan made of various meats and vegetables.
If raštan is prepared traditionally, in the village or rural households, then the dish is cooked in a cauldron (copper vessel) which is placed above the hearth with fire, where it is cooked. When the dish is almost cooked, it is placed on plates and eaten as a nicely cooked dish, while the meat that was cooked with it is separated on a separate plate or placed in a bowl. Meat prepared in this way is served with raštan, or it is served to guests to taste it separately.
3.   Bokeški brodet
Brodeti, that is, fish stews or soups, probably known in all regional, local, and even some domestic cuisines on the Adriatic Sea. Their diversity is based on the choice of fish, vegetables, and spices However, what the Bokeljes have in common when preparing this specialty is one type of fish that they use, unlike the classic brodet, which uses (as many) different types of fish as possible.
Brodet was invented by fishermen who would store small, damaged fish that they failed to sell at the market in this way so that it would not be thrown away. However, poor fishermen from Mulo, Prčanja, Krašić, and other places of Boka Kotorska did not want to throw several types of fish on just one dish, so the Bokeški brodet was born. This would most often be a gruj, which is abundant in the bay and easy to catch. There is even a saying "Without gruj, there is no brodet".
Brodet is a specialty dish that is offered at nearly every Mediterranean restaurant along the coastline of Montenegro. If you're looking for a light meal with a Mediterranean flavor, brodet is a must-try.
4.   Mussels on buzara
Let's continue with the Mediterranean cuisine of Montenegro and let's add one more delicious dish that's called mussels on buzara. To make sure there is no mystery, buzara is not a type of casserole, but a coastal name for dishes cooked with tomatoes and onions. What for us from the mainland is goulash or stew, but this is a little simpler. The recipe for this delicious dish is probably so simple that it couldn't be simpler, and on the other hand, the taste is perfect. Ideal as an idea for lunch on Fridays and if this is Your choice don't forget the glass of white wine, it just goes perfectly with each other!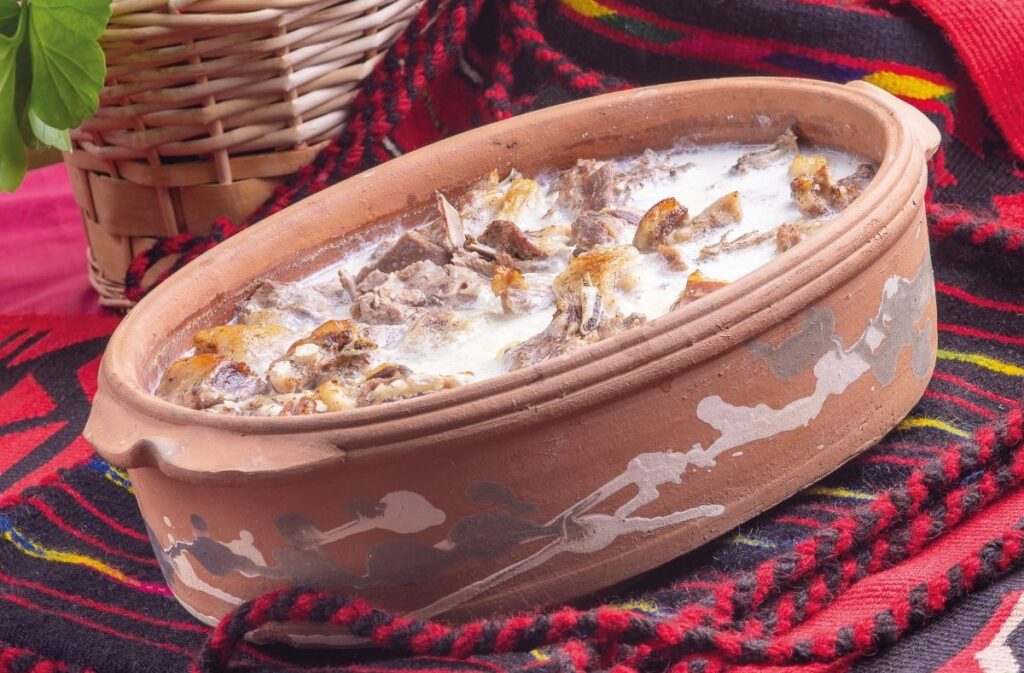 5.   Lamb in milk with vegetables
In this region, lamb is often the star of the show when welcoming and hosting guests. Whether it's cooked in traditional or innovative ways, the taste is exquisite. However, some people may avoid lamb due to its distinct smell. For those looking to enjoy lamb without the strong odor, lamb in milk is a highly recommended dish. This delicacy has a tender and succulent texture, and the milk helps to mellow out the lamb's strong aroma. The vegetables served with the dish are also exceptionally flavorsome, making it a true specialty cuisine worth trying.
Conclusion
In conclusion, Montenegro is a country with an incredible culinary culture and amazing food. From traditional dishes like cicvara and priganice to delicious street food and homemade drinks; the flavors of this small Balkan nation are sure to please even the pickiest of palates. Whether you're looking for a luxurious dining experience or simply hoping to sample some local specialties during your travels; there's no shortage of options here in Montenegro. With its stunning landscapes, warm climate, and friendly locals – it's no wonder why so many visitors come back year after year! So if you're planning a trip soon, be sure not to miss out on all that Montenegro has to offer when it comes to food!