The luxury hospitality sector in Montenegro just received an exciting boost with the opening of the Hyatt Regency Kotor Bay Resort. This upscale eco-conscious accommodation marks Hyatt's first venture into Montenegro and enhances the allure of the Bay of Kotor, a UNESCO World Heritage site known for its captivating beauty.
A Nod to the Authentic Montenegrin Lifestyle
This newest addition to Hyatt's portfolio comes as a result of a meticulous refurbishment and expansion of an existing property. Its design aesthetics draw inspiration from the surrounding locale, seamlessly blending the property with the scenic coastline. The Hyatt Regency Kotor Bay Resort serves as a pristine gateway to the authentic Mediterranean lifestyle, providing an experience centered on tranquillity and relaxation.
Eco-Conscious Luxury on the Adriatic Coast
The hotel boasts 205 guest rooms, each showcasing an eco-design approach that beautifully merges indoor and outdoor spaces. To enhance your stay, the resort offers amenities ranging from outdoor and indoor pools to yoga and pilates spaces, a fully-equipped fitness center, an expansive spa, and private waterfront access. On completion, the hotel will also feature six food and beverage venues, each offering a unique culinary journey through Mediterranean and traditional Balkan cuisine.
Exquisite Dining with a View
Food lovers can explore an array of culinary delights from the a la carte Restaurant Lighthouse, inspired by the Mediterranean coastal yachting lifestyle, The Blue Restaurant, specializing in a fusion of local and international dishes, and The Hedonist Rooftop Restaurant, offering modern takes on traditional Balkan dishes. The resort's three bars cater to guests at any time of the day, promising stunning views alongside delectable refreshments.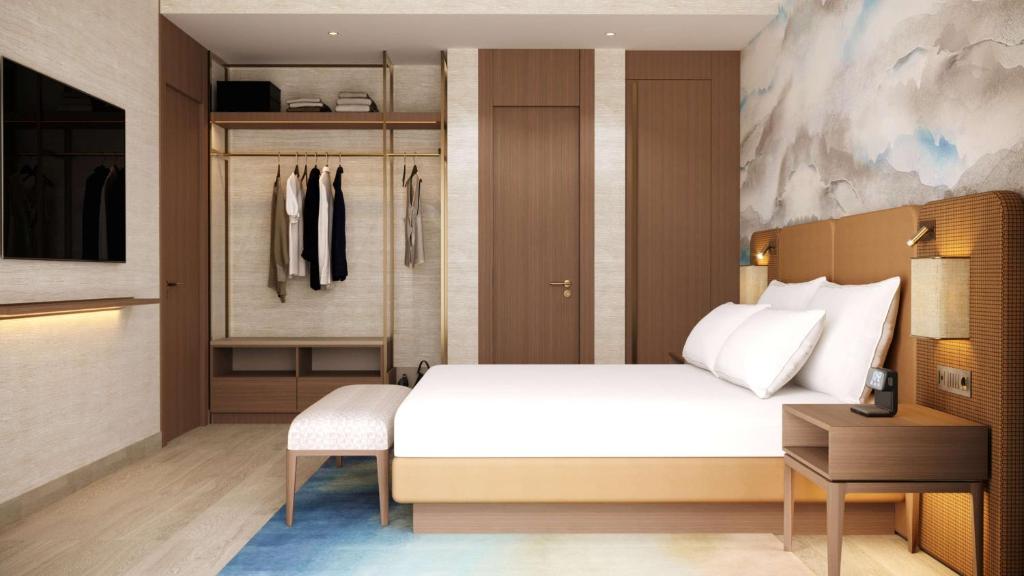 Experience the Magic of Montenegro
Situated on the outskirts of Kotor and overlooking the spectacular Montenegrin coastline, the Hyatt Regency Kotor Bay Resort invites guests to immerse themselves in the allure of the Balkan region. Whether it's hiking the colossal Vrmac mountain, exploring the region via a Jeep Safari tour, engaging in a serene yoga session, or enjoying a private boat tour, guests can experience the "wild beauty" of Montenegro at its finest.
Indeed, as Heidi Kunkel, Senior Vice President, Commercial Services EAME, Hyatt, remarked, "Hyatt now has more luxury branded hotels in resort locations than any other hospitality company in the world." The opening of the Hyatt Regency Kotor Bay Resort is a testament to Hyatt's commitment to expand thoughtfully to places its guests desire. And as the first Hyatt property in Montenegro, it promises a "rare, close-up view of the region's most protected and dramatic landscapes."
In essence, the Hyatt Regency Kotor Bay Resort is not just a place to stay – it's an invitation to experience the magic of Montenegro, an enchanting mix of serenity, luxury, and wild beauty. So, book your stay and soak in the mesmerizing views of the Adriatic Sea, under the warm and generous hospitality of the Hyatt Regency Kotor Bay Resort.