Rise and shine, sleepyheads! If you're in Tivat and looking for a breakfast spot that will put a smile on your face, you're in luck. We've scoured the town to bring you the top 5 breakfast places that will have you jumping out of bed in the morning. From pancakes stacked high to avocado toast that's Instagram-worthy, these spots are sure to satisfy any breakfast craving. So, put on your stretchy pants and let's get eating!.
The Regent Hotel  
(855) 797-6733 
Porto Montenegro Village, Obala bb, Tivat,85320, Montenegro 
A 9-minute cab ride from the Tivat airport and bus station. Head to your luxurious room, drop off your luggage and get down to the business of relaxing.  The restaurant in the cushy port side of Regency is ready to get you fueled up for some shopping.  The designer clothing stores are steps away from the super chill vibe at the Parisienne-inspired resort.
You´ll pass through the indoor dining room on your way out to the al fresco dining area.  The plush navy blue décor by the same interior designer for Mick Jagger, Tino Zervudachi, will make you feel like a rockstar on the Eastern European leg of your world tour. The uniforms of the highly qualified serving staff signal that you`ll feel well cared for while munching your honey-drizzled pancakes, sipping your Regent juice and coffee, and ogling the giant yachts in the nearby Porto Montenegro.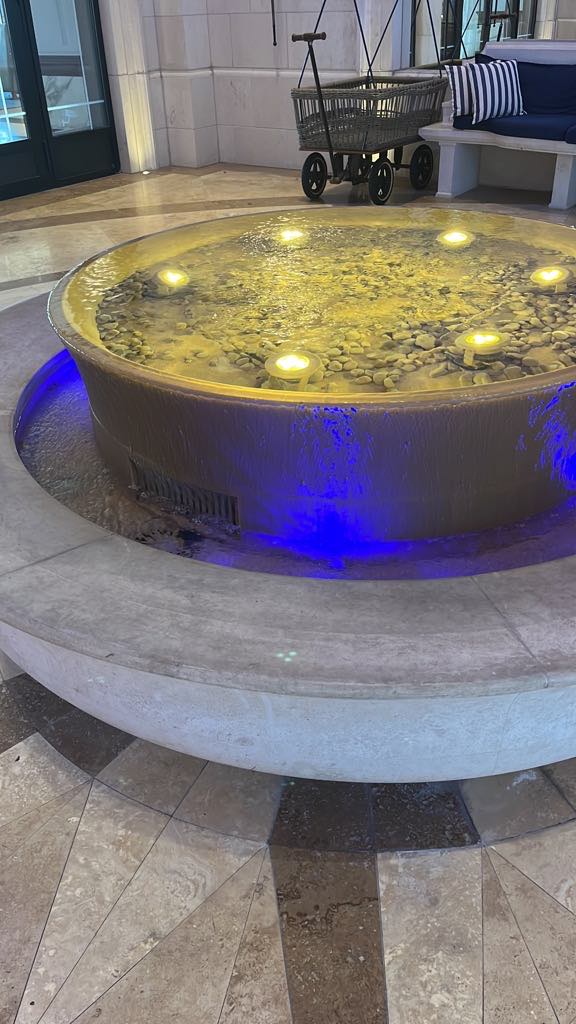 Konoba Bacchus   
Palih Boraca, Tivat, Tivat 85320
+382 67 886 771
While researching for this post, I was happy to see that Trip Advisor named this hyper-local spot as a top breakfast selection. I live just minutes from there and often have lunch and dinner there.  It´s my Go-To for friendly service, comfort food (like pork chops and French fries) a close-knit environment of locals-and-their-families-hang-out kind of place.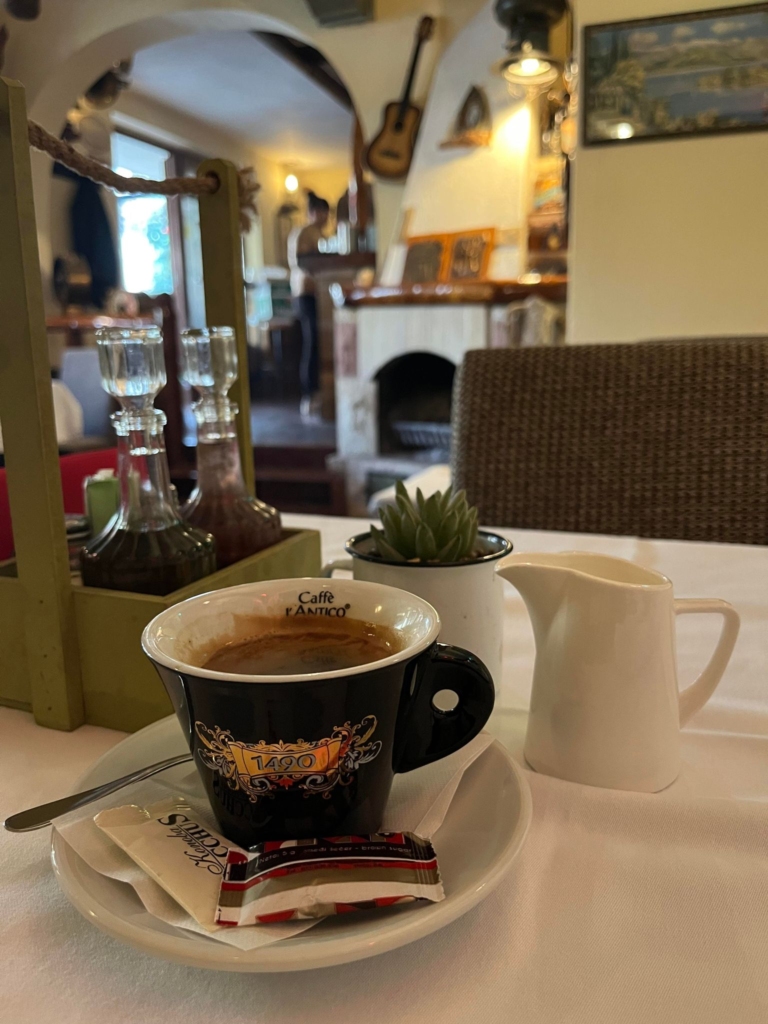 So having breakfast there was like a circle of completion. I chose the omelet with prosciutto.  Prosciutto is widely served in Montenegro. 
The omelet is huge. Stuffed with warm cheese and savory prosciutto, it arrived with a healthy helping of steaming greens that would make a Southern grandmother proud.  Some lovely black olives for garnish completed the presentation.  
The menu is translated into English and the staff speaks enough to make ordering easy. 
If you want to walk just a few minutes away from the tourist-filled port area and feel like a local for a bit, head to Konoba Bacchus. The word Konoba translates to tavern and a sea-faring tavern is the vibe in Bacchus. When it´s warm out, there is plenty of outdoor dining space.  When it´s cold they light the fireplace inside adding to the super cozy atmosphere. 
Volat
Setaliste Iva Vizina, Tivat, Montenegro, Tivat Municipality 85320
+382 69 907 755
Another great spot for breakfast in Tivat is Volat.
Volat Lounge Bar & Restaurant serves both local and international cuisine. The restaurant has views of the marina Kalimanj in Tivat near Belane beach, which is a charming neighborhood beach near the marina.  Only small fishing boats and speed boats in this little marina.  
For breakfast, expect a high-quality espresso and fresh squeezed orange juice as drink choices to accompany your breakfast on the ground floor.  
The three-story building is super modern and offers lunch in the cosmopolitan lounge restaurant on the first floor. And after dark, enjoy the rooftop terrace with a cool combination of high table and chair seating areas combined with romantic little bungalows, both offering terrific views of the marina, sea, and mountains nearby.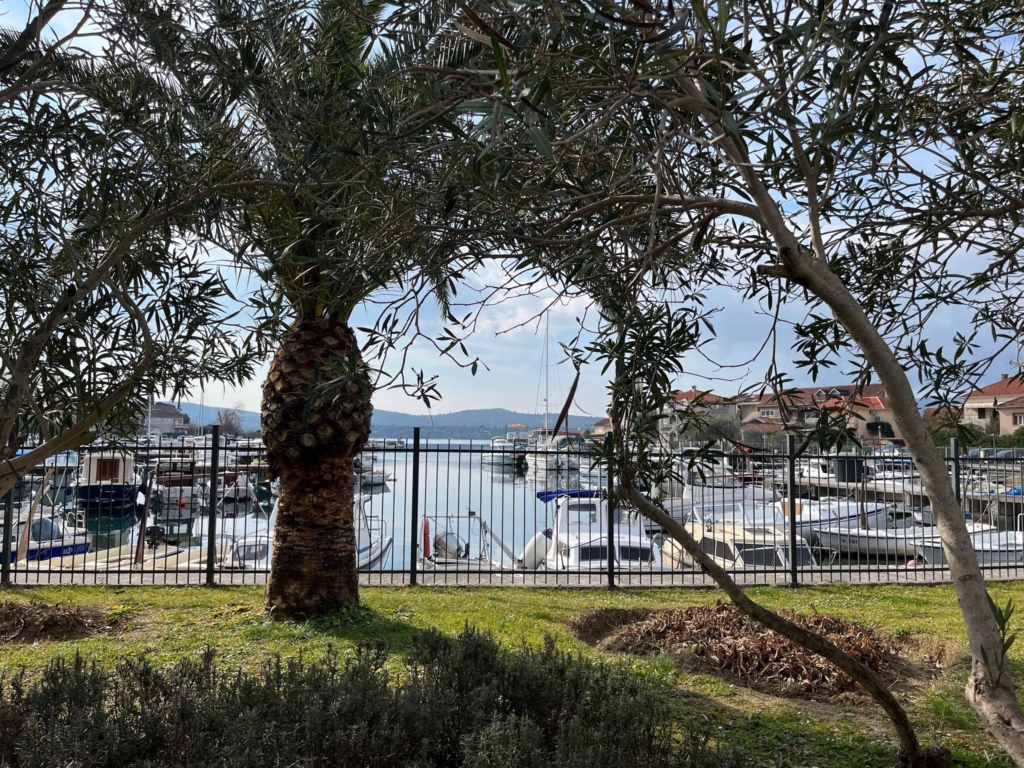 It´s close to my apartment and I love walking by it at night. It has some nice neon lighting that gives it a chic nightclub feel. 
Breakfast is usually packed and the outdoor tables fill up quickly. A gourmet breakfast with prawns, beefsteak, chicken, and feta cheese is on offer for just 10.80 €.  
And, for those who want to breakfast as if they are still back home in the UK, an English breakfast complete with sausage, mushrooms, beans and all, is available. Omelets, bacon and eggs (for the American palate), savory pancakes, and French-toast rounds out the pleasant breakfast menu. 
Kafeterija Porto  
Zgrada Ksenija, Obala BB,
Tivat 85320, Montenegro
+382 32 781 756
 A favorite hang-out for locals, expats and digital nomads alike for breakfast in Tivat.  The tables inside are usually filled with people working on their laptops while having coffee, tea or pastry. It´s an international chain of coffee shops. The name brand recognition brings confidence in knowing what to expect. That sense of consistency is comfort while traveling to unfamiliar spots. 
If chocolate cake or a croissant and a cup of chai tea in a bustling atmosphere is your idea of a perfect breakfast, this is the place for you.   
I often go there to meet new friends.  I like the sofas under the breezeway at the entrance facing the wide promenade. On the other side are the outdoor café tables by the sea. Smoothies, milk shakes and organic drinks from the display fridge are also available.  I especially love their selection of teas made from various blossoms with ingredients hailing from exotic locations. The staff is responsive and some English is spoken. Credit cards are accepted. 
Babi Resto Bar Tivat
21c Palih Boraca, Tivat 85320, Montenegro
+382 67 097 700
One of my top Go-Tos for breakfast, lunch and dinner in Tivat.  I love the glass atrium; the casual modern designer decor and the wait staff are exceptional.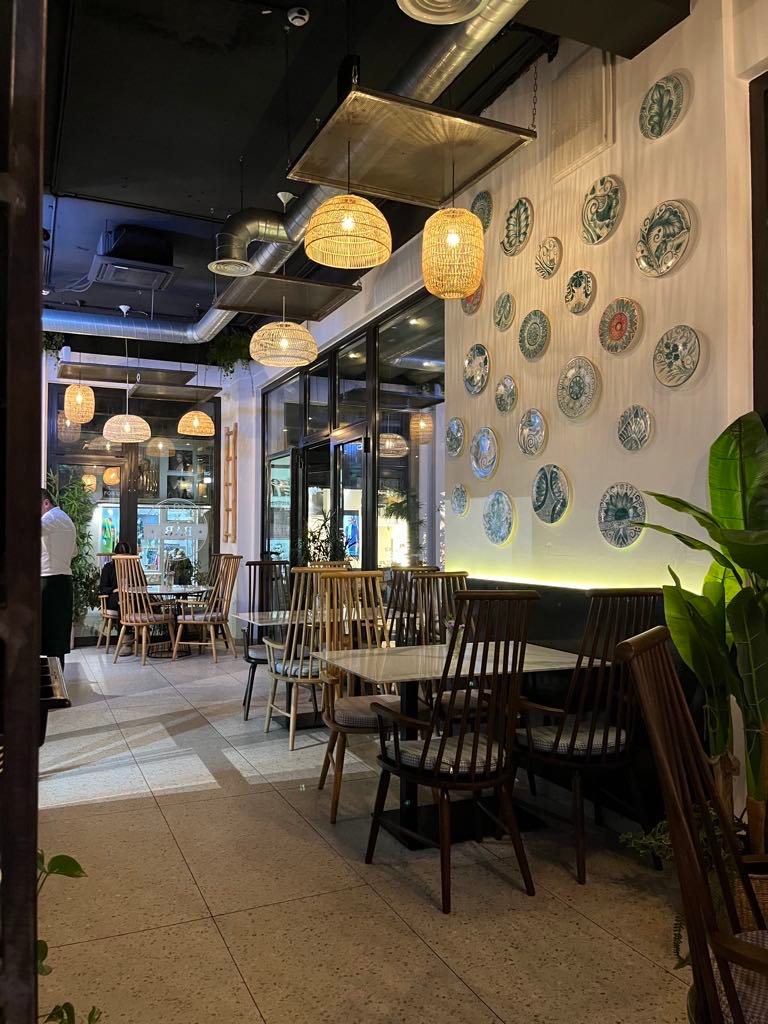 Every dish is served in generous portions with a wide range of offerings.  The breakfast menu has egg and sausage dishes served with croissant, a small salad, fries and mushrooms. So much food that you may skip lunch. Lovely pancakes and pastries round out the varied menu. Vegetarian options and plant-based milk options are available for your coffee or tea. The powder rooms are luxurious and dogs are allowed. I like the outdoor seating. It´s on a wide side street across from a French bakery and a cool eyeglass frame shop. 
Customs that may be unfamiliar: 
Some restaurants in Montenegro leave a receipt for each order that is placed as it comes to the table. The bill comes to the table as the dish is served. In many countries, the bill is requested by the patron at the end of the meal. So, if you experience the waitstaff placing the bill on your table with your order, just know that it is customary and not intended to make you feel rushed. 
Tipping is not mandatory but 10% is customary in euros – read our guide to tipping in the region.  Dollars are not accepted.  Some places only accept cash and ATMs are plentiful. 
Conclusion
In conclusion, start your day as you mean to go on. The wide array of choices presented means that you and your family will have healthy and wholesome start to the day, We hope you have a great breakfast in Tivat – mention in the comments if there is another place you would like to mention.