Greetings Art Aficionados,
We are delighted to share that the "Gayo Gallery" in Porto Montenegro has just opened a groundbreaking exhibition. The spotlight is on Beta Gatti, one of Brazil's most celebrated contemporary artists, renowned for his captivating blend of sculpture and print work.
Five art prints and seven sculptures fill the space, each piece a striking exploration of our society's complexities. Gatti's creations dive deep into subjects such as freedom, the meaning of life, and the increasingly vital role technology plays in our world. His art is a testament to the power of creative expression to stir emotions and provoke thought, while highlighting the pressing social and societal challenges we face.
Art historian Barbara Delać, a key figure at Gayo Gallery, has drawn insightful parallels between Gatti's dynamic creativity and the globally recognized street artist, Banksy. Banksy's work, celebrated for its satirical take on our consumer-driven society and clever integration of politics and culture, shares common ground with Gatti's thought-provoking pieces. However, Gatti's art doesn't just embody the essence of a subject—it also encourages introspection and reflection from the viewer.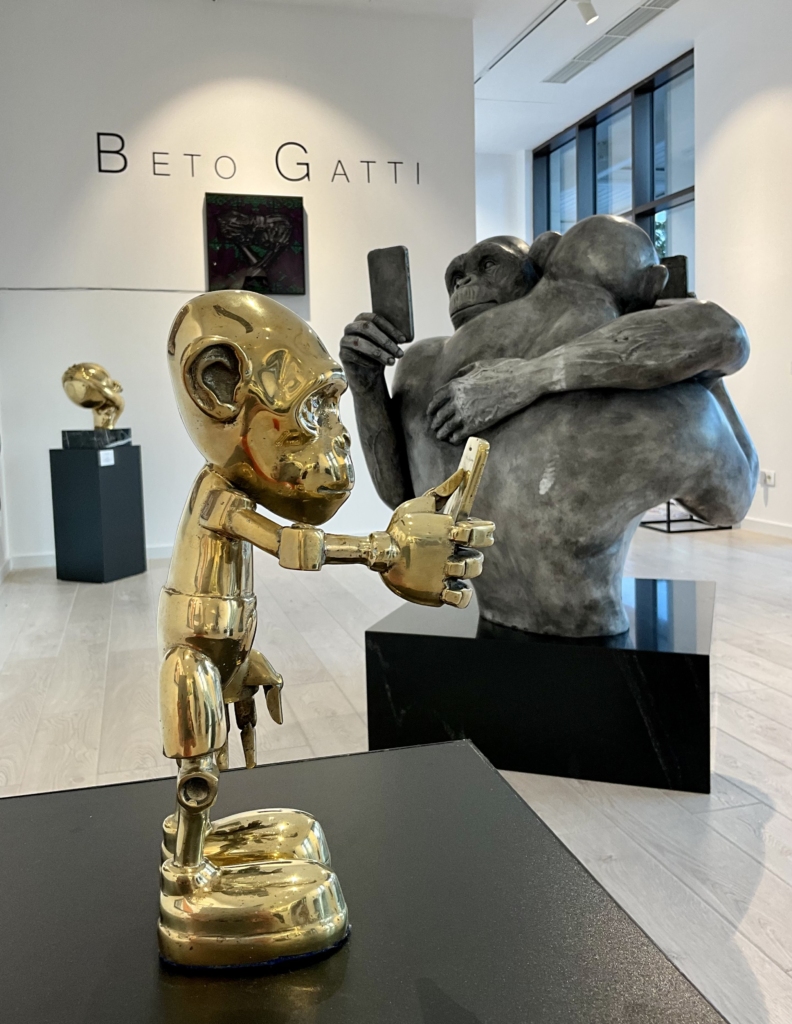 If you're new to the world of Beto Gatti, he's a luminary in the field of contemporary Brazilian art and photography, and is celebrated for his innovative and distinctive interpretations of modern life. Gatti's impressive portfolio includes international collaborations with world-renowned brands like Mercedes Benz and L'Oreal, and editorial contributions to esteemed magazines like Vogue, Harper's Bazaar, and GQ. Notably, in 2022, he worked as artistic director for a project with YSL.
Gatti's unique artistic voice has graced Art Basel, Hamptoms NYC, ArtRio, SPArt, and ArtSampa exhibitions, and he holds the singular honor of being the only Brazilian artist to create a signature piece for the World Cup in Qatar. Most recently, in 2023, Gatti was invited to participate in the Swerve Festival, a prestigious global event hosted in AlUla, Saudi Arabia.
The exhibition at Gayo Gallery is open until September 30, 2023. Don't let this chance pass to immerse yourself in Gatti's thought-provoking world. We warmly encourage our readers to embark on this extraordinary artistic journey.