Nestled along the picturesque Adriatic coast of Montenegro, Sutomore is a charming and vibrant coastal town that beckons travelers with its sun-kissed beaches, azure waters, and an inviting blend of natural beauty and lively ambiance. Positioned between the bustling cities of Bar and Petrovac, the appealing town of Sutomore exudes a captivating mix of relaxation and adventure, making it a sought-after destination, especially among locals.
In the last few years, Sutomore has developed into a thriving tourist resort with facilities and amenities available to accommodate visitors. It is best known for its long city beach, where along the beachfront, you can find numerous hotels, resorts, guesthouses, and apartments catering to different budgets. This is one of the reasons why this town is very popular amongst the locals, who often come here to spend their vacations. Restaurants, cafes, bars, and shops also provide plenty of options for dining and entertainment.
Attractions
Haj – Nehaj Fortress
The fortress of Haj-Nehaj can be found perched 230 meters above sea level, overlooking the town of Sutomore. The title, Haj-Nehaj, which has gained recognition over the past few years, combines 'Haj,' the hill's name directly over the modern-day Sutomore, and 'Nehaj', the fortress's name. The first references to it appeared in historical documents in 1542. By 1555, it had a small contingent of two soldiers and a gunner stationed for its protection. The fortress was designed to provide refuge for up to 900 locals in times of threat. The Turks took control of it in 1571, but the Montenegrins ultimately reclaimed it in 1877. Since that time, it has been uninhabited.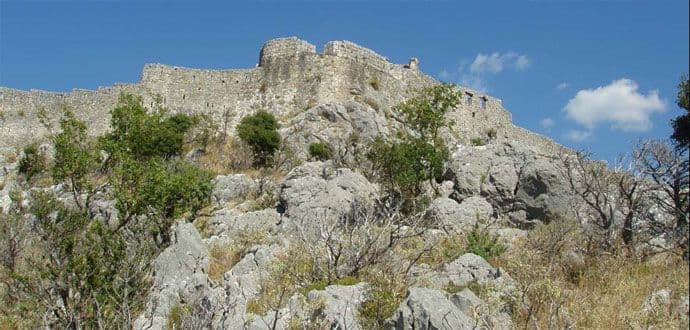 Churches
Approximately a kilometer west of Sutomore and equally distant from the sea and the Nehaj fortress lies the medieval dual-altar church dedicated to St. Tekle (also known as Ćekle). Another place of worship, the Church of Saint Petka, can be found in the Gornji Šušanj settlement. This church is near Velja Mound and conveniently connected by a well-trodden path.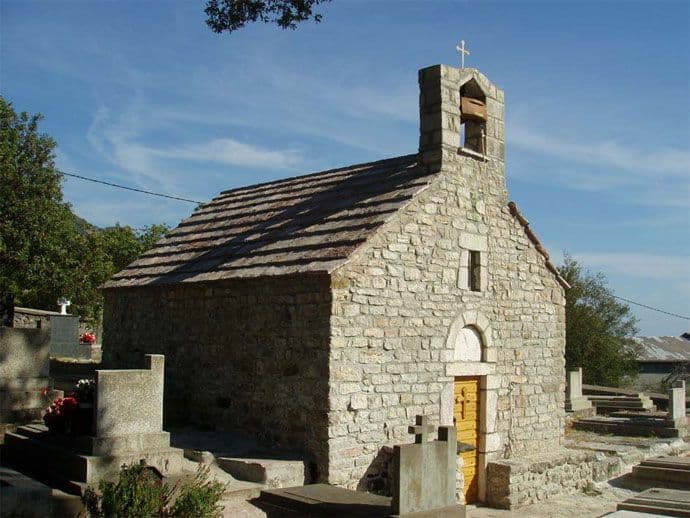 Camping
Sutomore is a popular option for travelers who prefer a closer connection with nature and a more budget-friendly accommodation choice. There are several campsites available in and around Sutomore that cater to different preferences and offer facilities for campers. Some of the most popular ones are Zagradje and Beach Maljek, the camping site Utjeha, and the camping site Maslina.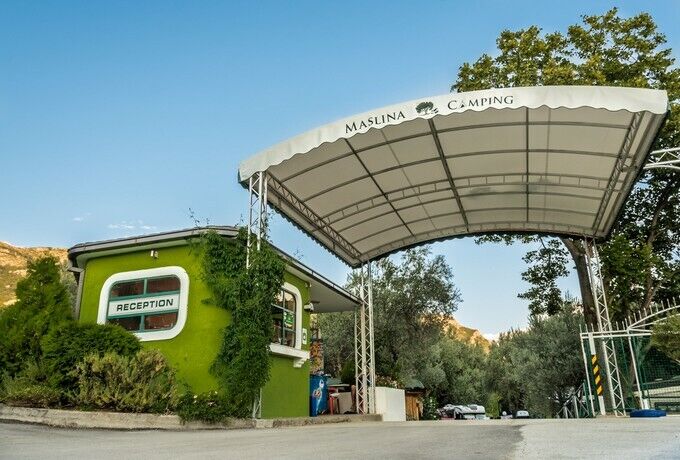 Campsites range from basic sites with minimal amenities to more well-equipped ones with facilities such as bathrooms, showers, and electricity hookups. Some campsites might be located close to the beach, providing easy access to the sea. If you have your camping gear, you can pitch your own tent at the designated campsites. Alternatively, some campsites might offer pre-pitched tents or small bungalows for rent.
Nightlife and Entertainment 
Sutomore is known for its vibrant nightlife, especially during the summer season. The town has numerous beach bars and clubs to enjoy live music, concerts, dance, and socialize. It's a popular spot for young travelers and locals who enjoy the lively atmosphere and party scene. 
Beaches
The town boasts numerous beaches. The coast of Sutomore is said to be very healing because of the specific mistral, so walking by the water at dusk and dawn is recommended when the iodine vapor is at its highest.
Sutomorska plaza – City Beach
The most popular and longest is the "city" sandy beach (Sutomorska plaza), stretching about 2 kilometers along the coastline. Visitors can relax, sunbathe, and enjoy the crystal-clear waters of the Adriatic Sea at this beach. It is particularly popular among families and young people, indulging in the wonderful relief of the region. In addition to the sandy part, guests can enjoy the beach's beautifully landscaped sand and gravel part.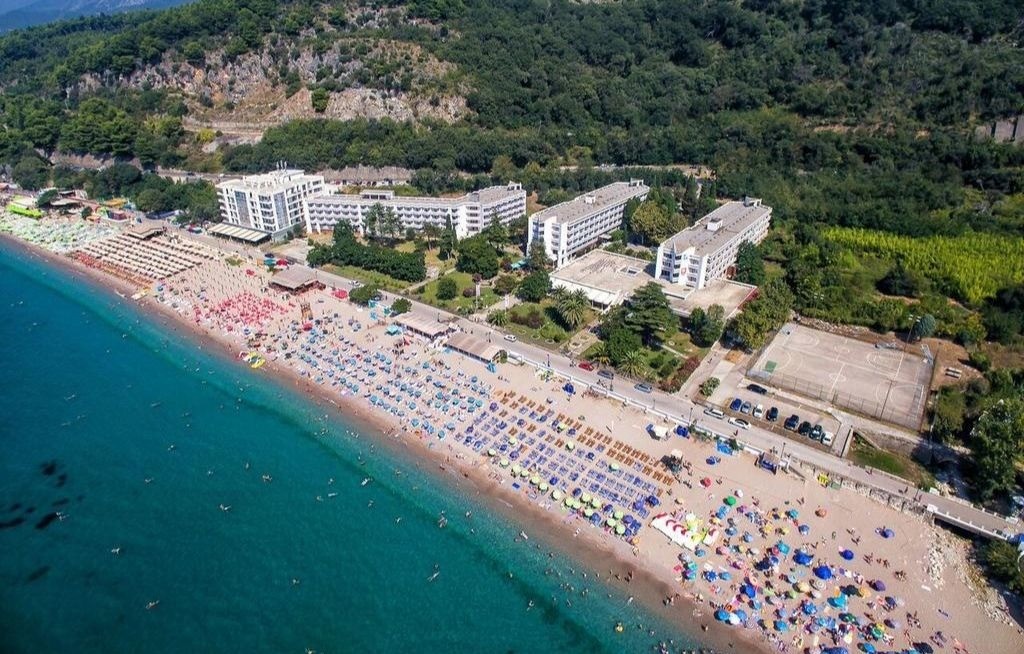 A free place for a towel on the city beach is harder to find. A significant portion of the beach operates on a rental system, where sunbeds and umbrellas are available for 10 to 15 euros. Still, those who choose not to pay for the rental cannot place their towels on that specific section of the beach. However, there are other smaller beaches where you can come with your towel and find a place.
Zlatna Obala Beach
The beach, spanning 850 meters in length, has a concrete-gravel surface, while various vegetation envelopes it. Situated between Sutomore and Bar, this beach is privately owned by the hotel "Zlatna obala". It is one of the rare settlements on the Montenegrin coast, with accommodation in one-story villas surrounded by lush Mediterranean vegetation. The settlement has its own pebbly and sandy beach. All the necessary infrastructure is there: sunbeds and umbrellas, changing rooms, shower cabins, toilets, a restaurant, and car parking.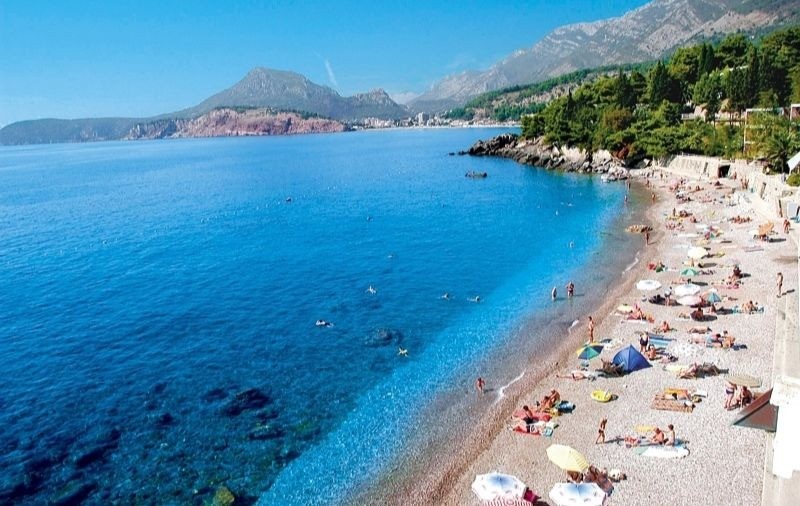 Maljevik Beach
Maljevik Beach is partly rocky and pebble, located in a picturesque bay near Crni Rt, north of Sutomore. It is about 300 meters long, located under a pine forest. This beach is a typical example of untouched nature with extremely clear water.
You can find shade even on the hottest days, thanks to the pines and cypresses surrounding the bay. Lovers of a secluded holiday will find this place perfect, because of the small distance from the city, there are always few people here. Diving lovers will also like this place because the water is always clean and transparent due to the rocky bottom.
Štrbine Beach
Štrbine Beach is a small pebble beach about 150 meters long, located in the same name cove in Sutomore.
The cove is located between the main city beach and Maljevik beach. You can find mud on one part of the beach, which the locals consider medicinal. This is the closest alternative for those who want to avoid the crowds of the main Sutomore beach.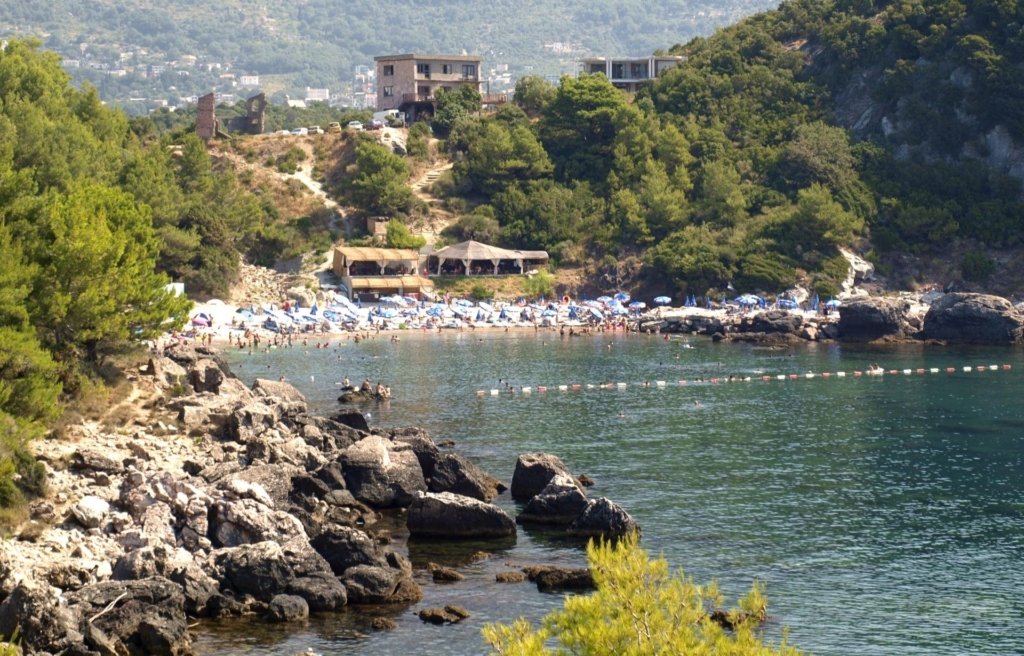 Accommodation
Sutomore offers a range of hotels, from luxury resorts to budget-friendly options. You can find hotels with amenities such as swimming pools, beach access, restaurants, and spa facilities. Hotel Sato is certainly one of the best in this category. The hotel is easily accessible and is located on the beach near the promenade. It also has a private beach with a pool. Overall, a good hotel with all the necessary amenities needed for a comfortable and enjoyable stay. Another recommendation is Sea Fort Hotel.
Many locals in Sutomore rent out apartments or villas to tourists during summer. This option provides more privacy and can be a good choice for families or groups of friends. Villa Mare Mar, Boutique Hotel Porto Sole, and Apartments Aleksic are just some of our recommendations.
For a more authentic experience, consider staying in guesthouses or private rooms offered by locals. These can often be more budget-friendly and allow you to interact with the local community.
Climate
With its welcoming Mediterranean climate, Sutomore enjoys long summers that entice visitors to embrace the laid-back coastal lifestyle and bask in the warmth of the Adriatic Sea. Summers are typically hot and dry, with temperatures ranging from 25°C to 35°C (77°F to 95°F). Sutomore has over 260 sunny days a year, and the summer season lasts from May to September, sometimes even early October, attracting sun-seekers from all over. 
Transportation 

Sutomore has excellent infrastructural connectivity with various parts of Montenegro. The town has a train station and is also accessible by bus or car. The train goes from Podgorica to Bar (and vice versa) and stops in Sutomore. The ticket price is €2.40 for the second class or €3.60 for the first class. You can check the timetable here. From other coastal cities, you can also take a bus.
Conclusion
Sutomore is a highly captivating and alluring destination. Consequently, many tourists choose to forgo staying in Bar, and opt for accommodation in hotels along the Riviera in Sutomore or in various private houses or villas instead. This often underrated small coastal town has much to offer its visitors. From pebble beaches and clear waters, promenades with spectacular views, and restaurants with homemade and international delicacies to sightseeing historical buildings, and other outdoor activities, enjoy your stay in Sutomore.