Montenegro is a beautiful country located in Southeastern Europe, known for its stunning coastline, rugged mountains, and crystal-clear lakes. The country has a Mediterranean climate, which means that summers are hot and dry, while winters are mild and rainy. August is one of the warmest months in Montenegro, and it's a popular time for tourists to visit. If you're planning a trip to Montenegro in August, here's what you can expect in terms of weather: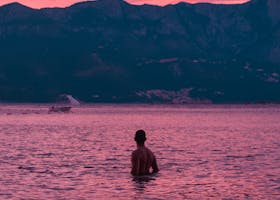 Average Temperature
In August, the average temperature in Montenegro ranges from 22°C (72°F) to 30°C (86°F), with an average high of 28°C (82°F) during the day, and an average low of 22°C (72°F) at night. The coastal areas tend to be warmer than the inland regions, and the higher altitudes of the mountains provide a refreshing escape from the heat. If you're planning on spending time outdoors, it's important to wear light, breathable clothing and drink plenty of water to stay hydrated.
Here are the average temperatures for some popular destinations in Montenegro in August:
Kotor: High of 30°C, low of 22°C
Budva: High of 31°C, low of 22°C
Podgorica: High of 35°C, low of 22°C
Zabljak: High of 24°C, low of 12°C
Sunshine
August is one of the sunniest months in Montenegro, with an average of 10 hours of sunshine per day. This makes it an ideal time to visit the country's stunning beaches and enjoy water activities like swimming, snorkeling, and kayaking. However, it's important to protect your skin from the strong UV rays by wearing sunscreen and a hat.
Read also: The best beaches in Ulcinj
Rainfall
August is one of the driest months in Montenegro, with an average of only 20mm of rainfall throughout the month. This means that you're unlikely to experience any rain during your stay, which is great news if you're planning to spend most of your time outdoors.
However, it's important to note that the inland regions of Montenegro can be more prone to thunderstorms, so it's always a good idea to check the weather forecast before planning any outdoor activities.
Sea Temperature
The sea temperature in Montenegro in August is warm and comfortable, ranging from 23°C (73°F) to 27°C (81°F). This makes it an ideal time for swimming and other water activities. The water is also crystal clear, making it perfect for snorkeling and diving.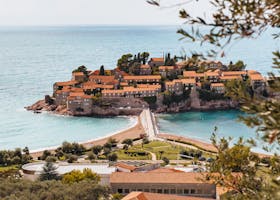 Wind
The coastal areas of Montenegro can experience a breeze during the summer months, which provides a welcome relief from the heat. However, inland regions can be more prone to gusty winds, so it's important to take this into consideration when planning outdoor activities.
What to do in Montenegro in August
In the peak summer month of August, Montenegro offers a multitude of engaging activities, captivating sites, and special events. The Bay of Kotor, renowned as Europe's southernmost fjord, is a top attraction. Here, you can explore Kotor, a UNESCO World Heritage Site known for its well-preserved medieval structures. A hike to the San Giovanni Fortress offers a panoramic view of the stunning bay.
If you're visiting in early August, you may catch the Kotor Festival of Theatre for Children, which promotes arts and culture for young audiences through theatre performances, puppet shows, and workshops.
For beach enthusiasts, the Budva Riviera is a prime location, boasting beautiful beaches and lively nightlife. The Budva's Theatre City (Grad Teatar) festival often extends into August, featuring open-air performances in music, theatre, and film throughout Budva's Old Town.
Durmitor National Park is a paradise for outdoor adventurers, offering activities like hiking, rafting, and zip-lining across the Tara River Canyon. Another notable event in August is the Lake Fest, a popular rock music festival held near Nikšić by the scenic Krupac Lake.
Nature lovers should consider a tranquil boat tour on Skadar Lake, Southern Europe's largest lake, known for its rich diversity of bird species. The Herceg Novi Film Festival, typically held in August, showcases a variety of global films at the historic Kanli Kula Fortress.
Finally, indulge in Montenegro's local cuisine, which varies from fresh seafood along the coast to traditional mountain dishes in the northern regions. Note that the conditions and availability of these activities and events may change, so checking with local sources for current information is always recommended.
August Weather in Montenegro
August is a fantastic time to visit Montenegro if you're looking for a summer vacation with plenty of sunshine and warm weather. With its stunning coastline, rugged mountains, and crystal-clear lakes, Montenegro has something to offer everyone.
Whether you're interested in water activities, hiking, or simply relaxing on the beach, Montenegro is the perfect destination for a summer getaway. Just be sure to pack appropriately, stay hydrated, and enjoy all that this beautiful country has to offer.