Montenegro is a small country located in southeastern Europe that boasts a rich history dating back to the 9th century. But when it comes to Montenegro, there is one question that stands out: what is the capital city of Montenegro?
The Answer: Podgorica
The answer is Podgorica. Located in the central part of the country, Podgorica is the largest city in Montenegro, with a population of over 186,000 people. Despite its size, Podgorica is not as well-known as other cities in the country, such as the picturesque coastal town of Kotor.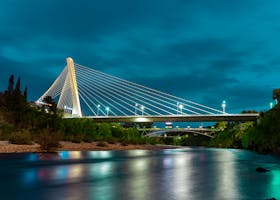 How Do You Get to Podgorica?
Getting to the capital city of Montenegro is simple because the city is well-connected to the rest of Europe. Podgorica International Airport is just a few kilometers south of the city center and provides direct flights to many major European cities, including London, Vienna, and Paris.
If you prefer to travel by land, Podgorica is easily accessible by bus and train from other parts of Montenegro, as well as neighboring countries such as Serbia and Croatia.
For more information on how to get to Montenegro, be sure to check out our article: Take to the Skies: How to Get to Montenegro
Why It Matters
But why is it important to know Montenegro's capital? Podgorica, for example, is a significant cultural center with numerous museums, galleries, and theaters. It also houses many important government buildings, such as the Montenegrin Parliament and the Presidential Palace.
If you're planning a trip to Podgorica, be sure to check out these two amazing articles we've written:
These articles offer a wealth of information about the city, including the top sights to see, the best places to eat and drink, and the most interesting cultural attractions.
Discovering Montenegro
When planning a trip to Montenegro, understanding the geography and culture of the country is essential. But beyond that, knowing the capital city can be a great starting point for exploring all that Montenegro has to offer.
So, whether you're interested in history, culture, or natural beauty, Montenegro is a must-visit destination. And with Podgorica as the country's capital city, you'll have the perfect starting point to explore all that this beautiful country has to offer.
Also Read: What is the Main Religion of Montenegro?
Some facts about the Montenegro capital
During World War II, Podgorica was bombed heavily, and only a handful of buildings survived the devastation.
The city's name means "under the small hill" in Serbian, referring to the small hill of Gorica that overlooks the city.
Podgorica is located at the confluence of two rivers, the Morača and the Ribnica, which provides plenty of opportunities for water-based activities.
Podgorica is home to several impressive bridges, including the Đurđevića Tara Bridge, which is the highest road bridge in Europe.
The Millennium Bridge, which spans the Morača River, is one of the city's most iconic landmarks and a popular spot for tourists.
Podgorica was rated as one of the cheapest destinations in Europe for a romantic break.
The population of Podgorica is circa 205k – one of the smallest populations of any capital in Europe. Although Monaco, Valletta & San Marino are smaller.
The price of a big mac is €4.39 – cheaper than Paris which stands at €4.93
Podgorica is very safe and has lower crime rates than many of its major European peers – For further information on how safe is Podgorica – read this article.
Podgorica has faced numerous challenges throughout its history, including wars, earthquakes, and floods, yet it has always bounced back and rebuilt itself, often stronger than before. This spirit of resilience and determination is reflected in the city's people, culture, and architecture, and it is one of the unique things that make Podgorica a fascinating and dynamic destination to visit.