Podgorica, the capital city of Montenegro, is once again gearing up to host the highly anticipated 8th City Groove Festival. The three-day festival will run from July 2nd to July 4th, promising music enthusiasts a spellbinding experience.
Sunday, July 2nd: Spotlight on Zucchero
On the festival's opening night, internationally acclaimed Italian artist, Zucchero, will command the stage. His appearance adds Podgorica and Montenegro to his illustrious tour locations, affirming the country's position on the global music scene.
Zucchero: A World-Class Performer
Zucchero, also known as Adelmo Fornaciari, is an Italian singer-songwriter and musician who has made a significant impact on the international music scene. With his unique blend of Italian pop and blues, he has successfully crafted a musical style that resonates with audiences worldwide. Renowned for his soulful voice and captivating performances, Zucchero has collaborated with many world-class artists such as Eric Clapton, Bono, and John Lee Hooker.
Monday, July 3rd: Parni Valjak Takes the Stage
The second day of the festival will see Parni Valjak, a local favorite, taking the stage. This time, they will introduce their new vocalist, Igor Drvenkar. Recognized as one of the region's finest vocalists from the popular HRT show, A side, Drvenkar promises to bring fresh energy to the band's performance.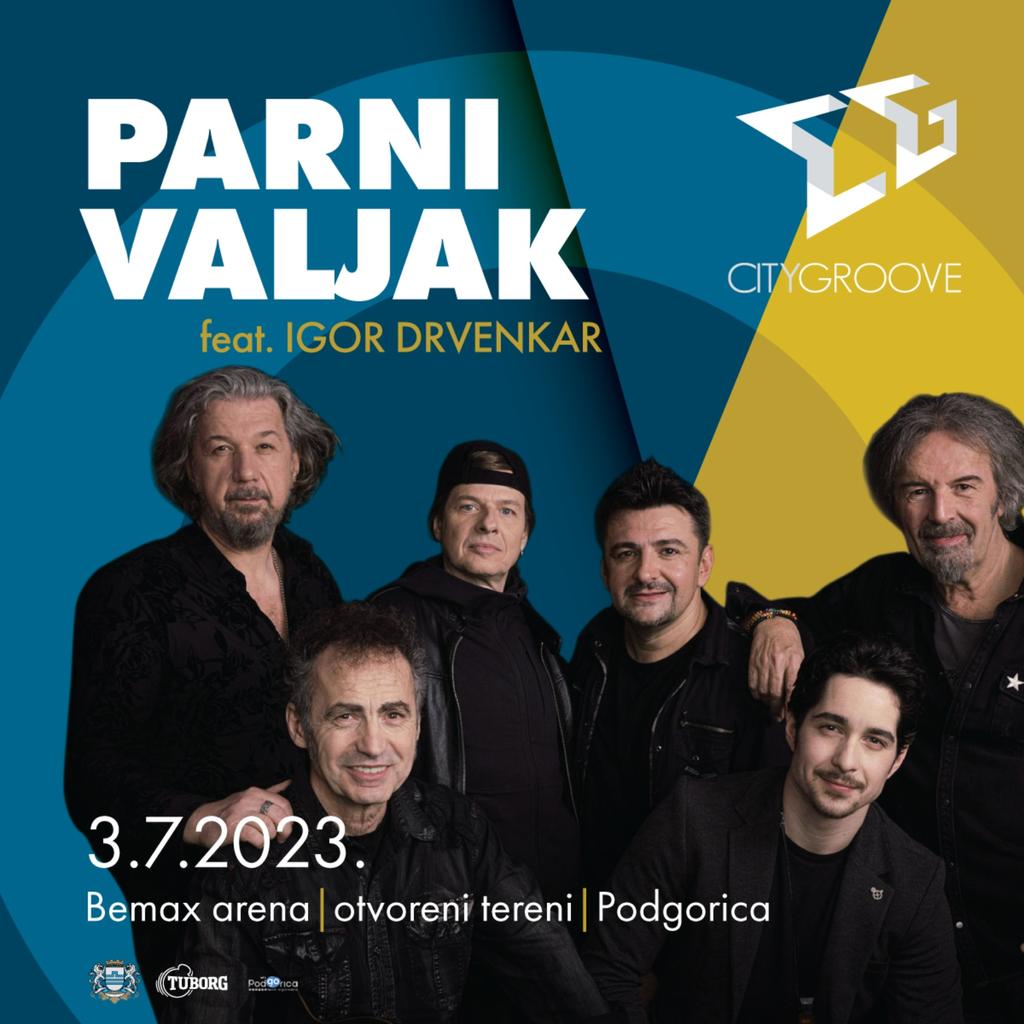 Parni Valjak: Icons of the Regional Music Scene
Parni Valjak, originating from Croatia, has enjoyed a successful music career spanning over 40 years. Known for their unique blend of rock, blues, and pop, the band has created a powerful legacy in the regional music scene. Their lyricism combined with their authentic sound has resonated with generations of fans, positioning them as one of the area's most influential bands.
Festival Format and Locations
True to City Groove Festival tradition, each evening kicks off with performances by local bands such as Kukavice, Milky Way, and Prizma.
This year, the festival expands to include two stages. The City stage is located in the open grounds of the Bemax arena. For fans of a more intimate setting, the Goove stage at Kolektor will host local and international electronic music acts.
The festival's final night is dedicated to electronic music lovers. DJ Lehar, marking his first performance in Montenegro, will headline at the Goove stage, joined by local talents Buba and Lerr b2b.
Tickets and Further Information
Tickets are currently on sale on the fixr website. A combined ticket for the first and second nights is priced at 20 euros. Individual tickets for the first and second nights are available at 15 euros and 10 euros, respectively. In keeping with tradition, entry to the third night at the Goove stage will be free of charge.
City Groove: A Symbol of Musical Excellence
Since its inception in 2015, the City Groove festival has established itself as a pivotal event in Montenegro's music scene, showcasing an eclectic mix of electronic, rock, alternative, and modern music. Over the years, the festival has attracted around 20,000 attendees annually and featured performances from renowned regional and international acts, such as Simple Minds, Morcheeba, Bob Sinclar, Fedde Le Grand, Dubioza kolektiv, Antoine Clamaran, Gibonni, Dario Nunez, Cubeguys, Stereo MC, Shiller, Gabriela Ćilmi, and Kosheen.
This year, the festival continues to uphold the high standards set by Western European festivals, promising attendees a world-class music production. The City Groove festival is more than a music event – it's a celebration of music diversity and the vibrancy of Montenegro's cultural scene.