Tivat, a town situated on the coast of Montenegro, is famous for its stunning natural scenery and picturesque landscapes. The town has gained popularity among social media influencers and photographers who seek to capture the perfect shot for their Instagram feed, thanks to its crystal-clear waters, lush greenery, and breathtaking architecture. Tivat offers plenty of spots that are perfect for Instagram, such as the lavish yachts docked at Porto Montenegro and the charming narrow alleys of Gornja Lastva.
In this blog post, we'll look at the top 10 must-see Instagram hotspots in Tivat that will leave you speechless and fill your feed with envious photos.
Porto Montenegro
Porto Montenegro is a luxurious waterfront development in the Montenegrin coastal town of Tivat. It was originally an Austro-Hungarian submarine base and dockyard, but in 2006 it was converted into a luxury marina and yachting hub. It has since become one of the most popular Adriatic destinations for yacht owners and luxury travelers – including the amazing Porto Novi resort.
Porto Montenegro has over 450 bays for yachts of all sizes, including superyacht docks for yachts up to 250 meters long. The development includes a variety of high-end residences, hotels, restaurants, and shops, making it a popular destination for both boaters and non-boaters. Interested in chartering a yacht – look no further. Read our blog on how to charter a yacht in Montenegro.
One of Porto Montenegro's highlights is its designer shopping village, which features over 50 luxury boutiques from high-end brands like Gucci, Prada, and Armani. The marina also has a number of waterfront restaurants and bars with breathtaking views of the Bay of Kotor.
Throughout the year, Porto Montenegro is also known for its events and entertainment offerings, which include concerts, exhibitions, and other cultural events. Furthermore, the marina hosts the annual Superyacht Rendezvous, which brings together some of the world's most impressive yachts.
The Island of Flowers
The Island of Flowers, also known as Sveti Marko Island, is a small but picturesque island in Montenegro's Bay of Tivat. With crystal clear waters, lush greenery, and stunning panoramic views of the surrounding coastline, it is regarded as one of the most beautiful islands in the Adriatic Sea.
The name of the island comes from the abundant amount of flowers that bloom in vibrant colors all year. The island's beautiful gardens, which are filled with a variety of plants and flowers, including palm trees, cacti, and citrus trees, are open to visitors.
Visitors can explore the island's many historic buildings and landmarks, including the 13th-century Church of St. Mark.
Embarking on a boat tour from Tivat or the nearby town of Kotor is an excellent way to discover the Island of Flowers. Numerous tour companies offer guided excursions to the island, which typically include visits to various popular Instagram locations, such as the island's stunning beaches, secluded coves, and picturesque lookout points.
The Island of Flowers in Montenegro is a beautiful location that offers numerous must-see Instagram hotspots. These include the charming stone houses that adorn the island's shoreline, which provide a picturesque view for any photographer. The breathtaking panoramic views of the Bay of Tivat from the hilltop lookout are also a must-see for visitors. Moreover, the secluded beaches and coves of the island offer an ideal setting for a relaxing day basking in the sun. Whether you're looking for stunning views or a peaceful beach day, the Island of Flowers has something for everyone.
Plavi Horizonti
Plavi Horizonti, which translates to "blue horizons" in Montenegrin, is a picturesque beach in the Gulf of Kotor near Tivat. It is regarded as one of Montenegro's most beautiful beaches, with crystal clear turquoise water and wonderful white sand.
The beach is surrounded by lush Mediterranean greenery and has a stunning view of the Vrmac mountain range as a backdrop. The beach's shallow waters and gentle slope make it an excellent choice for families with children. Plavi Horizonti is also a popular snorkeling and scuba diving destination due to the abundance of fish and other marine life in the waters.
There are several beach bars and restaurants that serve a variety of refreshments and local cuisine, making it an ideal spot to unwind and enjoy a day at the beach. For a fee, visitors can also rent sunbeds, umbrellas, and pedal boats. Plavi Horizonti has a rich history in addition to its natural beauty.
Gornja Lastva
Gornja Lastva is a delightful and historical village situated in the municipality of Tivat, Montenegro. Positioned on a hill that overlooks the Bay of Kotor, Gornja Lastva boasts awe-inspiring panoramic views of the surrounding mountains and sea.
The village's traditional architecture features stone houses, red-tiled roofs, narrow streets, and ancient walls. It has a rich cultural heritage, with several medieval churches and other historic buildings.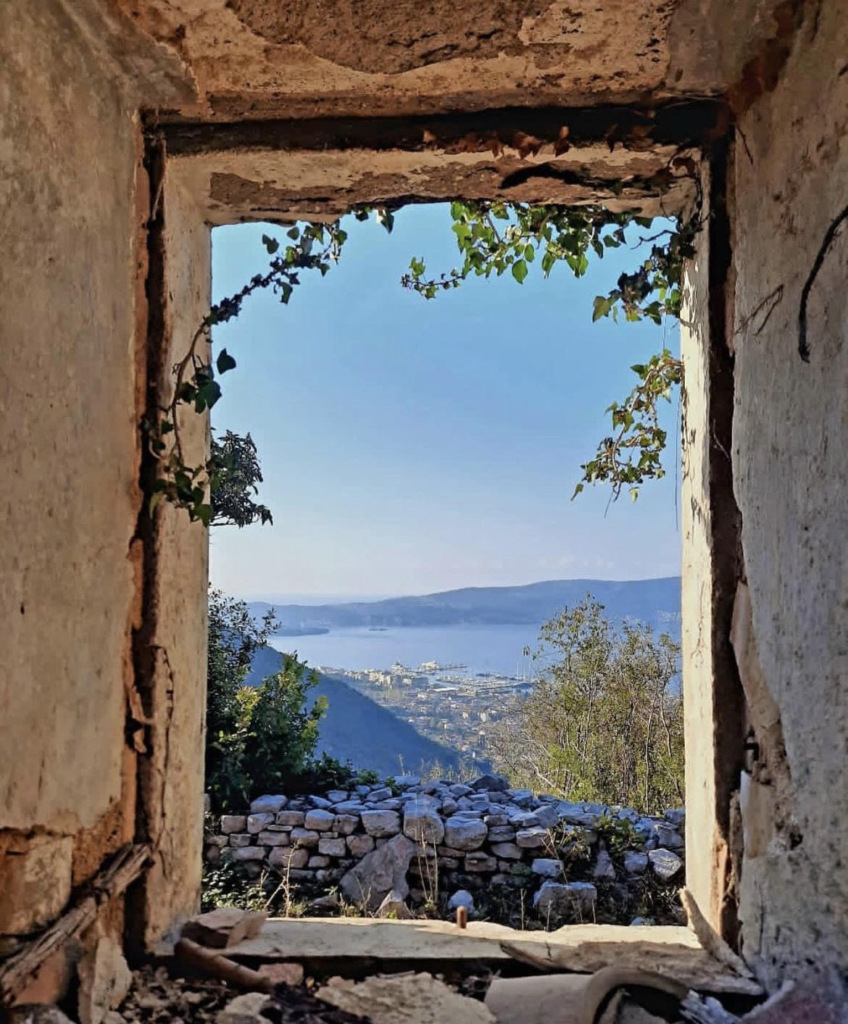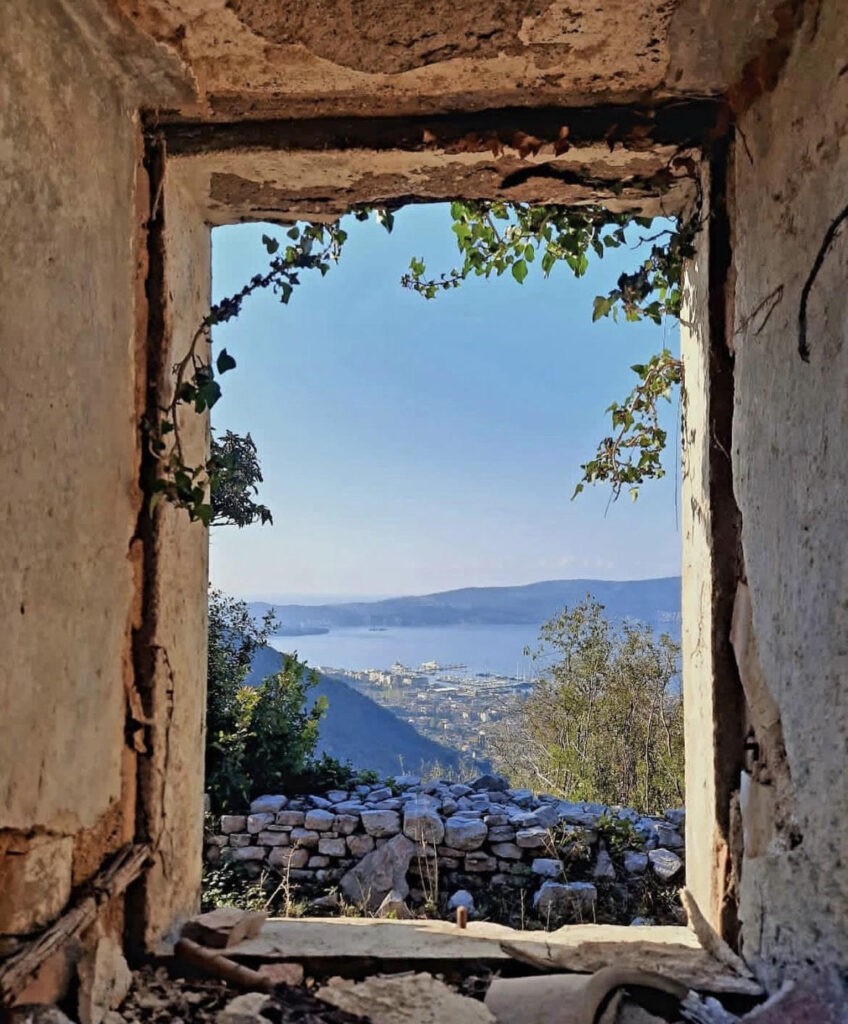 The Church of St. Mary, which dates from the 15th century, is one of Gornja Lastva's most notable landmarks. The church has beautiful frescoes and a bell tower with views of the surrounding countryside.
Gornja Lastva has a number of traditional restaurants that serve local cuisine providing an opportunity to experience Montenegrin hospitality.
Gornja Lastva in Montenegro is a hidden gem with rich history, culture, views, and outdoor adventure. It is a must-see for anyone visiting Tivat and the Bay of Kotor region.
Clock Tower
Tivat Clock Tower: A historic landmark in the heart of Tivat's old town, the clock tower offers stunning views of the town and the surrounding mountains.
The clock tower is one of the town's most recognizable structures and a popular tourist attraction.
The tower is made of stone and stands 30 meters tall, with a clock face on each of its four sides.
Visitors can climb up to the tower's top via a narrow spiral staircase and enjoy breathtaking views of Tivat and the surrounding bay. The tower also houses a small museum dedicated to the history of Tivat. It's a must-see for Instagrammers.
Lady of Mercy Island
Lady of Mercy Island is a small uninhabited isle in Montenegro's Bay of Kotor. The island is well-known for its stunning views of the surrounding bay and mountains, as well as its beautiful church.
The island's beautiful natural surroundings, with clear waters and lush Mediterranean vegetation, make it famous, besides the church. Tourists can take a boat tour from Tivat and spend a few hours exploring the island and admiring the stunning views.
Naval Heritage Collection
This fascinating museum showcases Tivat's rich naval history, including historic boats and artifacts.
The Naval Heritage Collection exhibits a diverse range of items, from historic naval guns and engines to documents and uniforms. Visitors can explore the decks of various ships, such as minesweepers, torpedo boats, and submarines. The Yugoslav Navy's first submarine, built in 1926, is one of the most notable exhibits, and visitors can climb inside and explore it.
The striking architecture and picturesque views of the marina make it ideal for Instagram photos.
Lepetane ferry
The ferry terminal in Lepetane offers breathtaking views of the Bay of Kotor and the surrounding mountains. It's the ideal location for a dramatic landscape photograph.
The ferry service is an important link for both residents and visitors because it provides a quick and convenient way to travel across the bay. The ferry runs around the clock, seven days a week, with departures every 15-30 minutes depending on the season. Crossing the bay takes only 10-15 minutes and is very inexpensive.
Buća-Luković Museum & Gallery
Buća-Luković Museum & Gallery: Housed in a traditional stone house, this charming museum and gallery exhibits local art and artifacts. The picturesque courtyard and spectacular views of the Bay of Kotor make it ideal for Instagram photos.
Restaurant for the Instagram
One restaurant is one of the most Instagrammable in Tivat. The restaurant, located in Porto Montenegro, provides an elegant dining experience with stunning views of the marina. The restaurant's sleek, modern design and artistic presentation of the food make it a popular spot for Instagram influencers.