Hi there shopping enthusiast! Are you looking to make a small break from Montenegro's mesmerizing nature and amazing architecture, and do some shopping, then Podgorica is a place to be. Montenegro's capital is the business and shopping center of the country, as it offers a variety of stores with both local and world-famous brands.
In our guide, we focused on presenting you with a new and exciting shopping place. We made sure to make a perfect balance of cultural charm and modern attractions that Podgorica offers. From traditional small boutique streets that are the most popular among locals to the boasting timeless shopping malls speaking to you with the allure of global brands, shopping in Podgorica is a delightful adventure for every kind of shopper.
Read Also: Best One day Itinerary for Podgorica
If you are intrigued, buckle up and keep reading as we embark on a truly amazing shopping journey in the retail paradise of Podgorica!
Exploring Podgorica: The Shopping Hub of Montenegro
Located at the confluence of two rivers, Podgorica, the captivating capital of Montenegro, attracts travelers with its alluring mix of ancient history and urban sophistication. Filled with friendly locals, picturesque landscapes, and magnificent architecture, this vibrant city paints a fascinating tale of Montenegrin culture.
Visitors can explore Podgorica, the cobblestone streets of the Old Town, and they'll feel as if they've stepped back in time, surrounded by age-old churches and fortresses. Yet, just a stone's throw away, contemporary Podgorica thrives. With towering skyscrapers, trendy cafes, and bustling shopping districts, the city is all about modernity and fun.
Therefore experiencing Podgorica is much more than experiencing a typical capital city, it is truly witnessing a city where tradition and modernity meet, making every visit a truly captivating journey.
Best Shopping Places in Podgorica
Get ready to be amazed as we lead you on a private tour of Podgorica's shopping hubs. Keep reading our top five shopping places to find some finest boutiques that will cater to both your style and budget.
Big Fashion Podgorica
Big Fashion Podgorica or previously known as Delta City, is the most popular shopping mall in Podgorica and possibly in the whole of Montenegro. Located at the entrance to the capital city, in the business area, this mall is a traditional European-style mall with many stores to visit.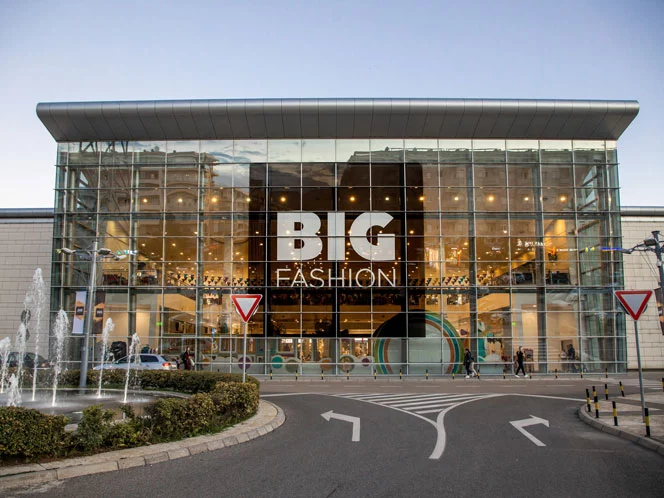 Big Fashion is home to stores for both men and women offering both items created by local Balkan designer houses and world-known retailers. Among the worthy mentions, we recommend visiting Fashion & Friends and HIT as stores with the most popular designer items, Stradivarius and Zara if you are into chain stores, and Legend and Dak Sport for more local designs.
In addition, Big Fashion includes some of the top boutiques for children such as City Moda Kids and Kidsland, and a wide range of entertainment aimed at them. Besides this, Big Fashion hosts a number of cafes so make sure to stop by Astoria on the second and Atrio on the first flor of the mall. If you look for a fun time with your family, Big Fashion is home Cinaplexx cinema and a children's play area. Ultimately several banks, telecommunication companies, post offices, utility companies, and more have their offices in the mall.
Keeping in mind all this, Big Fashion is definitely a must-visit shopping place that offers something for everyone.
City Mall
Podgorica also takes great pleasure in its other major retail mall, City Mall. This vibrant center is a frequent stop for both natives and visitors to the city, as it is located in a great spot at the heart of the famous "City" quarter.
City Mall is a booming center of both local and international brands although it is not as big as the Big Fashion. This mall offers a variety of stores that cannot be found in other shopping malls in Podgorica such as a must-visit local leather craft shop The Manual Co., as well as elegant clothing stores such as Tiffany as well as Barbosa. While shopping make sure that your little one spends some quality time in the playroom Zujalica. Besides shops and play areas, City Mall also hosts a bank, pharmacy, and local chain of drogerie stores Cosmetics.
At the end of the day, City Mall offers an amazing experience at its rooftop bar Terminal. Whether you opt for a coffee or a meal you will certainly admire one of the best views of the city.
Mall of Montenegro
The last shopping mall on our list is the Mall of Montenegro. This is a lesser-known shopping spot that offers a variety of stores and amenities that any shopper would wish for. Located within walking distance from the bus and train station in Podgorica, this place is a hidden gem that locals adore.
This shopping mall offers predominantly local brands such as Extreme Intimo, Intersport, and My Shoes together with very popular local restaurant chain Sicilia and supermarket Idea. One big difference that Mall of Montenegro has compared to others is its local market.
Every day local sellers fill the space with fresh fruits and vegetables as well as other organic products. Make sure to step by this very unique place and enjoy the local market. Besides this visitors can also find a variety of small improvised shops on the top floor that offer anything from kitchen appliances to clothes and that are local's favourites.
If you want to experience a true Montenegrin shopping spree for daily to more refined items then Mall of Montenegro is definitely worth visiting.
Hercegovacka Street
Hercegovacka Street is one of the oldest and most popular streets in Podgorica. Located in the city center, this street is a shopper's delight, renowned for its unique blend of local shops. Lined with a variety of boutiques on both sides together with some of the greatest café spots in town as is no surprise why visitors make it an inevitable spot on their trip.
Hercegovacka Street shops offer both domestic brands among which the most popular female clothing store is P.S Fashion together with a popular retail store for men Fratteli. If you like to shop as a family and prefer sporty style or you simply seek new pair of sneakers stop by K Sport.
Besides clothing stores, Hercegovacka Street has a few great pubs and bars Scottish Pub McCloud where you can often hear live music and enjoy a pint of cold Montenegrin beer in a welcoming atmosphere. This is why, Hecegovacka Street with its diverse shopping scene is truly a retail treasure trove in the heart of Podgorica that must be visited and experienced.
Jewelers Street
So-called Jewelers Street is located in the heart of Podgorica. Located in close proximity to Independence Square, this charming street offers an exceptional shopping experience with a mix of stores, showcasing both local Montenegrin craftsmanship and modern fashion styles of jewelery.
The area is home to a variety of interesting and lovely traditional jewelry stores such as Zlatara Maljevic or Zlatara Methadzovic that are typically owned by the same families for decades. Besides these jewelers, Hercegovacka Street hosts popular Montenegrin retailer Leandro where you can find a variety of popular brands such as Pandora, Brosway, Fossil, Tommy Hilfiger, and many others. If you are looking for a meaningful piece of gold and silver as a souvenir or as a gift then this is a place to look for.
Jewelry Street is something unusual and very unique that Podgorica has to offer. Whether you're looking for the newest trends in jewelry or clothes or you simply want to admire shopping windows make sure to stop here. This bustling corner is a retail crown jewel that perfectly presents the spirit of Podgorica.
Conclusion
As we wrap up our shopping tour of Podgorica, it's clear that the city's vibrant shopping scene holds a lot of interesting places waiting to be discovered. From its incredible shopping malls to the charm-filled lanes of its city-center streets, Podgorica offers a unique blend of traditional and contemporary shopping experiences.
So whether you're a seasoned shopaholic, a bargain hunter, or a curious explorer, these retail hotspots promise to fulfill your shopping desires. Remember, shopping in Podgorica isn't just about the purchase, it's about the joy of discovery and the thrill of finding that perfect piece.
So, when in Podgorica, shop and enjoy the retail wonders this remarkable city has to offer.